Vanita Gupta
2018 Fellow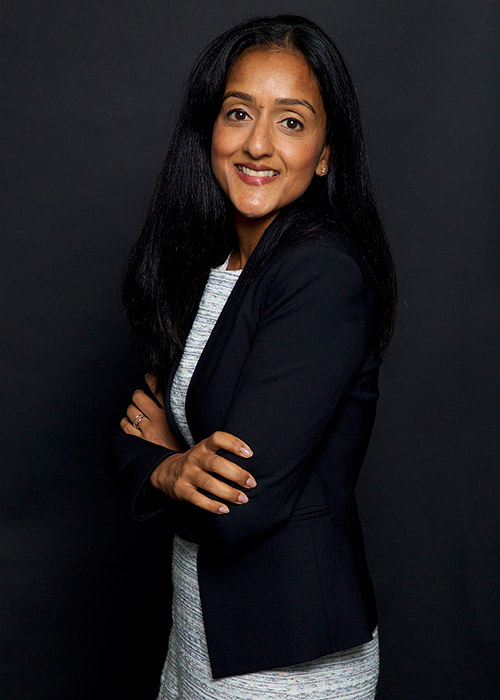 The 2018 Richman Distinguished Fellow in Public Life is Vanita Gupta. Gupta is president and chief executive of the Leadership Conference on Civil and Human Rights, making her the first woman and the first child of immigrants to run the largest civil and human rights coalition in the nation. As principal deputy assistant attorney general for civil rights for the U.S. Department of Justice in the Obama administration, and thus the top civil rights prosecutor in the nation, Gupta, the daughter of Indian immigrants, took on a wide variety of challenges and shone a harsh light on discrimination and injustice.
Gupta is known for her aggressive work prosecuting hate crimes and human trafficking, promoting disability rights, protecting the rights of LGBTQ individuals and fighting for voter access. Her accomplishments at the Justice Department included investigations into racial profiling and police shootings of African Americans in Ferguson, Chicago, Cleveland, Baltimore and many other cities. She oversaw a discrimination lawsuit against North Carolina for reversing an ordinance that extended rights to people who are gay or transgender, and the successful appeals of Texas and North Carolina voter ID cases.
Before taking on her role at the Justice Department, Gupta served as an attorney for the NAACP Legal Defense and Educational Fund, and worked eight years with the American Civil Liberties Union where, as deputy legal director, she oversaw the development of the ACLU's criminal justice reform project. Her work on criminal justice reform won her the respect both of liberals, such as former attorney general Eric H. Holder Jr., and conservatives like Grover Norquist, founder and president of Americans for Tax Reform, and David Keene, former president of the NRA, who praised Gupta's "collaborative approach."
Not long after graduating from NYU Law, her first case was a high-profile case in Tulia, Texas, concerning a drug sting that rounded up 46 people, 40 of whom were African American. Gupta assembled a team of pro-bono attorneys and sought out the media to cover the case as one of racial discrimination. By 2004, the Texas governor had pardoned all the defendants. Gupta was awarded the 2004 Reebok Human Rights Award for her work on the case.
In a recent commencement speech at her alma mater, NYU, Gupta said, "History doesn't reward timidity. And even when other people in implicit, quiet ways tell you to know your place, do not stay silent."
Vanita Gupta was in residence March 6-7, 2018. The Richman lecture and award ceremony was held on Tuesday, March 6, 2018.
Videos