About Us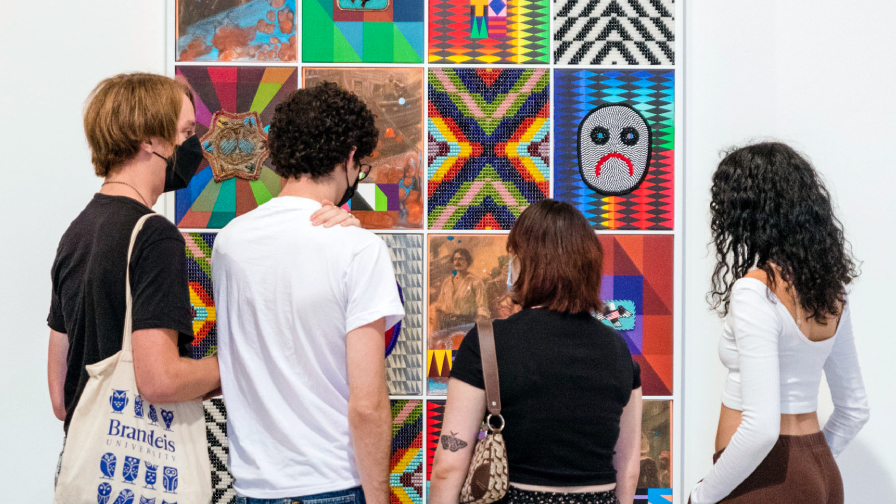 Mission Statement
Rose Art Museum fosters community, experimentation, and new knowledge through direct engagement with modern and contemporary art, artists, and ideas.
About the Rose Art Museum 
Founded in 1961, the Rose Art Museum is among the nation's premier university museums. A year later, a gift of $50,000 established the Gervirt-Mnuchin Purchase Fund, enabling the museum's inaugural director Sam Hunter to acquire artworks by Robert Indiana, Ellsworth Kelly, Roy Lichtenstein, Marisol, and Andy Warhol, and others, establishing the foundation of the museum's permanent collection and its focus on the contemporary.
Hunter's bold and prescient vision endures today, with each subsequent director expanding the Museum's ever-growing permanent collection of international artists. Today, the Rose Art Museum is recognized as one of New England's most comprehensive and significant modern and contemporary art collections.
In addition to its stellar permanent collection, the Rose Art Museum presents groundbreaking thematic exhibitions, surveys of leading and emerging contemporary artists, new commissions, and free public programs that include artist talks, performances, discussions, residencies, and artist-led and site-responsive engagements.
As a nexus for art, education, and social justice, the Rose engages communities across Brandeis University, Greater Boston, and the globe with a vision to activate the power of art, ideas, and creative expression to collectively build a more just and equitable world.
Land Statement
The Rose Art Museum resides on the ancestral homelands of the Massachusett people. We recognize that the museum's very existence here has been facilitated by the violent dispossession, enslavement, and dispersal of multiple Indigenous peoples and communities.
The Rose commits to actively learning from, respecting, and amplifying Native voices. This land acknowledgment is a living document. It is only one aspect of the museum's Diversity, Equity, Inclusion, and Accessibility commitment. This commitment is part of an ongoing effort to transform the Rose into an anti-racist, anti-colonial, diverse, and inclusive institution.