Accessibility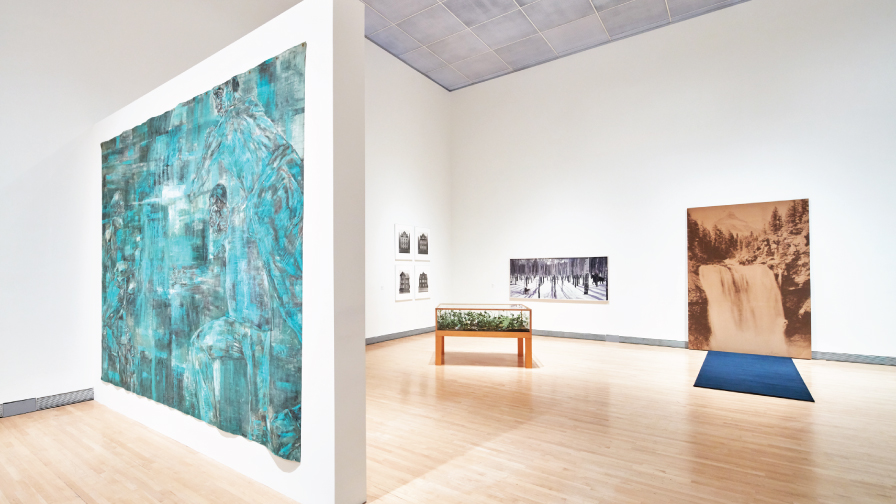 The Rose Art Museum welcomes and endeavors to provide a positive, engaging, and inclusive experience for all visitors. These efforts are ongoing, and we welcome questions and feedback. If you have any needs not addressed below, we encourage you to call Visitor Services at 781-736-2028 or email us at roseartmuseum@brandeis.edu.
Visiting the Museum
Expand All
Visitors may park in the front loop of the museum or the adjacent Hassenfeld parking lot.
There is a curb cut in front of the museum's public entrance, and visitors can be dropped off directly in front of this entrance. 
The public entrance is on an elevated platform, which includes several stairs. The doors do not feature power assistance.
For visitors with mobility devices: a ramp is located to the right of the front entrance. These doors do not feature power assistance. Please call the front desk if you would like assistance with the accessible door.
We recommend visiting on a weekday morning or late afternoon for visitors interested in exploring the Rose during quiet hours. Please note that some exhibitions feature works with sound, which visitors can hear throughout the galleries.
Getting Around the Museum
Expand All
The Museum's Feinberg, Lower Rose, and Lee galleries and the Lois Foster Wing are accessible to visitors using mobility devices and strollers.
The Rose offers a limited number of manual wheelchairs to visitors free of charge on a first-come, first-served basis.
The Museum's elevator provides access to the Fineberg, Lower Rose, and Lee galleries. The Lois Foster Wing is accessible via the Lower Rose gallery.
Elevator capacity is limited to one to two people to aid physical distancing. 
Please note: not all interior doors are equipped with power assistance. Please ask a gallery attendant for assistance.
Backless seating is available in the Fineberg and Lower Rose galleries and the interstitial space between the Lower Rose and the Lois Foster Wing. Gallery stools are available on request from our gallery attendants.
Accessible restrooms are located on the Museum's second floor in the Lower Rose Gallery and the Lois Foster Wing. 
Baby-changing stations are located in bathrooms in the Lois Foster Wing.
All restrooms are gender-neutral. Please note: current building codes require that one restroom is labeled "women" and one "men." We acknowledge that these two categories do not reflect all visitors and staff's gender identity or expression. Please use the restroom that feels most comfortable for you.
Closed captions are available for all virtual programming.
Is there anything that would make your participation easier? We are committed to making our programs accessible to all; please email inquiries and requests to Elizabeth Moy, Programs Coordinator.
Media and Print Materials
Expand All
Binders are available with large text format labels in each gallery, at the reception desk in the Fineberg gallery, on the table in the Lower Rose gallery, and in the vestibule before the Foster Wing.
Transcripts for audio or video artworks featuring sound are available at the welcome desk on the entrance level; please ask a gallery staff member for assistance.
Coming soon: the Rose Art Museum will soon be debuting our interactive app! Visitors can customize the way they view information about exhibitions and artworks on display using either their mobile device or by borrowing one of ours.