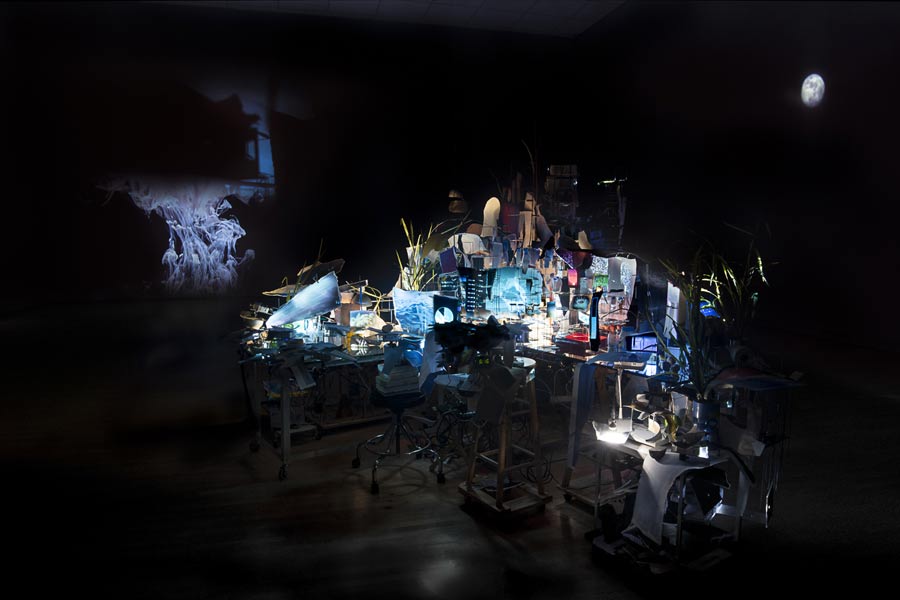 The Rose Art Museum at Brandeis University presents two new site-specific installations by Sarah Sze: Timekeeper, a monumental work created for the Rose's Foster Gallery, and Blue Wall Moulting, a mural sited on the outward-facing wall of the Foster Stair.
For over 20 years, Sarah Sze (b. 1969, Boston) has produced works of art that synthesize a near boundless range of materials into objects imbued with the sensory experience of contemporary life. Sometimes delicate and diminutive, other times sprawling and sublime, her works embody what has become known as the post-medium condition. Never strictly painting, sculpture, video, drawing, or installation, and frequently all of the above, Sze's objects both mime and critique the constant swell of information and imagery that constitutes the average person's encounter with the modern world. As a consequence, her works have about them a beguiling irony, reproducing the familiar sensation of information overload through assemblages of elements that are, conversely, otherworldly. Like the scientific instruments of measurement they often reference, Sze's sculptures attempt to quantify and organize the universe, ascribing a fragile, personal system of order. Within her practice, sculpture becomes both a device for organizing and dismantling information and a mechanism to locate and dislocate oneself in time and space.        
Her latest installation—Timekeeper, the sculpture that is the central component of Sze's exhibition — blurs the line between organic and mechanical structure, its lifecycle marked by clicking and whirring and flickering images. It keeps a form of eccentric time that is entirely its own, remembering moments over and over again as time slips by. In this sense, Timekeeper has no relationship to the mechanical devices we use to mark the literal passing of time, but instead to the way we recall and replay our lives, in selected fragments that, strung together, account for the passage of years. 
A related work, Blue Wall Moulting, traces the structural elements behind the wall of the Foster Stair. Created with a basic chalk snap-line technique, which mimics the process used in building construction, the drawing follows the hidden architecture of the space, drawing attention both to the surface and to what lies behind.   
Curated by Christopher Bedford, Adjunct Professor of the Practice in Fine Arts at Brandeis University, the exhibition is made possible in part through support from the Henry and Lois Foster Fund and the Helen Frankenthaler Foundation.