Tuesday Smillie: Building another world through creative critical self-reflection
November 16, 2018, 6:30 p.m.
Location:
MassArt, Design and Media Center Lecture Hall, 621 Huntington Avenue, First Floor, Boston, MA
Join us as artist Tuesday Smillie's artist-in-residency at the Rose Art Museum culminates with an award ceremony and an artist talk. Smillie will speak about her work and practice, as well as discuss her exhibition To build another world on view at the Rose through December 9.  A discussion with the artist and Brandeis Associate Professor of the Philosophy of Justice, Rights, and Social Change  Rajesh Sampath moderated by the Rose's Henry and Lois Foster Director and Chief Curator Luis Croquer will follow.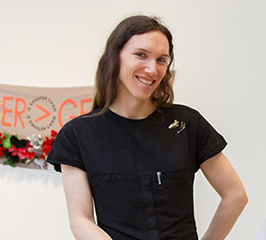 This year's winner of the Ruth Ann and Nathan Perlmutter Artist-in-Residence Award, Brooklyn-based artist Tuesday Smillie (b. 1981, Boston), builds on a history of protest signage and delves into transgender activism and identity politics, questioning the address of language and the imprint of the past on the present in a multimedia practice that includes watercolor, collage, and textile-based work.
The event is presented in conjunction with The History Project, Boston's LGBTQ history organization.  The History Project — established in 1980 by a group of historians, activists and archivists — is the only group focused exclusively on preserving the history of Boston's LGBT community, and on making that history accessible to future generations.
Tuesday Smillie is the recipient of the 2018-2019 Ruth Ann and Nathan Perlmutter Artist-in-Residence Award, which supports her exhibition and residency.