Artist Talk: Ellen Lesperance
Past
October 29, 2020, 1 p.m.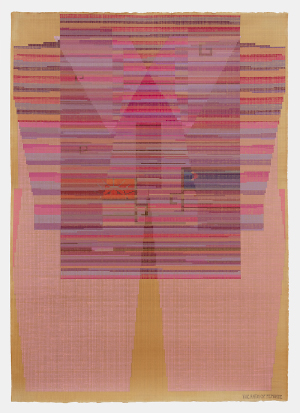 Join artist Ellen Lesperance for a talk about her practice, the use of knitwear as a radical form of "creative direct action," and her work currently on view in the exhibition Yesterday's Tomorrow.
Studying archival images of women-led marches, Lesperance translates articles of clothing worn by protestors into compositions built on the visual vocabulary of American Symbolcraft, a shorthand form of knitting instruction. Focusing on her work in the Rose Art Museum's permanent collection, The Path of Feminye (2018), Lesperance will discuss her extensive research and adaptation of photographs taken at Greenham Common Women's Peace Camp in Berkshire, England, where female protestors occupied the grounds of a United States Air Force Base, the site of Europe's largest stockpile of nuclear cruise missiles. Imposing a layer of imagination atop research, Lesperance's paintings allow her to slip into garments worn in protests past, bringing the potential of their radical energy into the space of the present.
In her work, Ellen Lesperance (b. 1971, Minneapolis, MN) pays tribute to direct action campaigns and feminist activism. Lesperance's paintings are based on knit garments worn by women involved in protests, sit-ins, demonstrations, and instances of civil disobedience. Pattern, shape, and symmetry emerge in the artist's highly detailed compositions, which merge abstraction and figuration to speak to participation and protest as essential and personal acts. In her layering of archival research and imaginative interpretation, Lesperance presents the potential of past events within a political lineage that may inspire future action through translated and coded symbols.
Lesperance's work has been presented in solo and two-person exhibitions at Seattle Art Museum, Seattle, WA; Samson Projects, Boston; Monya Rowe Gallery, New York, Derek Eller Gallery, New York; and Valerie Anne de Villepoix, Paris, France. She has participated in group exhibitions at institutions such as the Rose Art Museum, Waltham; the Institute of Contemporary Art Boston; Drawing Center, New York; the Studio Museum in Harlem, the New Museum, New York City; and the Portland Institute of Contemporary Art.
The artist has received grants and awards from the Robert Rauschenberg Foundation, Art Matters, Pollock-Krasner Foundation, and the Ford Family Foundation. Lesperance is also the recipient of the 2020 John Simon Guggenheim Memorial Foundation Fellowship in Fine Arts. She currently resides in Portland, OR.  
This program is organized in conjunction with Yesterday's Tomorrow. While our physical galleries are currently only open to the campus community, the exhibition can be explored virtually through online materials and installation images.
Watch the program below: