In Conversation with Howardena Pindell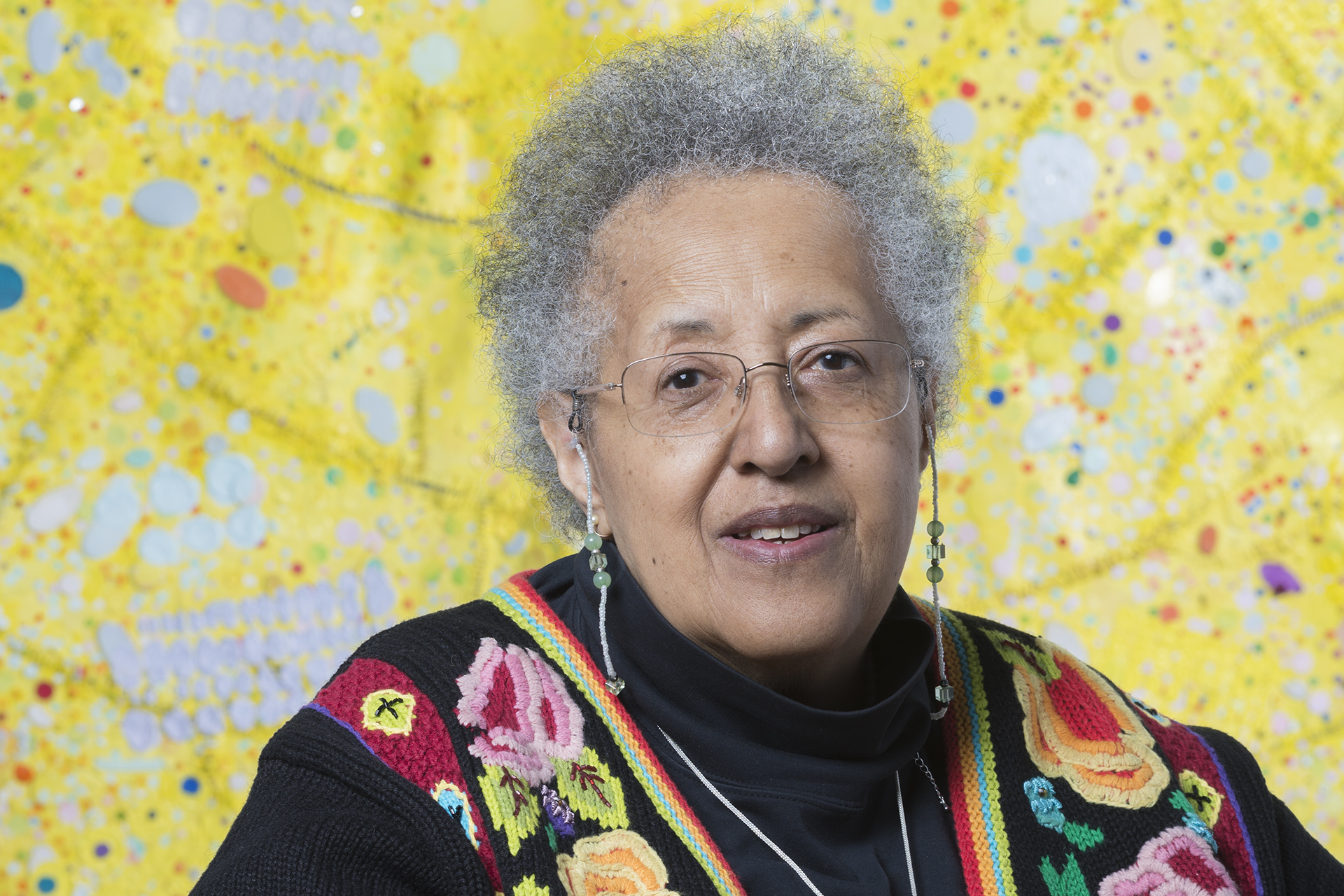 This past spring, Howardena Pindell was one of four individuals recognized by Brandeis University with a Doctor of Fine Arts honorary degree. Pindell's work is held in the Rose Art Museum's permanent collection, and her five-decade long career was the focus of the museum's 2019 exhibition Howardena Pindell: What Remains to be Seen.
To mark this occasion, we hosted a conversation between Pindell and students from our graduating class of curatorial interns, who had just received degrees of their own: Sherman H. Starr Family Curatorial Interns Hannah Kressel and Emma Peters. Pindell and our freshly minted 2020 graduates were joined by Caitlin Julia Rubin, Associate Curator and Director of Programs. 
ABOUT HOWARDENA PINDELL
Howardena Pindell (b. Philadelphia, 1943) has explored the intersection of art and activism for more than five decades. As an artist, curator, and teacher, she has challenged the staid traditions of the art world and asserted her place in its history, both as a woman and one of African descent. Trained as a painter at Boston University and Yale University, Pindell has used unconventional materials such as glitter, talcum powder, sewing thread, and perfume to expand the boundaries of the rigid tradition of painting practice. The work she has created since 1979, when a car accident left her with short-term amnesia, expands upon this experimental formal language to confront a wide range of subjects, from the personal and diaristic to the social and political.
Pindell's work has been featured in many landmark museum exhibitions and is in the permanent collection of major museums across the globe. In 2019, the Rose Art Museum hosted her largest retrospective to date, Howardena Pindell: What Remains To Be Seen. The artist, who lives and works in New York City, is a full professor at the State University of New York, Stony Brook, where she has taught since 1979.
Watch the conversation we hosted with with artist Howardena Pindell in 2019 to celebrate the final stop of her major touring retrospective, with exhibition co-curators Naomi Beckwith and Valerie Cassel Oliver, joined by Caitlin Rubin, Assistant Curator at the Rose Art Museum.