Resistance X Beyond Conflict: Change and Transformation
Program
November 30, 2022, 1 p.m.
Virtual Program
Celebrating Beyond Conflict's 30th Anniversary and inspired by the themes within Peter Sacks: Resistance, the Rose Art Museum presents Resistance X Beyond Conflict, a limited series bringing artists, activists, and leaders from across the globe together in dialogue to address the most pressing issues facing our world today.
The second in a two-part series, "Change and Transformation," asks how deeply entrenched and divided communities imagine a new way forward built on justice, equity, and reconciliation. Moderated by Beyond Conflict's Founder and CEO Tim Phillips, this conversation will include artist Peter Sacks, activist and founder of the Northern Ireland Women's Coalition, Monica McWilliams, and Roelf Meyer, a key architect in the negotiations to end Apartheid.
WATCH THE PROGRAM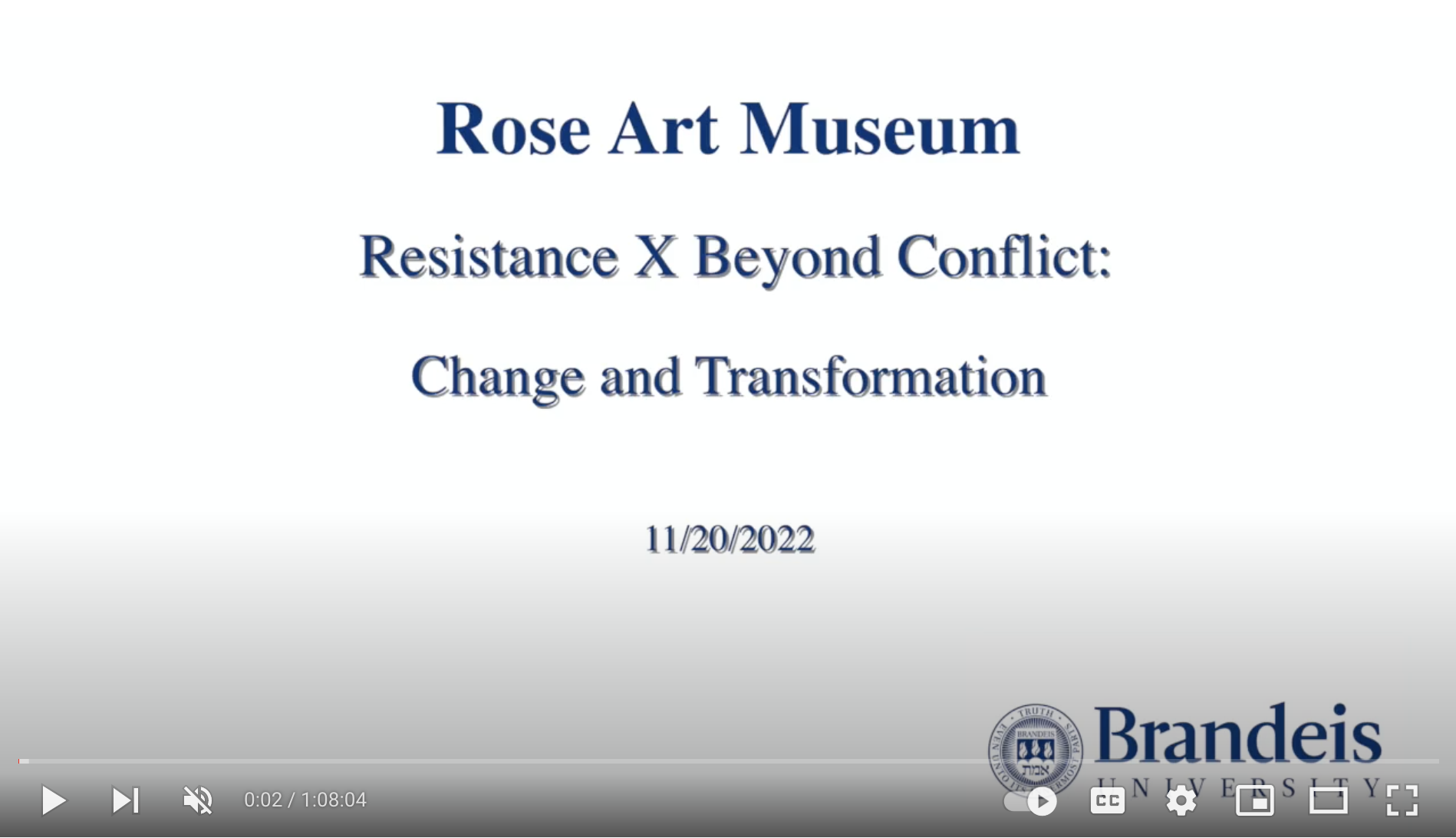 ABOUT THE PARTICIPANTS
Monica McWilliams is Emeritus Professor at Ulster University's Transitional Justice Institute and served as the Chief Commissioner for the North Ireland Human Rights Commission from 2005–2011. She co-founded the Northern Ireland Woman's Coalition political party, was elected to a seat at the Multi-Party Peace Negotiations, and served in the Northern Ireland Legislative Assembly from 1998–2003. Her published work focuses on domestic violence, human security, and the role of women in peace processes.
Peter Sacks is an accomplished poet, educator, and renowned painter. Sacks teaches at Harvard University and has also published several volumes of poetry. His artwork is in numerous private and public collections worldwide, including the Baltimore Museum of Art; the Metropolitan Museum of Art, New York; Museum of Fine Arts, Boston; Museum of Fine Arts, Houston; Rose Art Museum at Brandeis University, Waltham, MA; The Collection of the Constitutional Court of South Africa, Johannesburg; The Ethelbert Cooper Gallery of African and African American Art, Cambridge, MA; The Bonavero Institute of Human Rights, Oxford; and the Beyond Borders Foundation, Edinburgh.
Roelf Meyer served as the Minister of Constitutional Development and Provincial Affairs for Nelson Mandela from 1994–1996 and as the Chief Negotiator for F.W. De Klerk in negotiations to end Apartheid from 1992–1994. He is the co-founder of the United Democratic Movement and was its deputy president until his resignation from active politics in 2000. A devoted agent of peace, Meyer has used his renowned negotiating skills to venture into business as a consultant on peace processes, participating in such processes in countries including Northern Ireland, Sri Lanka, Rwanda, Burundi, Kosovo, and Bolivia. He was also involved in similar efforts in the Basque region and the Middle East.
ABOUT BEYOND CONFLICT
Beyond Conflict is an international nonprofit organization aiming to understand and address the causes and consequences of conflict. Founded in 1992, the organization has offered solutions that have opened pathways for progress in peace talks, transitions to democracy, and national reconciliation in the aftermath of division and violence in over 75 countries. Additional information is available at www.beyondconflictint.org.
This program, organized in conjunction with the exhibition Peter Sacks: Resistance, on view through December 30, 2022, is supported by a grant from the Wolf Kahn Foundation.