Ruth First Memorial Lecture: Peter Sacks
Program
November 9, 2022, 4 p.m.
Mildred S. Lee Gallery
Join the Department of African and African American Studies and the Rose Art Museum for the annual Ruth First Memorial Lecture. Designed as a lecture to promote Black liberation in southern Africa, this year's guest speaker will be artist Peter Sacks in conversation with Chad Williams, Samuel J. and Augusta Spector Professor of History and African and African American Studies at Brandeis. 
Born in Port Elizabeth, South Africa, in 1950, Sacks grew up in the City of Durban on the Indian Ocean. As a student at the University of Natal, Sacks became involved in the struggle against the apartheid regime as a member of the National Union of South African Students and executive of the Students Representative Council. His exhibition, Peter Sacks: Resistance, which is now on view at the Rose Art Museum, pays tribute to numerous resistors from across the globe, including the anti-apartheid activists of his youth. Intricately layered and textural mixed-media symbolic and figurative portraits of Bantu Stephen Biko, Bessie Head, Nelson Mandela, and Richard Turner—among others included in the show—convey a sense of their life, historical background, struggles, acts of resistance, imprisonment, or exile, and, sometimes, their death.
In conversation with Williams, Sacks will discuss the impetus behind his Resistance series and the importance of awareness and action in an ever-fracturing world.  
WATCH THE PROGRAM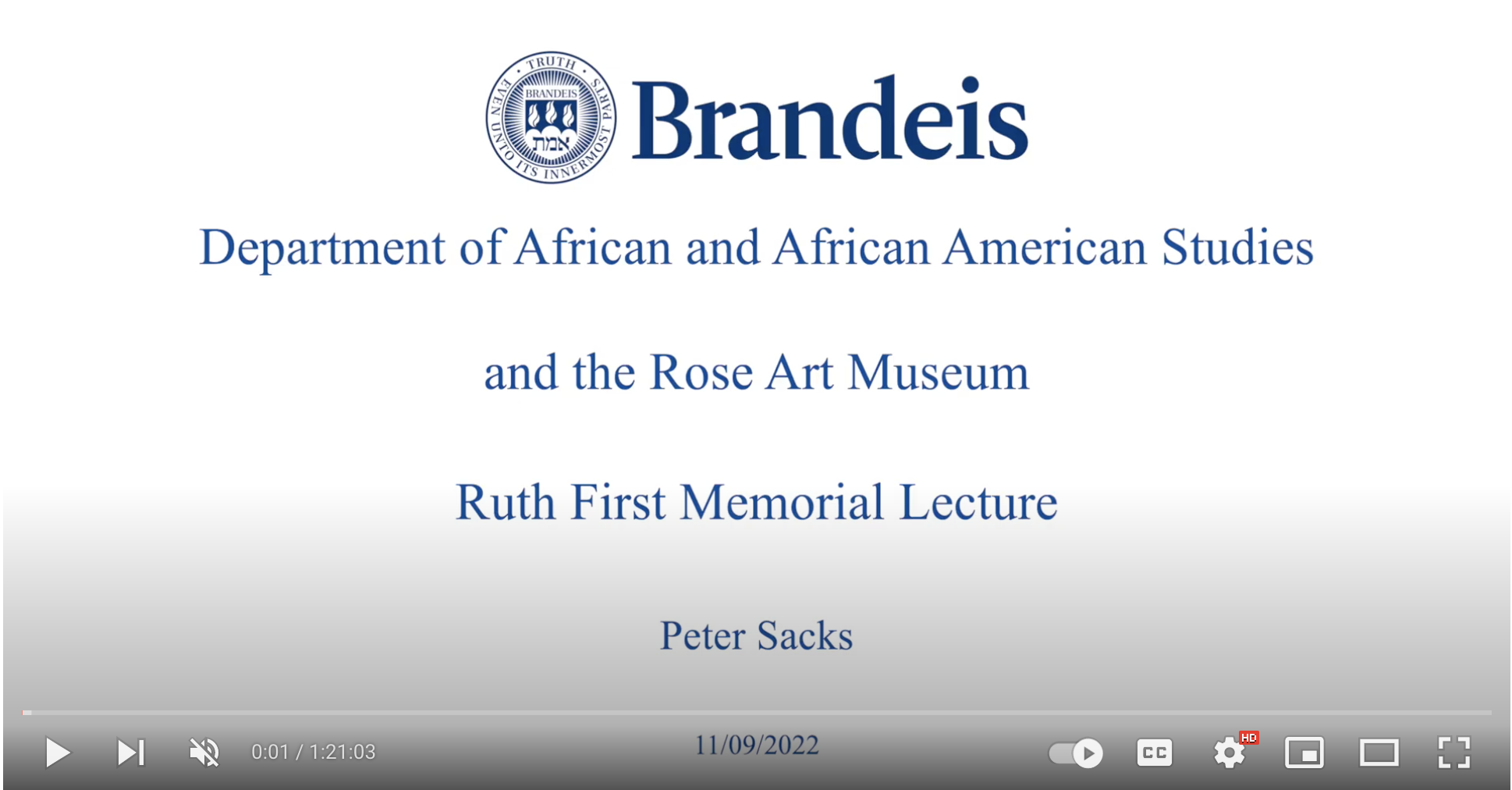 ABOUT THE PARTICIPANTS
Peter Sacks is an artist and the John P. Marquand Professor of English at Harvard University and has published several volumes of poetry. His artwork is in numerous private and public collections worldwide, including the Baltimore Museum of Art; the Metropolitan Museum of Art, New York; Museum of Fine Arts, Boston; Museum of Fine Arts, Houston; Rose Art Museum at Brandeis University, Waltham, MA; The Collection of the Constitutional Court of South Africa, Johannesburg; The Ethelbert Cooper Gallery of African and African American Art, Cambridge, MA; The Bonavero Institute of Human Rights, Oxford; and the Beyond Borders Foundation, Edinburgh.
Chad Williams is the Samuel J. and Augusta Spector Professor of History and African and African American Studies at Brandeis University. He specializes in African American and modern United States History, African American military history, the World War I era, and African American intellectual history. Williams has published articles and book reviews in numerous leading academic journals and collections, as well as op-eds and essays in The Atlantic, The Washington Post, Time, and The Conversation. His first book, Torchbearers of Democracy: African American Soldiers in the World War I Era (2010), was praised as a landmark study and won the 2011 Liberty Legacy Foundation Award from the Organization of American Historians, the 2011 Distinguished Book Award from the Society for Military History and designation as a 2011 CHOICE Outstanding Academic Title. His next book, The Wounded World: W. E. B. Du Bois and World War I will be published in April 2023 by Farrar, Straus and Giroux.
ABOUT THE RUTH FIRST MEMORIAL LECTURE SERIES
Ruth First was a white South African dedicated to the freedom of all South Africans in the apartheid regime under which they lived. In 1963, She was arrested, imprisoned, and released on the condition that she leave South Africa permanently. She continued to work against apartheid in exile until her assassination in 1982. The endowment which supports the Ruth First Memorial Lecture was established through the generosity of Rose Schiff, Eileen Schiff Wingard, and Zina Schiff Eisenberg in memory of their beloved daughter and sister, Louise Joy Schiff.
This program, organized in conjunction with the exhibition Peter Sacks: Resistance, on view through December 30, 2022, is supported by a grant from the Wolf Kahn Foundation and by Brandeis University co-sponsors: Department of African and African American Studies.