Program
November 28, 2023, 7 p.m.
Liberman-Miller Lecture Hall, Brandeis Women's Studies Research Center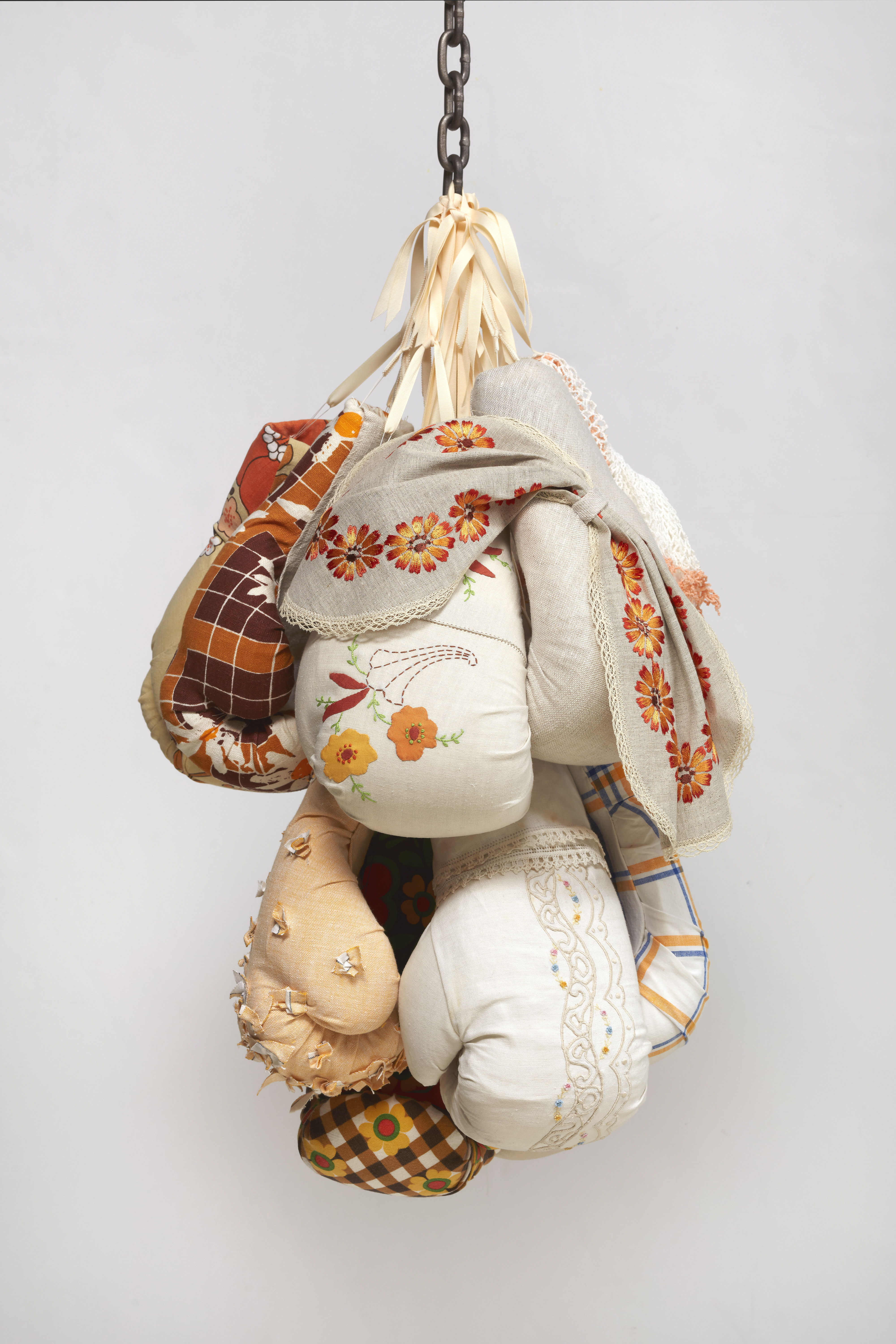 British artist Zoë Buckman is known for her multidisciplinary practice, which incorporates sculpture, textiles, ceramics, photography, and large-scale installations through an explicitly feminist lens. Her art explores themes of identity, trauma, and gendered violence, subverting preconceived notions of vulnerability and strength.
In this artist talk, co-presented by the Hadassah-Brandeis Institute and the Rose Art Museum, Buckman will discuss her artistic practice and her 2019 work, According to Grandma, acquired by the Rose Art Museum in 2023. The sculpture, composed of boxing gloves and Buckman's maternal grandmother's textiles, honors generational bonds, collective memory, and the tension between aggression and support. According to Grandma is included in the Hadassah-Brandeis Institute's 21-artist exhibition, Deeply Rooted: Faith in Reproductive Justice, on view in the Kniznick Gallery, November 2–December 14, 2023. 
ABOUT THE ARTIST
Zoë Buckman (b. 1985 in Hackney, East London) studied at the International Center of Photography (ICP), NY, and was awarded an Art Matters Grant in 2017. In 2018, the Art Production Fund commissioned Champ, Buckman's first public art installation. The kinetic sculpture featured a glowing uterus with boxing gloves in place of ovaries, an assertive symbol of female empowerment standing 43 feet tall above Sunset Boulevard, Hollywood. In 2022, Pippy Houldsworth Gallery presented Buckman's first UK solo show, BLOODWORK. Other recent exhibitions include Tended, Lyles & King, NY (2023), Resistance Training: Arts Sports, and Civil Rights, MSU Broad Art Museum, MI (2023); Another Justice: Us Is Them, curated by Hank WillisThomas, Parrish Art Museum, NY (2022); Garmenting: Costume as Contemporary Art, Museum of Arts and Design, NY (2022); How Do We Know the World?, Baltimore Museum of Art, MD (2021-23); She Says: Women, Words and Power, Virginia Museum of Contemporary Art, VA (2021); NOMI, Pippy Houldsworth Gallery, London (2021), and THIS IS AMERICA, Kunstraum Potsdam, Germany (2021). Buckman's work has recently been featured in publications including The Financial Times, The Guardian, and Harper's Bazaar. Collections include The National Portrait Gallery, London; Baltimore Museum of Art, MD; The Studio Museum in Harlem, NY; Rose Art Museum at Brandeis University, MA; and Chrysler Museum of Art, Norfolk, VA.