Visitor Guidelines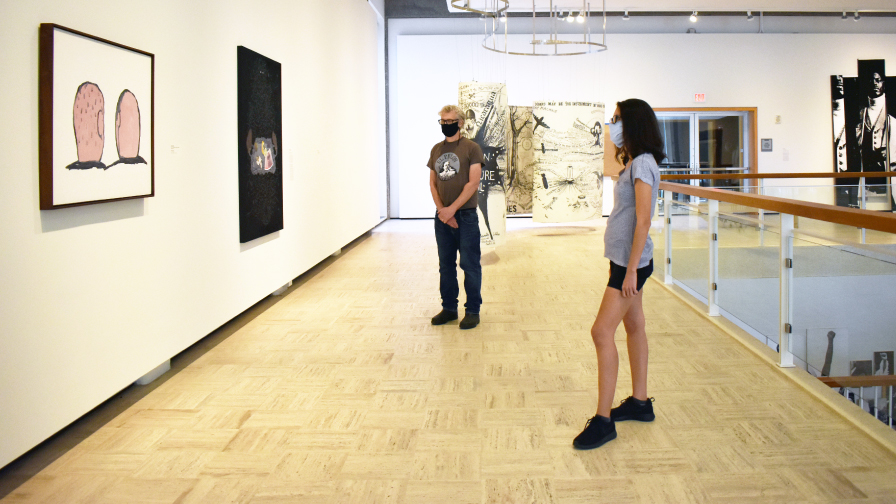 We are thrilled to welcome our campus community back to the Rose! To ensure your safety and the safety of others, please review our visitor guidelines and regulations.
By entering, visitors agree to comply with the Rose Art Museum and Brandeis University policies and rules, including but not limited to wearing face coverings and adhering to six feet physical distancing guidelines.
If you feel sick, have a fever, have experienced symptoms related to COVID-19, or have had possible exposure to COVID-19, please do not visit the museum.
Expand All
The Rose will operate with a restricted visitor capacity, with a limited number of tickets available each day. All visitors must reserve tickets online before their visit.
Museum hours will remain Wednesdays through Sundays, 11 AM-5 PM. The last reservation each day will begin at 4 PM.
No more than 12 visitors will be allowed per hour.
Visitors who arrive more than five minutes earlier than the time slot designated on their ticket will be turned away until five minutes before their scheduled time slot.
Visitor check-in will be contactless. Visitor Services staff will visually confirm your reservation and a Brandeis Campus Passport color of Green or Yellow.
Group tours and visits will not be scheduled at this time.
To ensure safe social distancing practices, entry into Mark Dion: The Undisciplined Collector is prohibited at this time. The installation is still visible to visitors.
Face coverings are required for all visitors.
All visitors must observe at least six feet of physical distance between themselves and other parties, including Rose staff.
Directional signage has been placed throughout the building to regulate the flow of foot traffic.
Hand sanitizing stations are throughout the Rose; personal sanitizers in the galleries are prohibited to protect the artwork.
Elevators are limited to one person at a time unless a rider needs assistance from another individual. Digital exhibition resources and digital visitor guides are available.
Coat and bag check will not be available; only handbags 11" x 14" or smaller will be allowed.
All staff have been trained on new COVID-19 guidelines.
Staff will complete Brandeis University's Daily Health Assessment before each visit to campus and be tested twice a week.
Following state guidelines, the Rose Art Museum will have frequent cleaning and daily disinfection.
Custodial staff will keep cleaning logs that include the date, time, and scope of cleaning, and conduct frequent disinfecting of heavy transit areas and high-touch surfaces.
RESERVE YOUR TICKET NOW