Religion and Jewish Identity in the Soviet Union, 1941–1964
Mordechai Altshuler; Saadya Sternberg, trans.
2012
328 pp.

$35.00 Paperback, 978-1-61168-272-4
$85.00 Hardcover, 978-1-61168-271-7
$29.99 Ebook, 978-1-61168-273-1
Religion and Jewish Identity in the Soviet Union, 1941–1964

Mordechai Altshuler

A Sarnat Library Book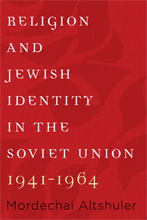 Unearths the roots of a national awakening among Soviet Jews during World War II and its aftermath.

This illuminating study explores the role of religious institutions in the makeup of Jewish identity in the former Soviet Union, against the backdrop of the government's antireligion policies from the 1940s to the 1960s. Foregrounding instances of Jewish public and private activities centered on synagogues and prayer groups—paradoxically the only Jewish institutions sanctioned by the government—Altshuler dispels the commonly held perception of Soviet Jewry as "The Jews of Silence" and reveals the earliest stirrings of Jewish national sentiment that anticipated the liberation movement of the 1960s and 1970s.
Over the past two decades virtually all serious historians have made use of archives in the Former Soviet Union, but few—if any—have done so with the rigor and productivity displayed in Mordechai Altshuler's pathbreaking study on religion and Jewish identity in the late Stalinist and Khrushchev eras. He uses this prodigious research in central and provincial archives to demonstrate how Jews used religious organizations to express their national identity and to mourn the terrible losses of the Holocaust. -- Gregory Freeze, Beinfield Professor of History, Brandeis University
MORDECHAI ALTSHULER is professor emeritus in The Avraham Harman Institute of Contemporary Jewry, Hebrew University of Jerusalem.
This publication has been supported by a grant from the Conference on Jewish Material Claims Against Germany.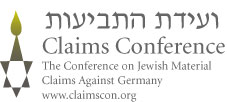 This book can be purchased directly through the University Press of New England.