Events
THE QUEST FOR COMMUNITY
On Wednesday, June 5, the Tauber Institute presented "The Quest for Community: the Havurah Movement and its Impact on American Judaism," an event marking fifty years since the founding of Havurat Shalom in Somerville, Massachusetts. Featuring Arthur Green, Joseph Reimer, Aliza Arzt, Laura Bellows, Jonathan Sarna and Seth Winberg, the event also featured a display of artifacts from the Havurat Shalom Collection, courtesy of the Robert D. Farber University Archives and Special Collections. 
---
1948 ROUNDTABLE
At the conclusion of the international scholars workshop "1948: The Jewish Quest for Rights and Justice in the Postwar Moment," the Tauber Institute hosted a roundtable discussion with Ron Liebowitz, president of Brandeis University; Stephen Whitfield PhD '72, the Max Richter Professor Emeritus of American Civilization; Jonathan Sarna '75, MA '75, the Joseph H. and Belle R. Braun Professor of American Jewish History; and Deborah Dash Moore '67, the Frederick G.L. Huetwell Professor of History at the University of Michigan. The discussion was entitled "1948: Seeking Social Justice - 70 Years of Brandeis University."
---
JEWISH STUDIES COLLOQUIUM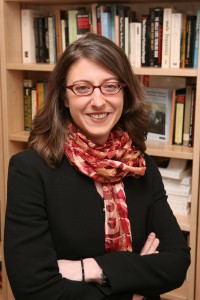 The latest meeting of the Jewish Studies Colloquium featured Alexandra Garbarini of Williams College presenting the paper "The 'Question of the Pogroms' in a Paris Courtroom in the 1920s: the Trial of Scholem Schwartzbard." The colloquium provides a forum for graduate students and faculty from Brandeis University and academic institutions around the world to discuss their current research and works-in-progress. The forum engages a wide range of topics in Jewish studies from history and thought to political and national identity.