Book Information
Battlefields and Playgrounds
1994, 1997
544 pp.
Paper, 0-87541-801-6
Battlefields and Playgrounds

Janos Nyiri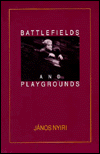 A major Holocaust novel, hailed internationally as "vast and magnificent" and named Book of the Year by the Financial Times.
"If this were simply a book of consuming interest to those concerned with Hungary, or the war, or the Jews, it would still be worth reading, But it is so much more. It is an adventure story full of suspense, a child study of outstanding merit, an enthralling family saga, a highly entertaining and enlightening novel. More than five hundred pages dwindle with dismaying speed, but they bear away with them the distance between here and Hungary, between Jew and Gentile."
— Literary Review
This book can be purchased directly through the University Press of New England.