Book Information
With My Own Eyes: The Aubobiography of an Historian
1995
183 pp. 6" x 9"
0-87451-639-0
With My Own Eyes: The Autobiography of an Historian

Jacob Katz; Ann Brenner, trs.; Ziporah Brody, trs.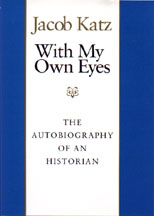 A noted social historian views the first three quarters of the century through the lens of his own life.
"This memoir, combined with Jacob Katz's prolific scholarly work, puts on display an unusual constellation of personal and professional qualities . . . piety and openness; passion and objectivity; breadth and focus; methodological innovativeness and traditional learning; wit and deep seriousness; a critical spirit and a gift for friendship."
— Commentary
Jacob Katz was professor emeritus in the social sciences at Hebrew University of Jerusalem and author or editor of many books in medieval and modern Jewish social history, including two Brandeis books: "A House Divided: Orthodoxy and Schism in Nineteenth-Century Central European Jewry" (1998) and "The Darker Side of Genius: Richard Wagner's Anti-Semitism" (1986).