Book Information
Jews in France During World War II
2001
640 pp.12 Illus.4 Tables
Cloth, 0-87451-896-2
Paper, 1-58465-144-X


Jews in France During World War II

Renée Poznanski • Nathan Bracher, translator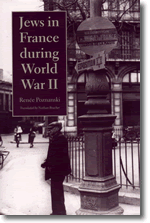 Now available in English, the authoritative work on ordinary Jews in France during World War II.
Renée Poznanski presents an extraordinary panorama of Jewish daily life throughout France during World War II. Her book provides a detailed and nuanced account of Jews in both occupied and Vichy France as well as of Jewish Life in France camps. In addition to standard French and German documentation, Poznanski relies on non-published sources (diaries, reports by various organizations, personal correspondence) to build riveting collective portraits of Jewish suffering and survival.
Even more than this, she uses these sources to illuminate "the rhythm of French and German persecution, the reactions of Jewish and non-Jewish opinion and the various strategies of the Jewish victims." A crucial contribution of French Jewish and Holocaust historiography, and an important corrective to much of the literature that treats Jews as victims rather than as subjects able to make (some) choices, this book is certain to become the most authoritative work in the field.
Published in association with the United States Holocaust Memorial Museum.
This book can be purchased directly through the University Press of New England.