Book Information
The Architect of Genocide: Himmler and the Final Solution
1992
348 pp.
0-87451-596-3 
The Architect of Genocide: Himmler and the Final Solution

Richard Breitman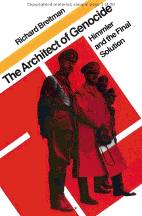 Drawing upon previously untapped primary sources . . . the author conclusively counters efforts to portray the Holocaust as unpremeditated, the result of bureaucratic improvisation under wartime constraints.
"This decisively important book should serve for years to come as required reading for all who wish to make sense of the Holocaust."
— The Nation
This book can be purchased directly through the University Press of New England.