Book Information
Jewish History and Jewish Memory: Essays in Honor of Yosef Hayim Yerushalmi
1998
480 pp.
Cloth, 0-87451-871-7
Jewish History and Jewish Memory

Elisheva Carlebach, John M. Efron and David M. Myers, eds.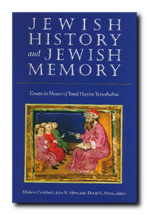 "The list of contributors to this volume constitutes a virtual "Who's Who" of contemporary Jewish historiography: Robert Chazan, Marc Saperstein and Talya Fishman write about the pre-modern period; Moshe Idel focuses on time and history in Kabbalah; Elliot Wolfson addresses the construction of history in the Zohar; Todd Endelman confronts the way that Jewish pasts continued to limit the possibilities of converts from Judaism to Christianity in the post-Emancipation world; and Michael Meyer reflects on Jewish modernization. Though written in academese, there are important insights in these writings."
— Tikkun
This book can be purchased directly through the University Press of New England.