Book Information
Jewish Marriage and Divorce in Imperial Russia
2001
416pp., 20 Illus., 33 Tables
Paper, 1-58465-160-1
Jewish Marriage and Divorce in Imperial Russia

ChaeRan Y. Freeze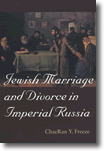 ChaeRan Y. Freeze explores the impact of dramatic social and institutional change on marriage and divorce among Jews in 19th-century Russia. She shows that although divorce rates among Russian Jews in the first half of the century were astronomical compared to the non-Jewish population, those rates declined later in the century, in contrast to the rising pattern among populations undergoing modernization.
Extensive research in newly declassified collections from archives in Russia, Ukraine and Lithuania enables her to analyze the often conflicting interests of Jewish husbands and wives, rabbinic authorities, and the Russian state. Balancing archival resources with memoirs and printed sources, she offers a tantalizing glimpse of the desires and travails of Jewish spouses, showing how individual life histories reflect the impact of modernization on Jewish matchmaking, gender relations, the "emancipation" of Jewish women and the incursion of the Tsarist state into the lives of ordinary Jews.
"Fascinating and very well written, this outstanding book advances our understanding of the history of the Jewish family by a quantum leap."
— David Biale, University of California, Davis
"A wonderful contribution to Eastern European Jewish history. Freeze make judicious use of an enormous body of evidence and provides a nuanced view of the matters she takes up. She is the first person to go through this archival material, yet succeeds in writing a readable and engaging narrative rather than an archivist's report. In short, it is an excellent piece of work."
— Jay Harris, Harvard University
This book can be purchased directly through the University Press of New England.