Book Information
Jews in Israel: Contemporary Social and Cultural Patterns
2003
504 pp.
1-58465-327-2
Jews in Israel

Uzi Rebhun and Chaim I. Waxman, eds.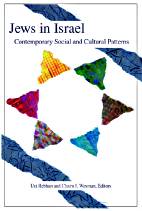 Offers a complete sociological perspective of Jews and Jewish life in Israel from 1948 to the present.
The State of Israel, established over fifty years ago, has long passed the initial stages of nation-building and has become, in many respects, a Western, technological society. Built, in large measure, by ideologically driven Jewish settlement in Eretz Israel (Palestine) in the 19th century, early statehood was deeply influenced by the Holocaust, by war and ongoing military struggle with neighboring countries, and by the necessity of absorbing unprecedented numbers of new immigrants with diverse backgrounds. While these factors served to unify Jewish society in Israel for much of its history, the situation has changed in recent years.
Partly as a result of the establishment of formal relations with a number of major Arab neighboring states and the ongoing search for reconciliation with the Palestinian Arabs — which has in recent years flared up yet again — the strengthened self-assurance of Israel's long-term existence has shifted the focus of Israeli public discourse to domestic matters. In addition, Israel has experienced significant socioeconomic development, and along with it, a pattern of individualism characteristic of other advanced Western societies. American influence, particularly consumerism, has also penetrated Israeli social structure. Today Israel is a society in transition, in which different sets of values can increase group tensions and challenge social cohesion.
A multi-authored collection of twenty essays, Jews in Israel is the first volume to systematically explore the challenges and contradictions of Israel as a modern, heterogeneous society. Focusing on the behaviors of people, rather than institutions and organizations, its approach is largely interdisciplinary, with an overriding sociological perspective.
The volume begins with two broadly conceived essays—a social history of Jews in Israel over the last century, and a survey of major demographic trends among Israelis in the 1990s. Topics of other essays include the processes of absorption and the integration of new immigrants such as Soviet and Ethiopian Jews, the kibbutz, the significance of gender in an evolving society, and the influence of major religious political parties, education, national ideology, literature, religious beliefs, and the Holocaust and other paradigms of Jewish identity, and the relationship between Israelis and Diaspora Jews. In their conclusion, the editors address a number of additional challenges facing Israeli Jewry in the 21st century, with special emphasis on the tension between the desire to maintain the unique character of the Jewish state, on the one hand, and the values of a modern democratic society, on the other.
"A first-rate collection of essays on social trends in Israel which should be required reading in all courses on Israeli society and provides a most useful corrective to the usual emphasis on Israeli politics and foreign policy."
— Steven Bayme, National Director of Contemporary Jewish Life, The American Jewish Committee
"This book presents a collection of essays which provide a very rich analysis of crucial aspects of Israeli society and life from different points of view. It should be of great value to anybody interested in Israel and also in the development of pluralistic tendencies in contemporary societies."
— S. N. Eisenstadt, Rose Issacs Professor Emeritus of Sociology, The Hebrew University of Jerusalem
This book can be purchased directly through the University Press of New England.