Moses Mendelssohn
Writings on Judaism, Christianity, and the Bible
Michah Gottlieb, ed.
2011
296 pp.
978-1-58465-685-2

National Jewish Book Award finalist
Book Reviews
"Moses Mendelssohn: Writings on Judaism, Christianity, and the Bible", Robert Erlewine, Notre Dame Philosophical Reviews
"Hidden in Plain Sight: Moses Mendelssohn's Rhetorical Use of Jesus", Alan T. Levenson, The Bible and Interpretation
"Moses Mendelssohn: Writings on Judaism, Christianity, and the Bible", Benjamin E. Sax, Studies in Christian-Jewish Relations
Moses Mendelssohn:
Writings on Judaism, Christianity, and the Bible
Edited by Michah Gottlieb
An English translation of key works, many never before translated, by Moses Mendelssohn, the founder of modern Jewish philosophy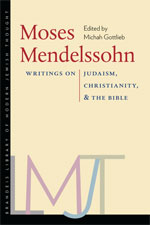 German Jewish philosopher Moses Mendelssohn (1729–1786) is best known in the English-speaking world for his Jerusalem (1783), the first attempt to present Judaism as a religion compatible with the ideas of the Enlightenment. While incorporating much of Jerusalem, Michah Gottlieb's volume seeks to expand knowledge of Mendelssohn's thought by presenting translations of many of his other seminal writings from the German or Hebrew originals. These writings include essays, commentaries, unpublished reflections, and personal letters.
Part One includes selections from the three major controversies of Mendelssohn's life, all of which involved polemical encounters with Christian thinkers. Part Two presents selections from Mendelssohn's writings on the Bible. Part Three offers texts that illuminate Mendelssohn's thoughts on a diverse range of religious topics, including God's existence, the immortality of the soul, and miracles. Designed for class adoption, the volume contains annotations and an introduction by the editor.
"The works of Moses Mendelssohn, the most prolific Jewish writer in eighteenth-century Europe, marked the beginning of a liberal Jewish philosophy that sought to promote the humanistic values of the Enlightenment and to interpret Judaism according to rationalistic and moral criteria. His public and private writings remain relevant to understanding the Jewish experience in all its complexity in these modern times. The publication of these key works will no doubt enrich the discussion of the challenges confronted by the Jews in the past and in the present." —Shmuel Feiner, Bar-Ilan University

"This volume is an invaluable resource for the intellectual-historical study of Moses Mendelssohn, his works, and his era. It will promote an appreciation of the importance Mendelssohn holds for Jewish philosophy and life today. The translations are superb, and Gottlieb has performed a major service for historical scholarship and contemporary religious thought in selecting, introducing, and annotating these sources. Bravo to Gottlieb and his colleagues!" —David Ellenson, President, Hebrew Union College-Jewish Institute of Religion 
MICHAH GOTTLIEB is an assistant professor in the Skirball Department of Hebrew and Judaic Studies, New York University.
This book can be purchased directly through the University Press of New England.