Book Information
Between Mussolini and Hitler: The Jews and the Italian Authorities in France and Tunisia
2002
351 pp. 3 maps 6" x 9"
Paper, 1-58465-228-4
Between Mussolini and Hitler

Daniel Carpi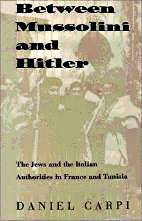 A landmark study of the forces shaping Fascist Italy's policies toward Jews in occupied territories during World War II.
Winner of the Karen Hayesod United Israel Appeal Leyb Yoffe Prize.  
This book can be purchased directly through the University Press of New England.
"Fascist Italy faced a conflict with Nazi Germany regarding the fate of Jews, especially those of the Italian communities in southeastern France and in Tunisia. Carpi (history, Tel Aviv Univ.) has plumbed archival sources in Rome and Paris to detail this complicated but fascinating aspect of the Holocaust. He shows that most Italian diplomats and military personnel were strongly opposed to the policies of Nazi Germany toward the Jews, an enlightened attitude that resulted from a complicated mixture of economic, political, and cultural factors and especially the absence in Italy of the strong anti-Semitism found in Germany. This important study should be in academic libraries and in public libraries with strong Holocaust collections." --Dennis L. Noble, Eastern Montana Coll., Billings "Library Journal"