Book Information
Zionism and the Creation of a New Society
2000
330 pp.
Paper, 1-58465-0230
Zionism and the Creation of a New Society

Ben Halpern and Jehuda Reinharz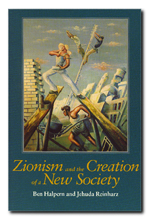 "A dynamic picture of the Jewish society in Palestine and the Zionist movement in its most creative period — on the verge of statehood. Change and stability, revolution and tradition, ideologies and institution: all are depicted here in their immense diversity as competing factors in Jewish life.
"I can hardly think of another book in the English language that so successfully presents the full spectrum of Zionist society in pre-state times. Combining a critical approach with a sympathetic view of Israel and Zionism, it avoids the pitfalls of eulogizing or excessive criticism, finding the right balance between the two. Any scholar or student of Israeli history would be wise to make use of this book.
— Anita Shapira, Tel Aviv University
This book can be purchased directly through the University Press of New England.