The Road to September 1939
Polish Jews, Zionists, and the Yishuv on the Eve of World War II
Jehuda Reinharz, Yaacov Shavit
2018
432 pp. 6 1/8 x 9 1/4"
"...contains a treasure trove of information about this critical period in terms of the contemporaneous understandings and interpretations of some of the most important figures in modern Jewish history." - Alexander J. Groth, Israel Journal of Foreign Affairs
"...wide-ranging, multilayered, and riveting..." - Jewish Review of Books
"[M]eticulously researched...This valuable book is a corrective to simplistic views of strategies of the Zionist leaders of European Jewry in general just before the Holocaust." - Choice
"...this book offers an opportunity for critical reflection on what was, and was not, possible before the storm clouds of war fell on Europe." - Gazeta Vol. 26, No. 1, Spring 2019 (review begins on p.4)
The Road To September 1939
Polish Jews, Zionists, and the Yishuv on the Eve of World War II
Jehuda Reinharz, Yaacov Shavit
How the Zionist movement and the Yishuv actively sought to help Polish and other European Jews in the 1930s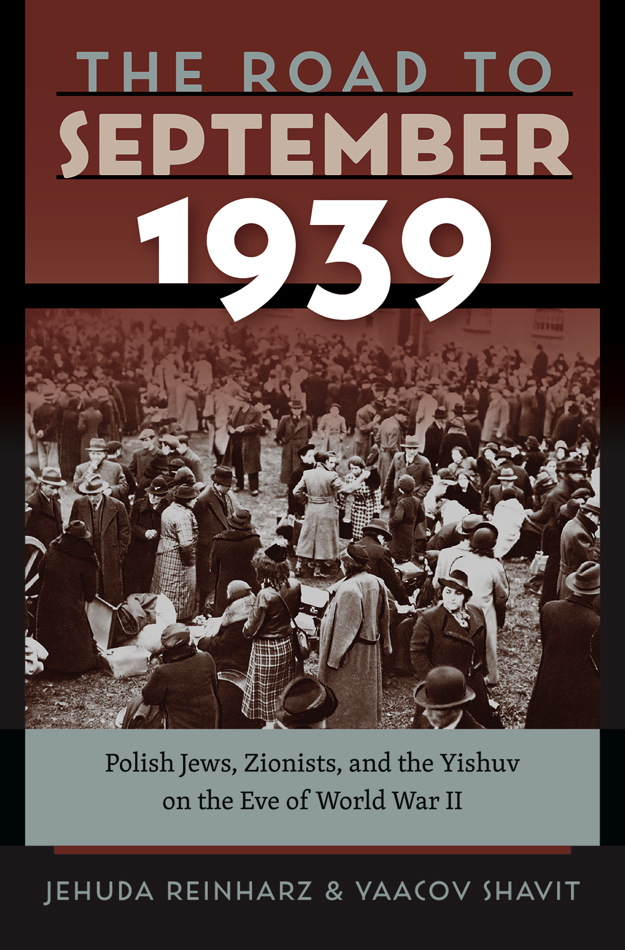 In European and Holocaust historiography, it is generally believed that neither the Zionist movement nor the Yishuv, acting primarily out of self-interest, energetically attempted to help European Jews escape the Nazi threat.

Drawing on the memoirs, letters, and institutional reports of Chaim Weizmann, Ze'ev Jabotinsky, David Ben-Gurion, and many others, this volume sheds new light on a troubled period in Jewish history. Reinharz and Shavit trace Jewish responses to developments in Eastern and Central Europe to show that—contrary to recent scholarship and popular belief—Zionists in the Yishuv worked tirelessly on the international stage on behalf of their co-religionists in Europe.

Focusing particularly on Poland, while explicating conditions in Germany and Czechoslovakia as well, the authors examine the complicated political issues that arose not just among Jews themselves, but within national governments in Britain, Europe, and America. Piercing to the heart of conversations about how or whether to save Jews in an increasingly hostile Europe, this volume provides a nuanced and thoughtful assessment of what could and could not be achieved in the years just prior to World War II and the Holocaust.
JEHUDA REINHARZ is Richard Koret Professor of Modern Jewish History and director of the Tauber Institute for the Study of European Jewry at Brandeis University. He is the president of the Jack, Joseph, and Morton Mandel Foundation. YAACOV SHAVIT is professor emeritus at Tel Aviv University.
This book can be purchased directly through the University Press of New England.