Style and Seduction
Jewish Patrons, Architecture, and Design in Fin de Siècle Vienna 
Elana Shapira
2016
320 pp. 30 illus.
6 1/8 x 9 1/4"
Reviews:
Book Review, Megan Brandow-Faller, West 86th
Book Review, Hillary Herzog, European History Quarterly
Book Review, Donald Wallace, Austrian History Yearbook
"Akkulturation, nicht Assimilation," Alexia Weiss, Wina
"Architecture, Design and Identity in Fin-de-Siecle Vienna," Leslie Topp, H-Net
"Flirting with Culture," Asher Biemann, Ars Judaica
"Kulturhistorikerin zwischen Dialog und Design," Wina
"Art and identity," Neil Gregor, Art Newspaper
"The 'other' lightness of being," Guido Tiefenthaler, ORF.at
"Modern Survival Strategy," Guido Tiefenthaler, ORF.at
Interview with Elana Shapira, Max Kaiser, New Books in Jewish Studies podcast 
Elana Shapira featured in short documentary film on Vienna Jugendstil in the French Arte about the Viennese Secession
Style and Seduction
Jewish Patrons, Architecture, and Design in Fin de Siècle Vienna
Elana Shapira
Explores the central role of Jewish patrons as shapers of Viennese modernism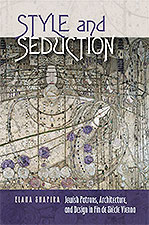 A recent surge of interest in Jewish patronage during the golden years of Vienna has led to the question, Would modernism in Vienna have developed in the same fashion had Jewish patrons not been involved? This book uniquely treats Jewish identification within Viennese modernism as a matter of Jews active fashioning of a new language to convey their aims of emancipation along with their claims of cultural authority.

In this provocative reexamination of the roots of Viennese modernism, Elana Shapira analyzes the central role of Jewish businessmen, professionals, and writers in the evolution of the city's architecture and design from the 1860s to the 1910s. According to Shapira, these patrons negotiated their relationship with their non-Jewish surroundings and clarified their position within Viennese society by inscribing Jewish elements into the buildings, interiors, furniture, and design objects that they financed, produced, and co-designed.

In the first book to investigate the cultural contributions of the banker Eduard Todesco, the steel tycoon Karl Wittgenstein, the textile industrialist Fritz Waerndorfer, the author Peter Altenberg, the tailor Leopold Goldman, and many others, Shapira reconsiders theories identifying the crisis of Jewish assimilation as a primary creative stimulus for the Jewish contribution to Viennese modernism. Instead, she argues that creative tensions between Jews and non-Jews—patrons and designers who cooperated and arranged well-choreographed social encounters with one another—offer more convincing explanations for the formation of a new semantics of modern Viennese architecture and design than do theories based on assimilation.
This thoroughly researched and richly illustrated book will interest scholars and students of Jewish studies, Vienna and Viennese culture, and modernism.
"Style and Seduction is an engaging, creative, and innovative study into the world of the Jewish bourgeoisie in Vienna in the fin de siècle. Shapira challenges a well-known essay by Ernst Gombrich on this theme, and evokes a much more colorful and provocative interpretation of their actions. Full of associations and interpretations on Jews and non-Jews, antisemitic overtones, and visual designs that bring alive the worlds of Vienna that entertained at the turn of the century many imaginative, hidden, and evocative agendas, and personalities – Jews and non-Jews, her book should arouse attention and discussion."
-Richard I. Cohen, Academic Director of Da'at Hamakom, Cultures of Place in Modern Jewish Society, Israel Center of Research Excellence
ELANA SHAPIRA lectures at the University of Applied Arts in Vienna, Austria.
This book can be purchased directly through the University Press of New England.