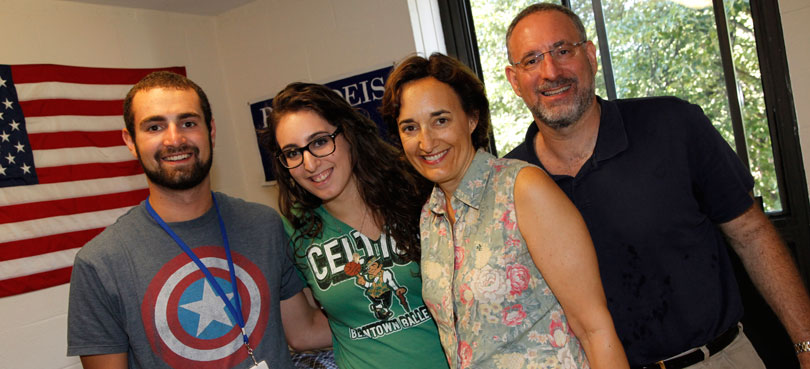 Stay in touch this summer
May 13, 2014
Dear Parent,
With finals ending this past week, I want to take a moment to wish you a wonderful summer and to share a few spring highlights, updates, and helpful reminders.
There were so many wonderful ways for students to have fun and embody Brandeis values this semester.  There are far too many events for me to list them all, but from the Deis Impact Festival of Social Justice to Relay for Life, from our first Deis Day spirit celebration to our historic Leonard Bernstein Festival of the Arts, our students had a tremendous spring semester.
While it is impossible (and unwise) for me to pick favorite events, I was delighted to address our 5th Annual Celebration of Service, a campus-wide event that celebrated the community service work accomplished by students, staff and faculty throughout the course of the year. Some highlights of service include BEMCo volunteering at the Boston Marathon, the Brandeis Black Student Organization piloting a college access program at Waltham High School, more than 60 students traveling to Honduras as part of Global Brigades, and The Waltham Group reaching their highest number of volunteers averaging 800 students per semester.
 
On a more serious note, our students stood up forcefully on a number of important and challenging issues this semester. I am overwhelmingly impressed by their passion and courage, and deeply proud of their commitment and, for the most part, the grace and maturity with which they addressed these topics. I am especially lucky to work closely with our students seeking to lead a revolution nationwide in the ways colleges and universities address the epidemic of sexual assault and violence on our campuses. I am very thankful to our students who developed a national petition on the issue and later helped me compose a campus-wide message on our efforts and next steps.
Although many of our students will return to you or journey elsewhere, Brandeis' administrative offices are open all summer long. If you'd like to be in touch, this resource page has contact information for student life and learning, careers and employment, and health and wellness offices.
This summer we invite you to stay connected to Brandeis by attending events in your area. Most alumni events are open to the full Brandeis community, including parents. View the events calendar here. The Brandeis Parent Facebook Group is another great way to stay connected over the summer. If you haven't joined yet, this is a perfect time. If you are a member, don't forget to check in — there may be questions that you can answer or helpful hints that you don't want to miss! Parents have been using this as a quick way to get questions answered and to share expertise.
During the summer, even as we run extensive summer programs, host conferences from around the world, and continue to support our students and alumni in every corner of the globe, Brandeis staff will be planning and working toward the start of the new school year. Please feel free to be in touch with any questions or concerns.
Have a great summer!
 
Sincerely,
Andrew Flagel, PhD
Senior Vice President, Students and Enrollment and Senior Lecturer
Brandeis University
SVPFlagel@brandeis.edu
@deanflagel