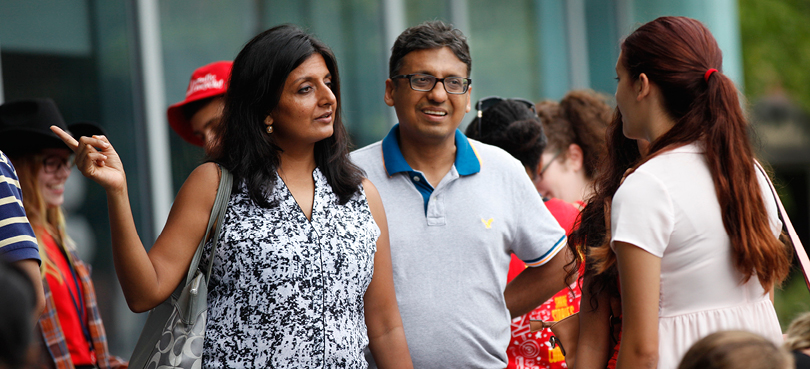 Campus Calendar
BrandeisEVENTS, the university's campus calendar, highlights community activities, lectures, conferences, arts events, exhibitions, information sessions and many other events.
Browse BrandeisEVENTS for a full listing of activities for you and your student.
Family Friendly Events
Brandeis University hosts a vast array of on-campus, local and online events throughout the year that are open to Brandeis parents and families. Below is a list of our most popular parent events.
Orientation is as much an initiation for parents and families as it is a welcome for new students. Brandeis holds several programs geared specifically for parents and families, including a Welcome Fair, panel presentations, receptions and a barbecue. Learn more about First-Year Undergraduate Orientation. Learn more about Midyear Orientation.
Homecoming offers students, alumni and their families and friends the opportunity to show their Brandeis pride and cheer on the Judges on the court, on the field and in the pool.
A full schedule of athletic events is available online. Check out a home game if you are in New England, and look for away games in your area!
For more than 65 years, students have come to Brandeis to learn, become leaders and make their mark. Fall Fest Weekend invites friends and family to the Brandeis community to learn more about what our institution has to offer. Visitors spend quality time with family while attending on- and off-campus events to get a taste of the Brandeis experience. Fall Fest 2016 will take place October 27-31, 2016. Learn more about Fall Fest.
Sponsored by the International Center for Ethics, Justice and Public Life, and the Student Union, 'DEIS Impact is Brandeis University's weeklong "festival of social justice." Students, professors, clubs and academic departments plan dozens of events throughout the week, featuring talks, art-making workshops, performances, exhibits, and discussions. Events are free and open to the public. Learn more about 'DEIS Impact.
Leonard Bernstein Festival of the Creative Arts
The annual Bernstein Festival of the Creative Arts showcases nationally acclaimed performers and visual artists together with music, dance, theater, film and artwork by more than 300 Brandeis students and alumni. The 2017 Leonard Bernstein Festival of the Creative Arts is free and open to the public and will take place April 27-30, 2017. 
Commencement is the culmination of your daughter or son's years of study and personal growth at Brandeis, and it is an experience that students and their families will remember forever. More than 7,500 students, family members and friends join in this milestone celebration of our graduates and their accomplishments. Learn more about Commencement.
Learn more about visiting the Brandeis campus.