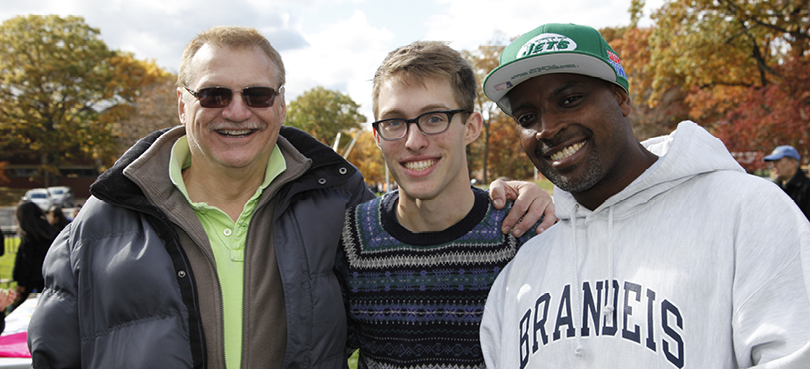 Stay Informed
Our official mobile app, Brandeis Mobile, allows you to stay connected to the university anytime, anywhere.
The app is available for iPhone or Android devices.
Follow Us

Family Resources & Department Contacts
There are many departments and centers on campus that are committed to your student's Brandeis experience. We hope that this page helps you identify the appropriate contact for your questions, comments and feedback throughout your student's time at Brandeis.
STUDENT LIFE AND LEARNING
Office of the Dean of Students
781-736-3600 | deanofstudentsoffice@brandeis.edu
Student rights and community standards, chaplaincy, intercultural center, community service
Department of Student Activities
781-736-5065 | studentactivities@brandeis.edu
Campus events, clubs and organizations, Fall Fest (family weekend), leadership development, Student Service Bureau
University Registrar

781-736-3010 | registrar@brandeis.edu
Academic calendar, course registration, transfer credit, transcripts, finals schedule
Community Living (Housing)
781-736-5060 | dcl@brandeis.edu
Residence halls, student housing, community advisors, room selection, move-in for returning students
Academic Services

781-736-3470 | acserv@brandeis.edu
Academic advising by class year, tutoring, disability services, major selection
Study Abroad
781-736-3483 | abroad@brandeis.edu
Information for families, applications, deadlines, travel information
International Students & Scholars Office
781-736-3480 | isso@brandeis.edu
Host programs, travel information, visa requirements, tax information, employment
New Undergraduate Student Orientation
781-736-5074 | orientation@brandeis.edu
Move-in for new students, transfer student orientation, midyear orientation, shipping
CAREER AND EMPLOYMENT
Hiatt Career Center

781-736-3618 | hiattcenter@brandeis.edu
Jobs and internships, career counseling, networking opportunities, law and graduate school advising, volunteer opportunities for parents
Student Financial Services

781-736-3700 | sfs@brandeis.edu
Tuition and fees, work study, on- and off-campus jobs, scholarships, loans, student accounts/payment options
HEALTH AND WELLNESS
Athletics

781-736-3668| sportsinfo@brandeis.edu
Intramural sports, club sports, varsity sports, group fitness
Dining Services

781-736-4276
Meal plans, dining choices, food allergies, gift and cake orders
Health Center

781-736-3677

On campus health services for acute and chronic illness and injury, preventive screenings for travel and work, physical exams, sexual health, vaccinations, pharmacy delivery
Brandeis Counseling Center
781-736-3730 | bcc@brandeis.edu (non-urgent email)
Information for families, individual and group services, referrals
Public Safety

781-736-5000 (non-emergency) | 781-736-3333 (emergency)
Parking and traffic, campus van and shuttle, BEMCO