Ethics Center Leadership Council building community
Six undergraduates were selected last spring through a competitive process to become the inaugural members of the Ethics Center Leadership Council (ECLC).

Their job was to be "community organizers" of sorts, trying a variety of experiments to encourage respectful, informed and passionate student engagement with important issues in the areas of the Ethics Center's work – peacebuilding and the arts, international justice and human rights, and ethical issues generally.  
Kate Alexander '12, Beneva Davies '13, Rachel Gillette '11, Anna Khandros '11, Tenzing Sherpa '12 and Yuan Yao '11 worked independently and collaboratively with other students, faculty and staff, developing original programs and experimenting with new outreach techniques.  

Gillette and Davies, for example, convened a series of meetings exploring ways to strengthen club leadership on campus; this led to ongoing collaboration with the Student Union.
"The ECLC was an excellent opportunity to take concepts I had considered my entire Brandeis experience and turn them into reality," says Gillette, now a program assistant with the
Open Society Foundations
. "I was given incredible support and guidance, but was absolutely empowered to shape concepts and enact programs. The ECLC is an opportunity to give back to Brandeis in a substantive, meaningful, sustainable way."  
For Tenzing Sherpa '12, the ECLC was a good fit because the work related to his major, International and Global Studies, and his growing interest in international law. One of Sherpa's initiatives was to organize an April visit to Brandeis by Bhuchung K. Tsering, Vice President for Special Programs at the International Campaign for Tibet, who spoke about "Human Rights in Tibet and the Tibetan-Chinese Relationship."  
"The Ethics Center's incredible work and its vast international outreach is not well known in the undergraduate community," says Sherpa. "Connecting students to the Center and its resources was very satisfying for me personally because it opens more avenues for students to succeed." 
A highlight of the ECLC's work in the spring 2011 semester was "Consequences of Blogging," a panel discussion organized and moderated by ECLC member Rachel Gillette '11, about timely issues regarding blogging and internet activity.
Jamie Fleishman '11, Mark Grinberg '11, ECLC member Anna Khandros '11 and Sahar Massachi '11 shared their personal blogging experiences, for better and for worse; these presentations were followed by a diverse panel of faculty and staff presenters: Rick Alterman from Internet Studies, Jackie Kopyt from the Hiatt Career Center and Johann Larusson and David Wedaman from Library and Technology Services.  
In addition to organizing events and meeting with students, faculty, and staff, Council members wrote special features for The Hoot and The Justice, tested an innovative online dialogue platform, EthicsTalk, and maintained a blog, "Exploring Ethics."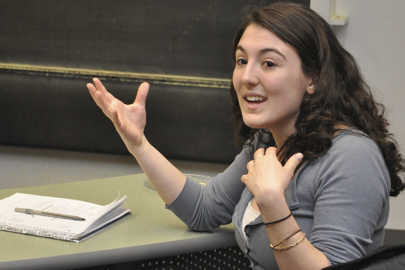 Rachel Gillette '11 moderates a conversation about the "Consequences of Blogging."

In their blog, the ECLC members expressed their opinions and raised provocative questions. Alexander's post "Female judges, lawyers and rights – oh my! Chipping away at the glass ceiling in international politics" even drew the attention of the "IntLawGrrls" blog, which focuses on developments in international law that relate particularly to women.  
Yuan Yao '11 found the ECLC to be a valuable leadership experience. "To be able to take a program and shape its creation through collaboration with my fellow ECLC members and staff was very rewarding and makes this position unique. Working at the Student Immigrant Movement (SIM) this summer, I've realized that the skills in teamwork and community building I learned through my ECLC experience are invaluable tools for me when planning and leading campaigns at SIM."  
Yao has also found connections in his post-Brandeis experience that were more unexpected. One of the job positions he looked at this summer involved the creation of a new research center focused on the functional epigenetics of cancer. During his interview for this position, Yao says, "I impressed my interviewer with my experience with the ECLC, as this was analogous to their current role of creating a new collaborative research center."
Return to the BrandeisNOW homepage