Muslims, Jews and the European Question: Secularity and Religious Difference in Today's Europe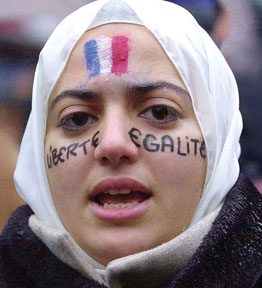 Cosponsors:
The Tauber Institute for the Study of European Jewry
at Brandeis University and
Facing History and Ourselves
Wednesday, April 21, 2010, 2:00-5:00 PM
Lown Room 315, Brandeis University  
The workshop is free but space is limited so please RSVP as soon as possible to tauber@brandeis.edu or call 781 736-2125.
Program
The relationship between secularity and religious and ethnic identity in Europe is fraught with tension and high emotions on all sides.  This workshop will explore the intellectual origins of secularism in Europe and its social and political legacy for Muslims, Jews, and other non-Christians.  These groups live in French and Western European societies, which claim to embrace norms that are ethnically and religiously neutral, but in fact abide by Christian, albeit secularized, foundations.  Questions of anti-Semitism, orientalism, and xenophobia will inform a larger discussion of how to approach issues of belonging, exclusion and identity among various religious and ethnic groups in Europe.
2:00 PM 

Sylvia Fuks Fried, Brandeis University, Greetings
Adam Strom, Facing History and Ourselves, Introduction
2:15 PM

Eugene Sheppard, Brandeis University, "A Philosophical Overview of Secularity and its Current Resurgence"
3:00 PM
Dan Eshet, Facing History, "France and Muslim Headscarves: Secularity, Emancipation, and Exclusion"
3:20 PM
Penelope Khiat: "Muslims Coming of Age in France"
3:50 PM
Break
4:00 PM
Jonathan Judaken, University of Memphis, "A Rose by Any Other Name Would Not Smell as Sweet: French Intellectuals, Jews, Muslims – Towards a History of the Enemy"
4:40 PM
Adam Strom, Facing History, Roundtable Discussion

Background reading: 
Jonathan Judaken, "Alain Finkielkraut and the Nouveaux Philosophes: French-Jewish Intellectuals, the Afterlives of May '68 and the Rebirth of the National Icon"
Dani Eshet, "What Do We Do with a Difference: France and the Debate over Headscarves in School"
Pecora, "Secular Criticism and Secularization"