Forthcoming
Sites of European Antisemitism in the Age of Mass Politics, 1880–1918
Robert Nemes, ed.; Daniel Unowsky, ed.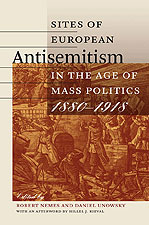 Explores local incidents of antisemitism and antisemitic violence across Europe in the late nineteenth and early twentieth centuries

This innovative collection of essays on the upsurge of antisemitism across Europe in the decades around 1900 shifts the focus away from intellectuals and well-known incidents to less-familiar events, actors, and locations, including smaller towns and villages. This "from below" perspective offers a new look at a much-studied phenomenon: essays link provincial violence and antisemitic politics with regional, state, and even transnational trends. Featuring a diverse array of geographies that include Great Britain, France, Austria-Hungary, Romania, Italy, Greece, and the Russian Empire, the book demonstrates the complex interplay of many factors—economic, religious, political, and personal—that led people to attack their Jewish neighbors.

ROBERT NEMES is associate professor of history, Colgate University. DANIEL UNOWSKY is professor of history, University of Memphis.
This book can be purchased directly through the University Press of New England.
---
Jewish Philosophical Politics in Germany, 1789–1848
Sven-Erik Rose With an Afterward by Hillel J. Kieval
A provocat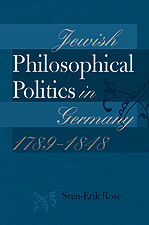 ive look at how Jewish intellectuals thought about Jewish religion and existence within a German philosophical tradition

In this book Rose illuminates the extraordinary creativity of Jewish intellectuals as they reevaluated Judaism with the tools of a German philosophical tradition fast emerging as central to modern intellectual life. While previous work emphasizes the "subversive" dimensions of German-Jewish thought or the "inner antisemitism" of the German philosophical tradition, Rose shows convincingly the tremendous resources German philosophy offered contemporary Jews for thinking about the place of Jews in the wider polity. Offering a fundamental reevaluation of seminal figures and key texts, Rose emphasizes the productive encounter between Jewish intellectuals and German philosophy. He brings to light both the complexity and the ambivalence of reflecting on Jewish identity and politics from within a German tradition that invested tremendous faith in the political efficacy of philosophical thought itself.
SVEN-ERIK ROSE is assistant professor of German, University of California, Davis.
This book can be purchased directly through the University Press of New England.