Forthcoming
The Faith of Fallen Jews
Yosef Hayim Yerushalmi and the Writing of Jewish History
David N. Myers, ed.; Alexander Kaye, ed.
Brings together key writings by one of the most distinguished and renowned Jewish historians of our time


From his first book, From Spanish Court to Italian Ghetto, to his well-known volume on Jewish memory, Zakhor, to his treatment of Sigmund Freud in Freud's Moses, Yosef Hayim Yerushalmi (1932–2009) earned recognition as perhaps the greatest Jewish historian of his day, whose scholarship blended vast erudition, unfettered creativity, and lyrical beauty. This volume charts his intellectual trajectory by bringing together a mix of classic and lesser-known essays from the whole of his career. The essays in this collection, representative of the range of his writing, acquaint the reader with his research on early modern Spanish Jewry and the experience of crypto-Jews, varied reflections on Jewish history and memory, and Yerushalmi's enduring interest in the political history of the Jews. Also included are a number of little-known autobiographical recollections, as well as his only published work of fiction.
"A challenging, moving, provocative collection of essays, lectures, and reviews (as well as an unexpected short story) by the author of Zakhor. A multifaceted, fragmented, half-involuntary self-portrait of a major twentieth-century historian."—Carlo Ginzburg, UCLA

"A deeply charismatic and cultivated man, Yerushalmi was the greatest humanist that Jewish studies produced. The essays in this essential volume attest abundantly to the variety and the profundity of his work. They confirm that Yerushalmi was not only one of the giants of Jewish historiography; he was also its conscience."—Leon Wieseltier
DAVID N. MYERS is professor of Jewish history and chair of the History Department at UCLA. He is the author or editor of nine books. ALEXANDER KAYE received his Ph.D. in Jewish history at Columbia University and is currently a Tikvah Post-Doctoral Fellow in Jewish Thought at Princeton University.
This book can be purchased directly through the University Press of New England.
---
Everyday Jewish Life in Imperial Russia
Select Documents, 1772–1914
ChaeRan Y. Freeze, ed.; Jay M. Harris, ed.
An astounding compilation of primary source documents dealing with all aspects of Jewish daily life in the Russian empire.
This b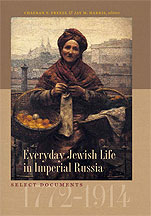 ook makes accessible—for the first time in English—declassified archival documents from the former Soviet Union, rabbinic sources, as well as previously untranslated memoirs, illuminating everyday Jewish life as the site of interaction and negotiation among neighbors, society, and the Russian state, from the beginning of the nineteenth century to World War I. Focusing on religion, family, health, sexuality, work, and politics, these documents provide an intimate portrait of the rich diversity of Jewish life. By personalizing collective experience through individual life stories—reflecting not only the typical but also the extraordinary—these sources reveal the tensions and ruptures in a vanished society. An introductory survey of Russian Jewish history from the Polish partitions (1772–1795) to World War I, along with prefatory remarks, textual annotations, and a bibliography of suggested readings, combine to provide a new perspective on the history of the Jews of Russia.

CHAERAN Y. FREEZE is associate professor in the Department of Near Eastern and Judaic Studies at Brandeis University. She is the author of Jewish Marriage and Divorce in Imperial Russia. JAY M. HARRIS is Harry Austryn Wolfson Professor of Jewish Studies and dean of undergraduate education at Harvard University.

This book can be purchased directly through the University Press of New England.
---
Holocaust Mothers and Daughters
Family, History, and Trauma
Federica K. Clementi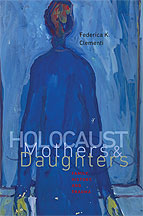 An astonishing analysis of Jewish mother-daughter relations before, during, and after the Shoah as described in daughters' memoirs.
In this brave and original work, Federica Clementi focuses on the mother-daughter bond as depicted in six works by women who experienced the Holocaust, sometimes with their mothers, sometimes not. The daughters' memoirs, which record the "all-too-human" qualities of those who were persecuted and murdered by the Nazis, show that the Holocaust cannot be used to neatly segregate lives into the categories of before and after. Her discussions of differences in social status, along with the persistence of antisemitism and patriarchal structures, support this point strongly, demonstrating the tenacity of trauma—individual, familial, and collective—among Jews in twentieth-century Europe.
"Do daughters feel differently about their mothers in situations of extremity such as war or genocide? In this illuminating study of six autobiographical works by Jewish Holocaust victims or survivors, F.K. Clementi shows that their mother/daughter plots follow some of the same complex, ambivalent, contradictory and ultimately devastating trajectories characterizing ordinary times. Yet in giving space and close attention to the intimate stories of women, Holocaust Mothers and Daughters discovers unexpected aspects of creativity and survival in times of catastrophe."—Marianne Hirsch, Columbia University
FEDERICA K. CLEMENTI is assistant professor of Jewish Studies at the University of South Carolina.
This book can be purchased directly through the University Press of New England.