The Individual in History
Essays in Honor of Jehuda Reinharz
ChaeRan Y. Freeze, ed.; Sylvia Fuks Fried, ed.; Eugene R. Sheppard, ed.

2015 • 528 pp. 2 illus. 6 1/8 x 9 1/4"

ISBN 978-1-61168-732-3
Reviews:
The Individual in History
Essays in Honor of Jehuda Reinharz
Edited by ChaeRan Y. Freeze, Sylvia Fuks Fried, and Eugene R. Sheppard
Essays to  honor Jehuda Reinharz, his scholarly work and institutional leadership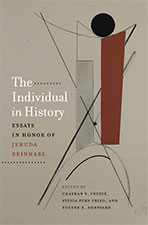 Jehuda Reinharz, born in Haifa in 1944, spent his childhood in Israel and his adolescence in Germany, and moved with his family to the United States when he was seventeen. These three diverse geographies and the experiences they engendered shaped his early years and the future of a prolific scholar who devoted his life to the study of the central role of leadership  in the age of emancipation and integration in Europe, the rise of modern antisemitism, the formation of Zionist youth culture and politics, and the transformation of Jewish politics in Palestine and the State of Israel.
In this volume, eminent scholars in their respective fields extend the lines of Reinharz's research interests and personal activism by focusing on the ideological, political, and scholarly contributions of a diverse range of individuals in Jewish history. Essays address five central themes: ideology and politics; statecraft; intellectual, social and cultural spheres; witnessing history; and the academy.
This volume offers a panoramic view of modern Jewish history through engaging essays that celebrate Reinharz's rich contribution as a prolific scholar,  a pathbreaking teacher, and leader in the academy and beyond.
CHAERAN Y. FREEZE is professor of Near Eastern and Judaic studies and women's, gender, and sexuality studies at Brandeis University. SYLVIA FUKS FRIED is executive director of the Tauber Institute at Brandeis University. EUGENE R. SHEPPARD is associate professor of modern Jewish history and thought at Brandeis University.
This book can be purchased directly through the University Press of New England.