Speakers and Panelists
Speakers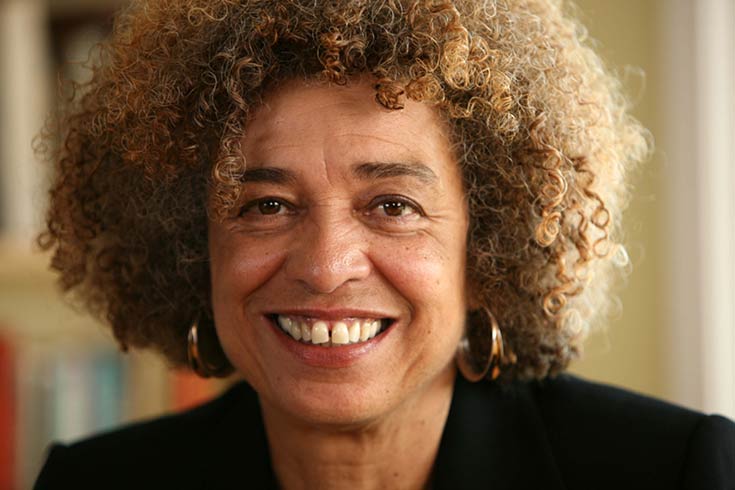 Angela Y. Davis '65
Through her activism and scholarship over many decades, Angela Y. Davis has been deeply involved in movements for social justice around the world. Her work as an educator – both at the university level and in the larger public sphere – has always emphasized the importance of building communities of struggle for economic, racial and gender justice.
Davis' teaching career has taken her to San Francisco State University, Mills College and UC Berkeley. She also has taught at UCLA, Vassar, Syracuse University, the Claremont Colleges and Stanford University. Most recently, she spent 15 years at UC Santa Cruz, where she is now a Distinguished Professor Emerita of history of consciousness and feminist studies.
The author of nine books, Davis has lectured throughout the United States as well as in Europe, Africa, Asia, Australia and South America. In recent years, a persistent theme of her work has been the range of social problems associated with incarceration and the generalized criminalization of communities most affected by poverty and racial discrimination. She draws upon her own experiences in the early 1970s as someone who spent 18 months in jail and on trial, after being placed on the FBI's 10 Most Wanted List. She also has conducted extensive research on issues related to race, gender and imprisonment. Her recent books include "Abolition Democracy" and "Are Prisons Obsolete?" (about the abolition of the prison industrial complex), and a new edition of "Narrative of the Life of Frederick Douglass." Her most recent book of essays is "Freedom Is a Constant Struggle: Ferguson, Palestine and the Foundations of a Movement."
Davis is a founding member of Critical Resistance, a national organization dedicated to the dismantling of the prison industrial complex. Internationally, she is affiliated with Sisters Inside, an abolitionist organization based in Queensland, Australia, which works in solidarity with women in prison.
Like many educators, Davis is especially concerned with the general tendency to devote more resources and attention to the prison system than to educational institutions. Having helped to popularize the notion of a prison industrial complex, she now urges her audiences to think seriously about the possibility of a world without prisons and to help forge a 21st-century abolitionist movement.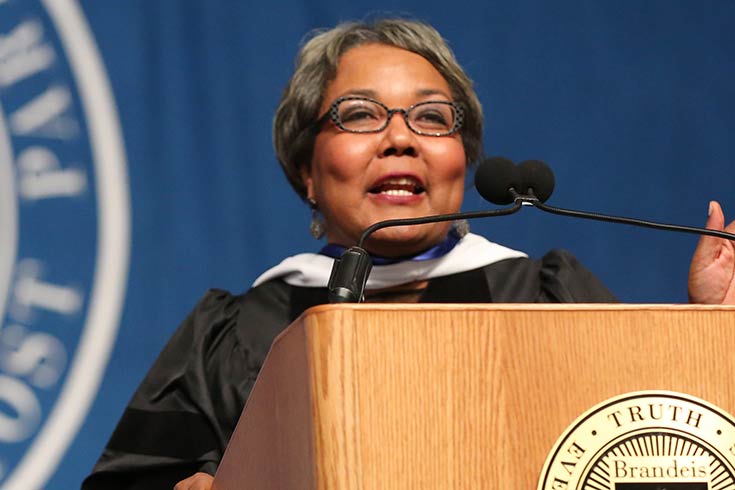 Julieanna Richardson '76, H'16
Julieanna Richardson is the founder and executive director of The HistoryMakers, an educational nonprofit dedicated to preserving, developing and showcasing video oral histories of African-Americans. Through The HistoryMakers, the largest archival project of its kind in the world, she is adding seldom-heard voices to the telling of America's story. Her work establishes a more inclusive, resonant and accurate historical record, for us and for generations to come.
Richardson first experienced the power of oral history while doing independent research on the Harlem Renaissance as an American studies and theater arts major at Brandeis. Interviewing people about their lives "made history really come alive for me," she says.
A graduate of Harvard Law School, Richardson worked as a corporate lawyer before establishing the Chicago Cable Commission, the city's regulatory body, while serving as cable administrator at Chicago's Office of Cable Communications. She went on to found Shop Chicago, a regionally based home-shopping channel, and then started her own production company, SCTN Teleproductions.
In 1999, Richardson founded The HistoryMakers. To date, the nonprofit has videotaped more than 2,700 interviews with unsung and well-known African-Americans, capturing more than 9,000 hours of oral history. The growing list of HistoryMakers includes Gen. Colin Powell; children's advocate Marian Wright Edelman; poet Maya Angelou; President Barack Obama, interviewed when he was an Illinois state senator; and 211 of the nation's top African-American scientists.
In 2014, the Library of Congress announced it would serve as The HistoryMakers' permanent repository.
Richardson sits on the Honors Council of Lawyers for the Creative Arts and in 2011 was appointed to the Comcast NBCUniversal National African-American Advisory Council. In 2014, Black Enterprise magazine awarded Richardson the Legacy Award, its highest recognition of women's achievement. That same year, she was profiled in the documentary "The Boomer List," part of the PBS series "American Masters."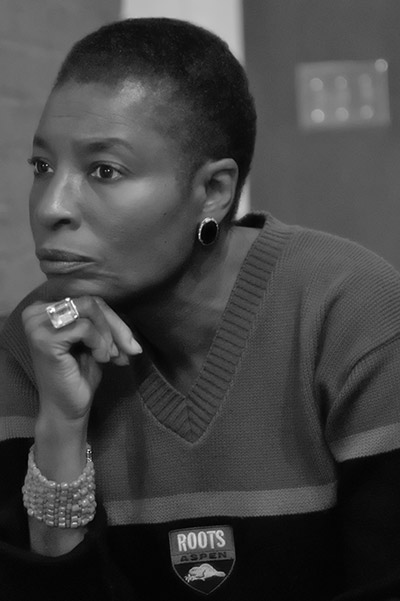 Photo Credit: "Lou Outlaw," a.k.a. Lucius T. Outlaw (Jr.)
Hortense Spillers, PhD'74
Hortense J. Spillers is an American literary critic, black feminist scholar and the Gertrude Conaway Vanderbilt Professor of English at Vanderbilt University. Since receiving her PhD from Brandeis, she has taught at Wellesley College, Haverford College, Emory University and Cornell University. She has also served as a guest professor in the Program in Literature at Duke University during 2002-03 and at the John F. Kennedy Institute for North American Studies at the Free University in Berlin, Germany, in 2000 and 2001. A recipient of numerous honors and awards, including grants from the Rockefeller Foundation and the Ford Foundation, she has been a fellow at the National Humanities Center, Research Triangle, and the Center for Advanced Study in the Behavioral Sciences, Palo Alto. While at Haverford, she was chair of the English department for two years before moving to Cornell, where she served as one of the period editors of the "Norton Anthology of African-American Literature."
Her collection of scholarly essays, "Black, White and in Color: Essays on American Literature and Culture," was published by the University of Chicago Press in 2003. She also co-edited "Conjuring: Black Women, Fiction and Literary Tradition," published by Indiana University Press. Spillers serves on a number of editorial boards and is a former member of the executive council of the Modern Language Association. Her 1987 scholarly article "Mama's Baby, Papa's Maybe: An American Grammar Book" is one of the most-cited essays in African-American literary studies.
Currently, Spillers is at work on two new projects, on the idea of black culture, and black women and early state formations. She teaches courses in American and African-American literature, Faulkner and feminist theory. She lectures widely at home and abroad, most recently delivering the 2010 Sidney Warhaft Distinguished Memorial Lecture at the University of Manitoba, the W.E.B. Du Bois Lectures at Harvard in 2014 and the Henry L. Gates Jr. Lecture at Yale in 2016. She received a Lifetime Achievement Award from the literary journal Callaloo in 2016, and was honored with the Nicolás Guillén Lifetime Achievement Award by the Caribbean Philosophical Association at its international conference in summer 2017.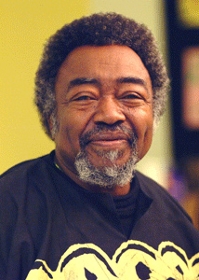 Askia M. Touré
Professor and poet Askia M. Touré was born on Oct. 13, 1938, in Raleigh, North Carolina. His dedication to social justice was evident early on as he participated in a successful sit-in while attending Roosevelt High School. After graduating, Touré joined the U.S. Air Force. A letter he wrote to Congressman Adam Clayton Powell Jr. resulted in a government investigation of racism at Wurtsmith Air Force Base, in Michigan.
After his discharge from the Air Force in 1959, Touré took art classes at the Dayton Art Institute. He then moved to New York City and joined the Art Students League and the Umbra Poets. Mentored by Langston Hughes and influenced by such artists as Ernest Crichlow, Jacob Lawrence, Leo Carty, Elombe Brathe and Ronnie Braithwaite, Touré became a poet who championed a black aesthetic.
In 1961, Touré joined Max Roach, Abbey Lincoln, Alex Prempe, May Mallory and Maya Angelou at the United Nations to protest the assassination of Congo's Patrice Lumumba. In 1962, Touré worked as an illustrator for Umbra magazine, a staff member with The Liberator magazine and a contributor to Freedomways. He was a part of the Atlanta staff of the Student Nonviolent Coordinating Committee (SNCC) and joined the Revolutionary Action Movement (RAM) in Mississippi in spring 1964. In 1965, he founded Afro World and organized the Harlem Uptown Youth Conference. He also participated in the rise of the Black Panther Party and co-wrote SNCC's 1966 Black Power Position Paper.
In 1967, Touré joined Nathan Hare's staff at San Francisco State University and taught African history in the first Africana Studies Program. He organized the 1984 Nile Valley Conference in Atlanta and in 1986 co-founded the Atlanta chapter of the Association for the Study of Classical African Civilizations.
Touré has authored multiple books and received a 1989 American Book Award (for "From the Pyramids to the Projects") and the 2000 Stephen E. Henderson Poetry Award (for "Dawnsong!"). In 1996, he was honored with the Gwendolyn Brooks Lifetime Achievement Award.
Panelists
Hamida Adbal-Khallaq '72
After Brandeis, Abdal-Khallaq danced professionally with the Danny Sloan Dance Company. She received her Master's degree from Antioch, taught school and was a guidance counselor for the Archdiocese of Boston. She was a Metco Coordinator before moving to Texas in 1981. Then, she was an Assistant Principal in the FWISD before attending law school at Texas Southern University while also teaching dance. She has been in solo practice in Fort Worth, TX for twenty-seven years and is contemplating her next career move.
Aja Antoine '17
Aja Antoine is a Senior Program Manager at The OpEd Project, a social venture that amplifies the voices and ideas of underrepresented thought leaders across the globe. Aja graduated summa cum laude with highest honors from Brandeis University '17 with degrees in Sociology and African and Afro-American Studies.
Randall C. Bailey '69
Dr. Randall C. Bailey is the Andrew W. Mellon Professor of Hebrew Bible at Interdenominational Theological Center in Atlanta, GA. Dr. Bailey is a native of Malden, MA. He received the BA from Brandeis University, the MA in Social Service Administration from the University of Chicago, the MDiv from Candler School of Theology and the PhD in Old Testament from Emory University. Dr. Bailey has lectured and preached extensively nationally and internationally. His scholarship concentrates on the relationship of Ancient Africa and the Hebrew Bible. He specializes in ideological criticism, especially as regards the intersections of race, gender, class, sex, sexuality, nationality and power in the biblical text.
Amaris Brown '16
Amaris Diana Brown is a third-year doctoral student in the Africana Studies & Research Center at Cornell University. A 2018 Ford Foundation Predoctoral Fellow and 2018 Mellon Urban Representation Lab recipient, Brown earned her BA in African & Afro-American Studies and Sociology from Brandeis University. Brown's research examines relationships between and among the body, belief, gender, sexuality, and time in African diasporic literary and material culture, and reads across black queer life in the U.S. South and Spanish-speaking Caribbean throughout the 20th and 21st centuries. Situated at the intersection of narrative theory, queer studies, and black feminism, Brown engages racialized and gendered theories of the body through fiction and folklore, methods of disciplining and desiring the body, and the social life of pain and pleasure.
Roy DeBerry '70, MA'78, PhD'79
Roy DeBerry, a native of Holly Springs, MS, recently retired as Vice President for Economic Development and Local Governmental Affairs at Jackson State University. DeBerry is a 1970 graduate of Brandeis University, where he earned a bachelor's degree in Sociology, and Masters (73) and Doctorate degree in Political Science, 1978. In 2007, he co-created an organization, The Hill Country Project, located in Benton County, Mississippi, which focuses on oral history, education, economic development and community capacity building. DeBerry has co-edited a book, "Hearts and Minds: An Oral History of Benton County, Before, During and after the Civil Rights Movement," with another Brandeis Alum, which will be published by the University of Mississippi Press, Spring of 2019.
Janice Johnson Dias '94
Dr. Janice Johnson Dias is an Associate Professor of Sociology and a Graduate Faculty in the Department of Criminal Justice at John Jay College. Johnson Dias holds a BA from Brandeis University and PhD in Sociology from Temple University, with a specialization in urban and political sociology. Her research focuses on impoverished mothers and children. In addition to her academic work, Johnson Dias has extensive experience working with, evaluating and building collaborations among social service and community organizations. Johnson Dias also serves as the Founder and President of the GrassROOTS Community Foundation, a national pubic health and social action organization that supports, develops, and scales community-driven solutions to the health challenges facing women and girls living in poverty.
Ra Malika Imhotep '15
Ra Malika Imhotep is a black feminist writer from Atlanta, Georgia currently pursuing a doctoral degree in African Diaspora Studies at the University of California, Berkeley. Her work tends to the relationships between black femininity, aesthetics, and the performance of labor. She is the co-convener of the Oakland-based experiential study group The Church of Black Feminist Thought and member of the curatorial collective The Black Aesthetic.
Lucretia Jones '77
Lucretia Jones works at the NYC Dept. of Health & Mental Hygiene as a Researcher Scientist and Director of General Surveillance in Communicable Disease overseeing a unit of Public Health Epidemiologists. She was the founding Board Chair of a grassroots CBO Mothers on the Move (MOM), and currently a board member of the Bronx Community Research Review Board and the Community Engaged Research Academy. She received her Doctorate from CUNY's School of Public Health, her MPH in Sociomedical Sciences from Columbia's Mailman School, and her BA in AAAS from Brandeis '77.
Napoleon Lherisson '11
Napoleon Lherisson is an educator and a diversity coordinator at Cary Academy in Cary, North Carolina. Prior to Cary Academy, he served as an administrator and diversity coordinator at Thayer Academy in Braintree, MA. Napoleon has a Bachelor of Arts in African and Afro-American Studies from Brandeis University and has a Master of Education in Curriculum and Instruction from Boston College. Napoleon serves as a co-chair for the Brandeis Alumni of Color group.
Ricardo Millett '68, MSW '71, PhD'74
Ricardo A. Millett is the President of Millett & Associates in Chicago, which provides program evaluation and strategic planning consultant services to foundations and non-profits. With over 40 years of experience in community and public policy planning and research, Dr. Millett has focused his career on promoting economic and social justice for all. Immediately prior to founding his own company, Dr. Millett served as President of the Woods Fund of Chicago, where he developed and implemented a successful strategic grant-making plan that served the needs of Chicago's least advantaged communities. Dr. Millett has published a book and several articles on the subject of citizen participation and community capacity building. Dr. Millett received a BA degree in economics, as well as MA and PhD degrees in social policy planning from Brandeis University.
Laurie Nsiah-Jefferson '80, MA'06, PhD'06
Dr. Laurie Nsiah-Jefferson is currently the Interim Director for the Center for Women in Politics and Public Policy at UMass, Boston, and is also the Graduate Program Director for the Gender, Leadership and Public Policy Program. She has also held faculty and senior scientist positions at the Heller School for Social Policy and Management at Brandeis University, and has served as affiliate faculty with the Health, Science, Society and Policy Program, Women, Gender, and Sexuality Program, and the African and African American Studies Department. She is also a Research Professor at the University of North Carolina Charlotte, where she focuses on the social determinants of health, including racism on black women's health. Dr. Nsiah-Jefferson's research interests relate to the simultaneous intersections between aspects of social difference and identity, and forms of systematic oppression, at micro and macro levels, and its impact on various health and social outcomes.
Vere Plummer '74
Vere Plummer, Esq. has worked as a Correctional Counselor at the Shirley Pre-Release Center, in Shirley, Massachuseets and as a School District Coordinator at School Volunteers for Boston, Inc. He received his JD in 1980 from Antioch School of Law in Washington, DC, and held a judicial clerkship in DC Superior Court. Mr. Plummer was Hearing Commissioner and Hearing Examiner in DC Government as well. He established a private law practice in bankruptcy, real estate finance, and estates and trust and has been serving individuals, families, professionals and small businesses in the metropolitan Washington, DC area for more than 30 years. Currently, he is winding up his commercial law practice to further pursue interest in economic empowerment and social justice for the underserved and underrepresented.
Reuel Rogers '90
Reuel R. Rogers is Associate Professor of Political Science at Northwestern University, where he also is affiliated with the Department of African American Studies and the Latin American and Caribbean Studies Program. He earned his PhD in Politics from Princeton University and has held fellowships with the Ford Foundation and at the Radcliffe Institute at Harvard University. He is the author of the award-winning book "Afro-Caribbean Immigrants and the Politics of Incorporation: Ethnicity, Exception, or Exit" (Cambridge University Press, 2006).
Helen Stewart PhD'80
Helen Stewart is a pioneering scholar of black studies and black feminism. She holds a PhD in Sociology from Brandeis and was a post-doctoral scholar at Harvard University. She held full-time lecturer appointments at Wellesley College and Brandeis University, and taught part-time at Harvard University, Emerson College and Sonoma State University. In addition to teaching, Helen was an academic-administrator at San Francisco State University and Sonoma State University in California, culminating in her appointment as Vice President for Academic Affairs and Provost at Rider University in New Jersey. She is currently working on a book of non-fiction essays entitled "Grits and Granola," based on her perspective as a black woman in America, her experience as an African American abroad, and her special interest in contemporary spirituality and applied intuition.
Curtis Tearte '73
Curtis is Chairman and CEO of the Tearte Family Foundation following a 30-year career of executive leadership responsibility with the IBM Corporation. He earned a Juris Doctorate degree from the University of Connecticut School of Law; BA from Brandeis University where he majored in African and African American Studies; and, he studied Political Science and International Affairs at Howard University and the University of Pennsylvania Wharton School. A member of the Executive Leadership Council, he currently serves as Secretary of the Brandeis Board of Trustees and Chairman of the Board's Academy Committee.
Alexandra Thomas '18
Alexandra M. Thomas '18 is currently a PhD student in African American Studies, History of Art, and Women's, Gender & Sexuality Studies at Yale University. Her research explores African & African diasporic visual culture, global modern and contemporary art, black feminist thought, and queer theory.
Patricia Van Story '72
Dr. Patricia Van Story is an alumna of Brandeis University – BA, Russian Language and Pre-Med Minor, 1972; and Howard University – Doctor of Dental Surgery, 1981. She was a Medical/Dental Fellow at NIH/NIDCR from 1982-1985 where her work was published in the Journals of Oral Pathology, Journal of the American Dental Association and the Journal of Biochemical Pharmacology. She was in private practice for over 25 years, the Dental Director for Washington County, MD Health Clinic for 8 years, and in 2016 presented her findings on undiagnosed diabetic patients in a Dental Setting and the use of A1c testing at the State of Maryland's 1st Chronic and Infectious Disease Conference. Dr. Van Story is semi-retired and runs a Dental Clinic for the State of Maryland, at the Juvenile Justice Detention Center in Baltimore, Maryland.