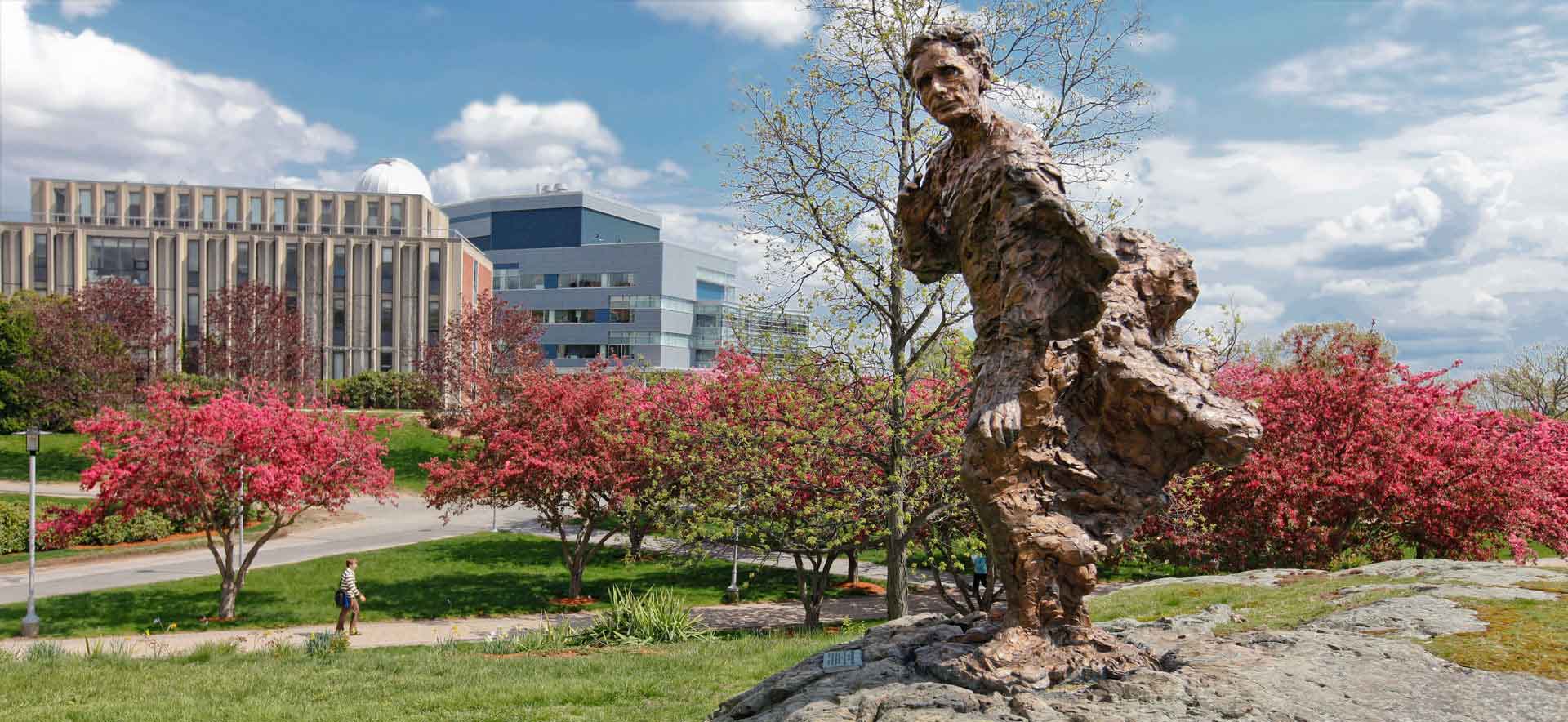 About
Our Namesake: Louis D. Brandeis
The university was established seven years after the death of our namesake, Justice Louis Brandeis. In founding Brandeis University, the American Jewish community sought to build an institution that put into practice the universal values and principles Justice Brandeis embodied: open and robust inquiry, a reverence for learning and knowledge, and service to others.
Louis Dembitz Brandeis (1856-1941), a towering legal and judicial figure, was instrumental in shaping modern American jurisprudence. His principles and ideas on the law, democracy and society are as relevant and useful today as they were in the first half of the 20th century — a time when individual liberties and the workaday world for average citizens often collided with growing governmental and corporate power. Brandeis' legacy offers enduring guidance as society addresses many complex issues of inclusion, equity and government power in the 21st century.
Brandeis was appointed to the Supreme Court of the United States in 1916 by President Woodrow Wilson in a bitterly contested process that sought to brand him as a radical reformer, and was tinged with anti-Semitism. He was the first Jew to sit on the high court. At the time, The New York Times dismissed Brandeis as "a contender, a striver after change and reforms."
Indeed, long before he joined the high court, Brandeis made an indelible mark on the law. As a Boston lawyer, he became known as the "people's attorney" for his noted pro bono work in the public interest. He supported workers' rights, championing fair wages and working hours.
"If we would guide by the light of reason we must let our minds be bold."
— Louis D. Brandeis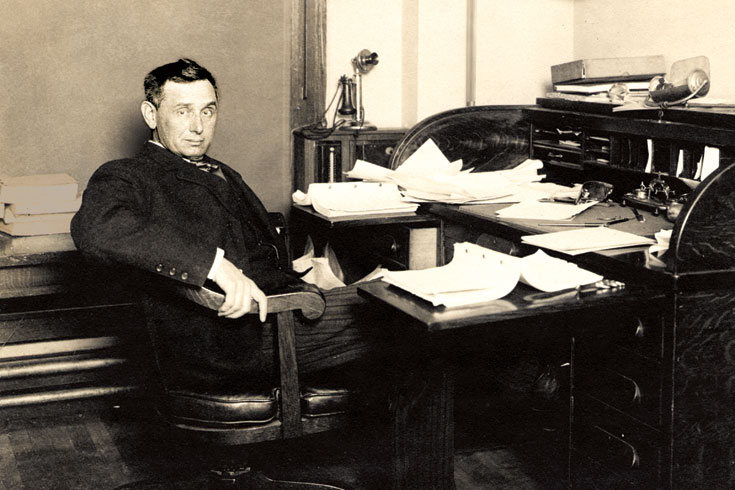 Attorney Louis D. Brandeis at his desk, c. 1900
During his career as an attorney, Brandeis made a major contribution to modern jurisprudence, according to Philippa Strum '59, a preeminent Brandeis biographer and a senior scholar at the Woodrow Wilson International Center for Scholars, when he developed a new approach to arguing cases that used fact-based evidence, not just legal theory. This method came to be known as the "Brandeis Brief" and is a staple of American constitutional law.
In 1890, Brandeis argued, in what became one of the most famous Harvard Law review articles in history, that a right to privacy was inherent in American law. "... To protect Americans in their beliefs, their thoughts, their emotions and their sensations [the makers of the Constitution] ... conferred, as against the Government, the right to be let alone — the most comprehensive of rights and the right most valued by civilized men."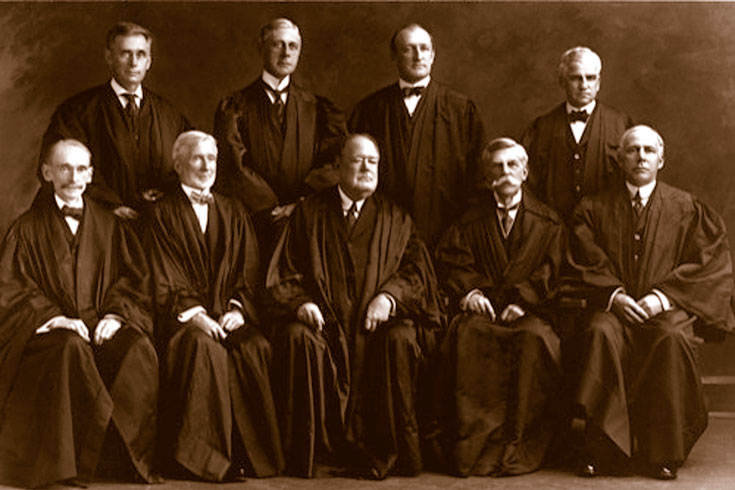 Members of the Supreme Court of the United States, c. 1916. Brandeis is in the top left corner.
Decades later, in 1928, in a famous dissent from the high court bench, Brandeis again argued for the "right to be let alone." According to Strum, "The phrase 'the right to be let alone' has since been invoked in almost every constitutional lawsuit and decision involving privacy … "
During his tenure on the court, Brandeis championed freedom of speech, the first justice to do so. In a 1927 opinion he wrote, "Those who won our independence … believed that freedom to think as you will and to speak as you think are means indispensable to the discovery and spread of political truth; that, without free speech and assembly, discussion would be futile … "

Justice Brandeis believed a democratic society depended on individual rights such as freedom of speech and the right to be let alone. But democracy also entailed responsibilities. "The most important political office is that of the private citizen," Brandeis wrote early in his career. Moreover, says Strum, Brandeis believed freedom of speech is inextricably linked to each citizen's duty to participate in the democratic process — to debate the ideas of the day and make on's voice known to policy makers, and to vote.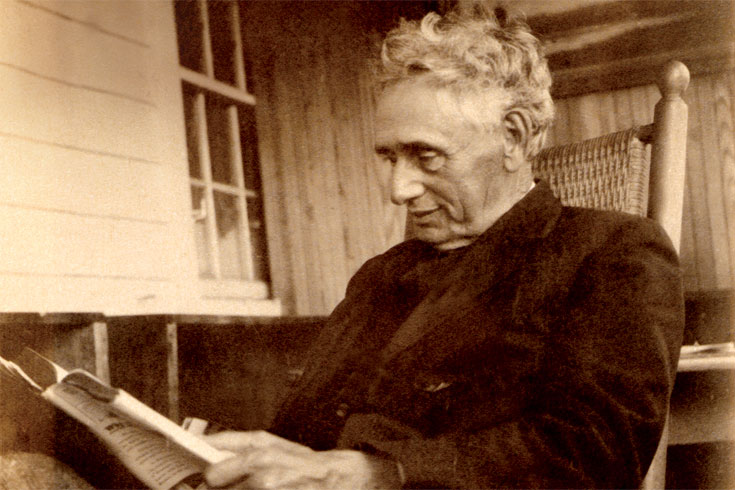 Brandeis reading on his porch, c. 1935
Justice Brandeis died in 1941, having lived half his life in the 19th century and half in the 20th. Yet his guiding principles and ideas on free speech, privacy, government intrusion and democracy continue to influence and shape modern jurisprudence and society.
Additional Resources
Guided by the Light of Reason