Events
Schedule of Events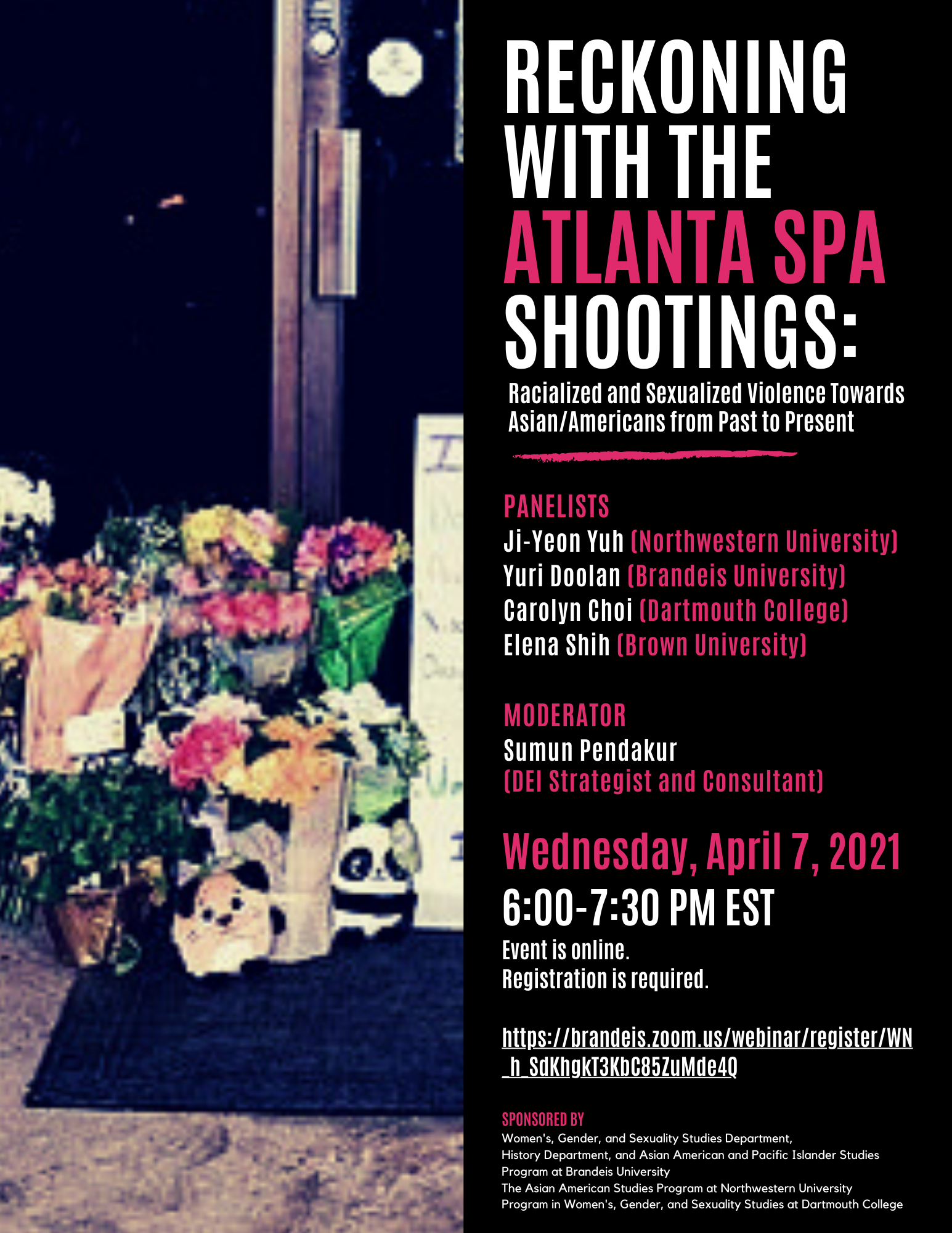 Reckoning with the Atlanta Spa Shootings: Racialized and Sexualized Violence Towards Asian/Americans from Past to Present
Wednesday, April 7, 2021
6:00-7:30 PM EST
View a Recording of the Program. Closed-Captioned (CC).
Co-Sponsored by: The Women's, Gender, and Sexuality Studies Department, the History Department, and the Asian American and Pacific Islander Studies Program at Brandeis University.
The Asian American Studies Program at Northwestern University.
The Program in Women's, Gender, and Sexuality Studies at Dartmouth College.


An intercollegiate panel discussion in response to the Atlanta Spa Shootings featuring: Ji-Yeon Yuh, Associate Professor of Asian American Studies and History at Northwestern University; Yuri Doolan, Assistant Professor of History and Women's, Gender, and Sexuality Studies and Chair of Asian American and Pacific Islander Studies at Brandeis University; Carolyn Choi, Predoctoral Fellow in Asian American Studies at Dartmouth College; and Elena Shih, Manning Assistant Professor of American and Ethnic Studies at Brown University. The panel will be moderated by Sumun Pendakur, DEI Strategist and Consultant.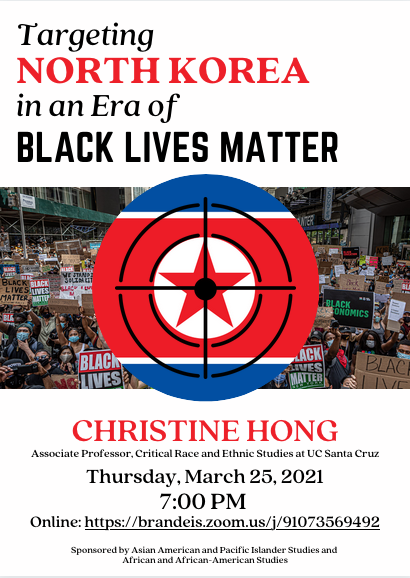 Targeting North Korea in an Era of Black Lives Matter
Professor Christine Hong (UC Santa Cruz)
Thursday, March 25th, 2021
7:00-8:30 PM EST
Co-sponsored with African and African-American Studies.
In a recent New Yorker interview, Adrian Hong, founder of the murky group Free Joseon, curiously described the purpose of his anti-North Korea organization as "abolition." If, in post-Cold War era, no image has gone further in securing North Korea's pariah status than the gulag (gwalliso), how do we begin to understand the abolitionist vision of someone who has long agitated for regime change in North Korea? To answer this question, this presentation first casts back to the early post-9/11, "axis of evil" era when North Korea was repositioned in the crosshairs of the U.S. war machine in order to illuminate the hawkish interventionist worldview animating Hong's recent self-branding as a prison abolitionist. To grasp the historical inversion of his critique, this talk goes back even further to the mid-twentieth century when the United States emerged as a global police power. By delving into the archives of the Civil Rights Congress, a black antifascist organization that presented an antilynching petition to the United Nations in 1951, I examine linkages between the "policeman's bullet" in the United States and the U.S. "police action" in Korea.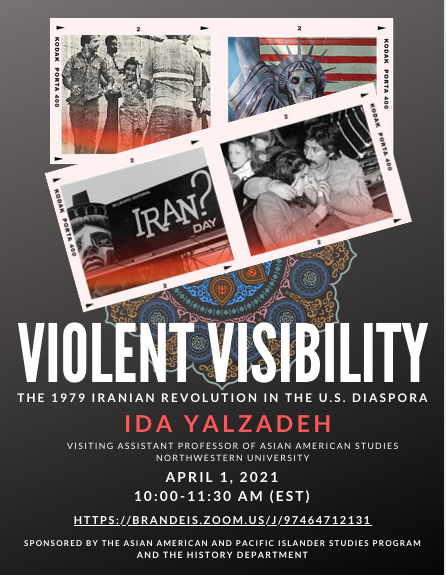 Violent Visibility: The 1979 Iranian Revolution in the U.S. Diaspora
Professor Ida Yalzadeh (Northwestern)
Thursday, April 1, 2021
10:00-11:30 AM EST
Co-sponsored with the History Department.
In this talk, Yalzadeh explores the deeply factionalized experiences of Iranian diasporic communities during the 1979 Revolutionary period. Starting with the 1979 Battle of Beverly Hills, she shows how this student protest prompted the US government's reevaluation of Iranian migrants within its borders, and the disciplinary mechanisms of racial management it used to get them out. She then explores opposing diasporic reactions to these federal measures through two community organizations: the Iran Freedom Foundation and the Iranian Students Association. Ultimately, the talk will end with a consideration of how this period of revolution and protests reveals the ways in which Iranians mapped political struggle onto the U.S. color line as a strategy of survival.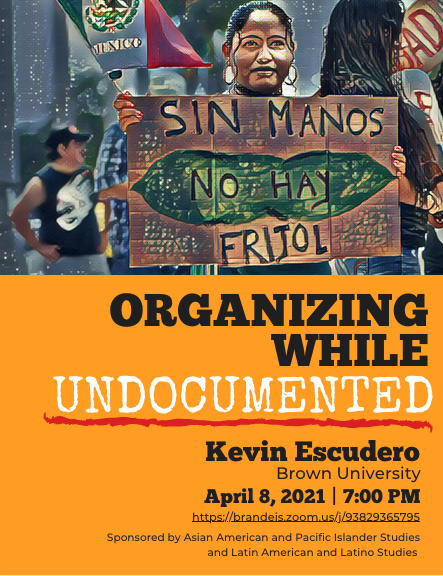 Organizing While Undocumented
Professor Kevin Escudero (Brown)
Thursday, April 8, 2021
7:00-8:30 PM EST
Co-Sponsored with Latin American and Latino Studies.
Undocumented immigrants in the United States who engage in social activism do so at great risk: the threat of deportation. In Organizing While Undocumented, Kevin Escudero shows why and how—despite this risk—many of them bravely continue to fight on the front lines for their rights. Drawing on more than five years of research, including interviews with undocumented youth organizers, Escudero focuses on the movement's epicenters—San Francisco, Chicago, and New York City—to explain the impressive political success of the undocumented immigrant community. He shows how their identities as undocumented immigrants, but also as queer individuals, people of color, and women, connect their efforts to broader social justice struggles today.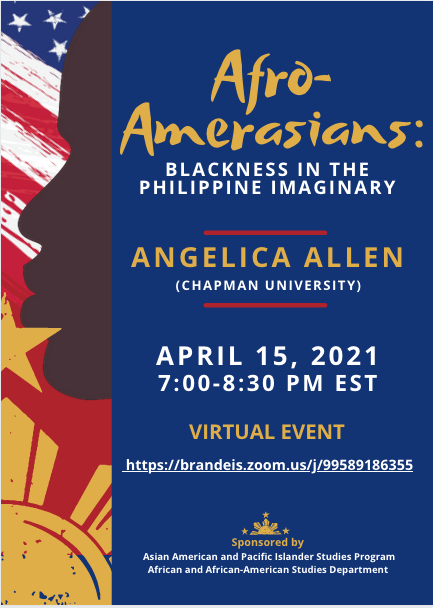 Afro-Amerasians: Blackness in the Philippine Imaginary
Professor Angelica Allen (Chapman)
Thursday, April 15, 2021 EST
7:00-8:30 PM
Co-Sponsored with African and African-American Studies.

Attend Virtual Event
Angelica J. Allen is an Assistant Professor and Co-director of Africana Studies at Chapman University. She received her Ph.D. in African and African Diaspora Studies from the University of Texas at Austin and holds an MA in Africana Studies from New York University. Her book project is titled, "Afro-Amerasians: Blackness in the Philippine Imaginary," which explores a community in the Philippines known as the Black Amerasians, a population born from the union of African American military men and Filipina women. As both a member of the Black Amerasian community and a scholar of that community's experiences, Angelica's goal is to develop a research project dedicated to advancing social justice by granting more visibility to Black Amerasian perspectives. She is a visual artist and has been awarded fellowships from the Ford Foundation, and the Carter G. Woodson Institute for African-American and African Studies.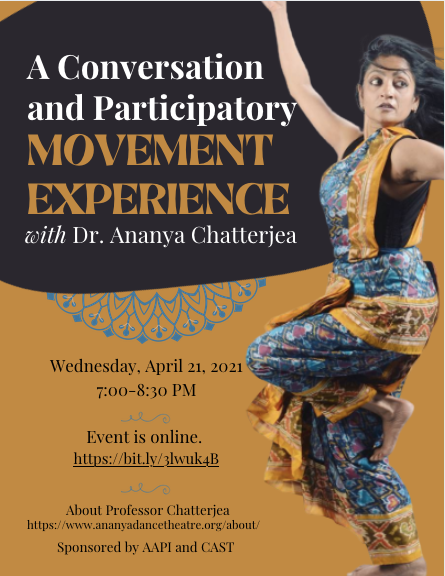 A Conversation and Participatory Movement Experience
Dr. Ananya Chatterjea (Minnesota)
Wednesday, April 21, 2021 EST
7:00-8:30 PM
Co-Sponsored with the Creativity, the Arts, and Social Transformation Program.

Attend Virtual Event
Ananya Chatterjea (2011, Guggenheim Choreography Fellowship, 2012 McKnight Choreography Fellowship, 2016, Joyce Award, 2018 UBW Choreographic Center Fellow; 2019 Dance/USA Artist Fellow), Artistic Director of Ananya Dance Theatre, a Twin Cities-based professional dance company of women artists of color, makes "People Powered Dances of Transformation" intersecting contemporary dance-making and social justice choreography. Her latest work, Sh?trang?/Women Weaving Worlds, was described as characterized by "dynamite dancing… raw power and force" and her choreographic craft was applauded for "drumming up compelling images" (Star Tribune, 9/24/2018), "this company, this work, must be seen" (RV Art Review, 10/28/2018). She has toured her work to the Bethlehem International Performing Arts Festival, Palestine (2018), Aavejak Avaaz Festival, Delhi (2018), Crossing Boundaries Festival, Addis Ababa, (2015), Harare International Dance Festival, Zimbabwe (2013), New Waves Institute of Dance and Performance, Trinidad (2012), and other national and international locations. She is currently creating a new work with the support of a MapFund award, exploring global connectivities.  Ananya is Professor of Dance at the University of Minnesota, where she teaches courses in Dance Studies and technique. She has presented the keynote talk at the joint conference of Congress of Research in Dance and Society of Dance History Scholars (2016) and was a keynote speaker in the inaugural panel of the Dance/NYC conference (2019). She is currently writing her second book, Heat & Alterity in Contemporary Dance: South-South Choreographies, under contract with Palgrave McMillan, re-framing understandings of Contemporary Dance from the perspective of dance-makers from global south locations.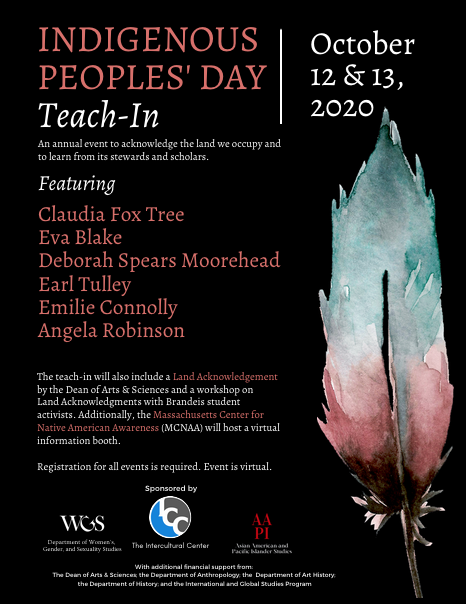 Annual Indigenous Peoples' Day Teach-In
Various Presenters
Annually on Columbus Day

Learn more about this annual event.
Co-sponsored by The Intercultural Center, the Department of Women's, Gender, and Sexuality Studies, and the Asian American and Pacific Islander Studies Program.
This year's program is particularly significant as it coincides with the 400th anniversary of the Mayflower's arrival on Cape Cod.
Speakers:
Claudia Fox Tree, Arawak/Yurumein
Eva Blake, Assonet Wampanoag
Deborah Spears Moorehead, Seaconke Pokanoket Wampanoag
Professor Angela Robinson, Wito Clan of Chuuk, Micronesia, University of Utah
Professor Emilie Connolly, Brandeis History Department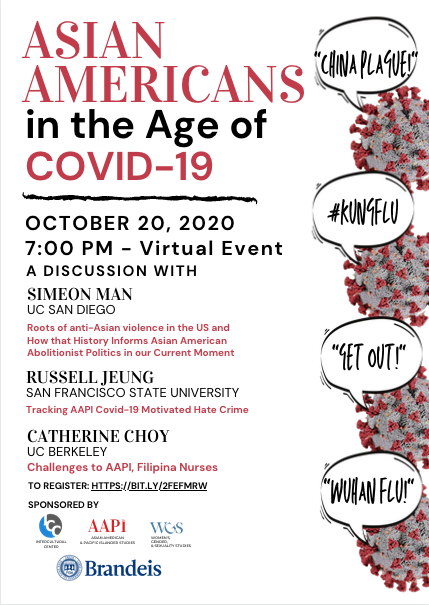 Asian Americans in the Age of COVID-19
October 20, 2020
Co-sponsored by The Intercultural Center, the Department of Women's, Gender, and Sexuality Studies, and the Asian American and Pacific Islander Studies Program.
A discussion with:
Simeon Man, UC San Diego
Roots of anti-Asian violence in the US and How that History Informs Asian American Abolitionist Politics in our Current Moment
Russell Jeung, San Francisco State University
Tracking AAPI Covid-19 Motivated Hate Crime
Catherine Choy, UC Berkeley
Challenges to AAPI, Filipina Nurses