Bryan Stevenson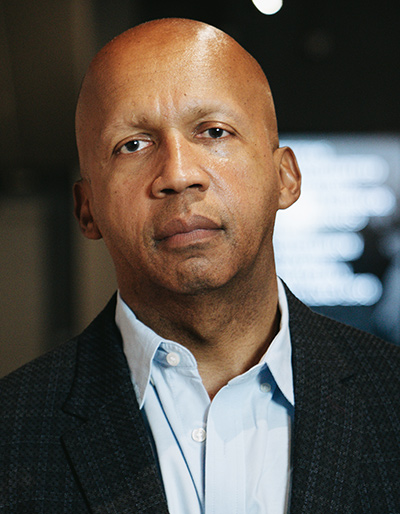 Photo Credit: Rog and Bee Walker for EJI
Doctor of Laws
Bryan Stevenson has dedicated his career to helping the poor, the incarcerated, and the condemned.
A public-interest lawyer, Stevenson founded and serves as executive director of the Equal Justice Initiative, an Alabama-based organization that has prevailed in major legal challenges that overturned excessive and unfair sentencing practices, defended children prosecuted as adults, confronted the abuse of the incarcerated and the mentally ill, and won reprieves for innocent prisoners sentenced to death.
EJI's work led to a landmark 2012 U.S. Supreme Court decision, which ruled that mandatory life sentences without parole for children 17 years old and younger violate the Constitution.
Stevenson is the author of "Just Mercy: A Story of Justice and Redemption," made into a film in 2019. He also led efforts to create two acclaimed national cultural sites that opened in 2018: the Legacy Museum and the National Memorial for Peace and Justice, which chronicle the legacy of slavery, lynching, and racial segregation, and their links to contemporary issues of mass incarceration and racism.
A graduate of Harvard Law School and the Harvard Kennedy School of Government, Stevenson began his career at the Southern Center for Human Rights, in Atlanta. He has been a faculty member at the New York University School of Law since 1998.
His many honors and recognitions include the MacArthur Fellowship; the ACLU National Medal of Liberty; the Olof Palme Prize for international human rights; and honorary degrees from more than 40 universities and colleges, including Harvard, Yale, Princeton, and Georgetown Law.