Therapy Dogs
Lily, a Labradoodle, and Harley, a Cockapoo, come to the BCC every day to provide comfort to students. The students love having the dogs on campus, request them for student events and eagerly attend the dog group on Mondays.
Therapy dogs have been used in high school, college and hospital settings, and as first responders to disasters, such as the shooting at Sandy Hook. Therapy dogs:
offer the physical benefits of reducing blood pressure, providing physical comfort and pain management
promote self-esteem and stimulate memory and problem-solving skills
can provoke laughter, lift one's mood and provide companionship
Lily and Harley are being trained by Cavelletto Canine. The training is a year-long commitment of weekly sessions culminating in a certification test.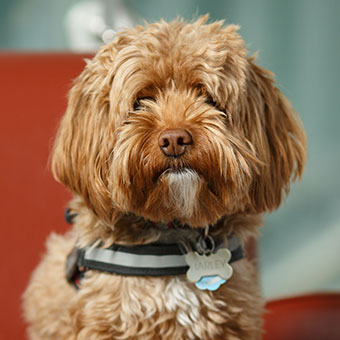 Harley Quinn
Therapy Dog in Training
Harley loves taking as many walks as possible, and cuddling on a good lap. Her favorite food is anything salmon-flavored. You can visit her at the counseling center for the dog therapy group on Tuesdays at 5 - you can just drop in! Additionally, you can come say hi to Harley out in the community; she's in the quad office in Massell on Wednesdays from 2-5, and the quad office in North on Thursdays from 3-6. You can just swing by to see if the door is open, or schedule an appointment with one of our community therapists, Julia Loewenthal, through this link.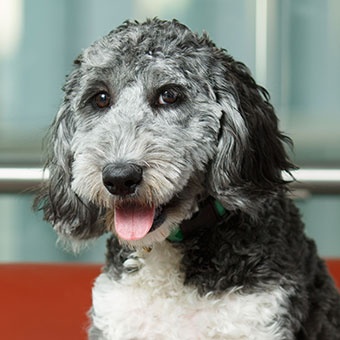 Lily
Therapy Dog in Training
Lily is a young and rambunctious labradoodle. If she could play, cuddle, and eat treats all day she would in a heartbeat. She's a high energy pup with a heart of gold. You will find her at dog therapy group or walking by Joy's side!