What's Happening
IMPACT: IMAGINING TOGETHER
Platform for Arts, Culture and Conflict Transformation
Designing a university-based infrastructure for the field

New Report-
"Imagine IMPACT: An emerging strategy to strengthen the arts, culture, and conflict transformation ecosystem"

2018-2019 Annual Report: Creativity, the Arts and Social Transformation (CAST)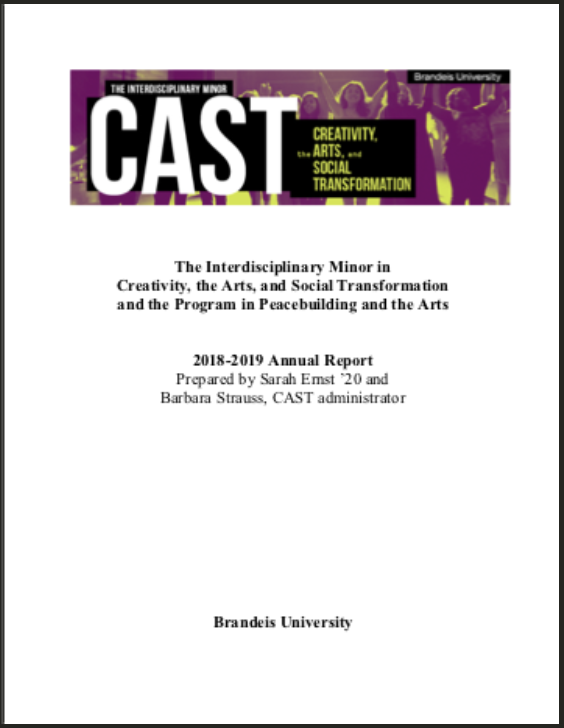 Newsletter
Sign up to receive updates about the Peacebuilding and the Arts program and the Acting Together project.


Highlights
USDAC Green New Deal Webinars -
Artists Unite for a Green New Deal — Summer Call Series
August 8, August 22, and Sept 5



Naila and the Uprising
PBS Special


Featured News from the Field Theme: "The Impact of Authoritarian Regimes on Artistic Freedom and Expression"

Songbook: Let's Make a Better World: Stories and Songs by Jane Sapp
*Purchase Now!*


And listen to the related podcast series.

Sarah Terrazano wins Academy of American Poets Prize

A Reflection on Ebony Axis
By Sarah Nzisabira


Past News from the Field Theme: "Artists Respond to Climate Change"
Past News from the Field Theme: "Creative Reflections on Human Migration"

JPSFiction
Creative Ecofiction

Professor Cynthia Cohen Solves the World's Problems with Creativity
The Brandeis Hoot


"Arts and Building Peace: The Basics and Envisioning the Future"
Essay by Cynthia Cohen
Peace in Progress Magazine


Interview with Lee Perlman about the
book "But Abu Ibrahim, We're Family!"

Read more News from the Field.
Acting Together Documentary