Meet the Staff
Interim Director
Cristina Dones '14
Interim Director
Cristina Dones graduated from Brandeis in 2014 with a degree in women's, gender and sexuality studies and a minor in theater. She has held positions at The Theater Offensive and the Huntington Theatre Company, and performed in various productions in Greater Boston.
In 2016, Dones shifted her focus from theater to social justice to provide direct services for the LGBQ/T, polyamorous and SM communities at The Network/La Red, where she produced the organization's outreach materials, website and reports and coordinated its fundraiser and survivor-led events.
Dones is passionate about cultivating community, especially as a queer Boricua from the Bronx. She hopes to nurture the LGBTQIA+ communities at Brandeis in her role as interim director of the Gender and Sexuality Center.
Community Therapist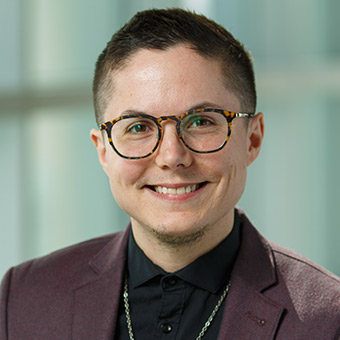 Landen Motyka, LCSW
LGBTQIA+ Specialist, Staff Therapist
Community Therapist to Gender & Sexuality Center
Pronouns: they, them, theirs
Landen is a white, queer, trans and non-binary identified clinical social worker who has been working with the LGBTQIA+ community for the past 8 years. They are passionate about social work because they believe in the healing power of therapy, particularly for marginalized people facing complex daily stress. They seek to utilize their professional and personal experiences in the LGBTQIA+ community, along with their sense of humor, to help you navigate challenging or transitional periods in your life. They are available for short-term therapy at the Gender & Sexuality Center, ongoing sessions at the Brandeis Counseling Center, or for consultations regarding coming out as queer, trans or non-binary, and/or for transition related care.
Their professional interests include: relational therapy and the therapeutic alliance, gender and sexuality, exploring kink/BDSM, polyamory and non-monogamy, family & relationship issues, racial and gender identity development, and working with presentations of anxiety, depression, and trauma.
In their free time you can find them singing along to '90s pop and boybands, cooking nourishing foods, playing basketball, discussing wellness, healing, and social justice, or hanging out with their cat, Soosy.
Student Workers
Marisol Abreu
Sammi Cohen
Jordan Alejandro Dinerma
Maggie Hastings
Neha Koundinya
Olivia Nichols
Summer Quinn
Indie Riggles