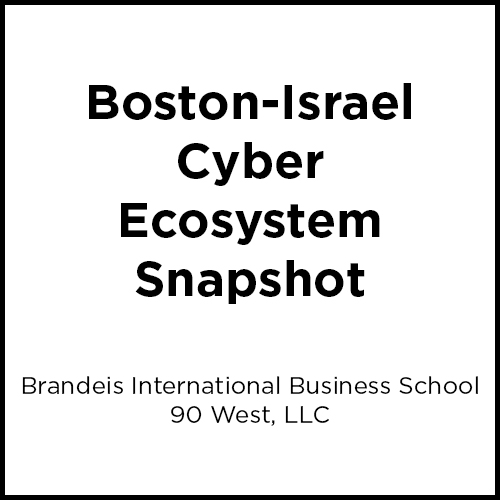 BOSTON, MA — Employment at Boston-area cybersecurity companies founded by Israeli entrepreneurs is growing rapidly and contributing to the state's strong economy, according to a new report released today by Brandeis International Business School and 90 West. The research will be presented at an event honoring the recipients of the International Business School's Asper Award for Global Entrepreneurship: Udi Mokady, chairman and CEO of CyberArk and Lior Div, co-founder and CEO of Cybereason. Both Mokady and Div founded cybersecurity companies in Israel that have experienced dramatic growth since expanding their global operations in the Commonwealth.
The analysis found that, in 2018, Israeli-founded cyber firms employed nearly 3,300 workers, a more than 12 percent increase since 2015. The robust growth in employment at Israeli-founded cyber firms is three times greater than the growth of statewide employment during the same period. In 2018, Israeli-founded firms employed 3,275 workers, compared to 2,911 in 2015. The job growth was attributed to employment levels of over 30 Israeli-founded cybersecurity companies doing business in Massachusetts.
"Massachusetts' innovation ecosystem, with its many outstanding colleges and universities, makes the state an extremely attractive destination for Israeli companies," said Ben Gomes-Casseres, director of International Business School's Asper Center for Global Entrepreneurship. "We are excited to work with all of the stakeholders in this ecosystem to facilitate and develop opportunities for Israeli businesses to grow in Massachusetts, and benefit from our exceptionally talented graduates."
The 2018 analysis builds on a 2016 study by the New England-Israel Business Council (NEIBC), which evaluated the broader ecosystem of Israeli-founded firms operating across various industries in Massachusetts. The NEIBC study found that Israeli-founded companies in Massachusetts employed nearly 9,000 workers, supported over 27,100 jobs, and generated $18.1 billion in economic activity across the state in 2015.
Additionally, these businesses raised nearly $1.2 billion in venture capital between 2013 and 2015, accounting for roughly 10 percent of all venture capital investments in the state during that time period. The research identified cybersecurity as one of the top sectors for Israeli-founded companies in Massachusetts, along with energy and water technology, and medical devices. In December 2016, Massachusetts Gov. Charlie Baker led an economic delegation to Israel with a specific focus on cybersecurity and digital health.
"With the help of strong public-private partnerships and the Commonwealth's competitive edge nationally, Israeli-founded companies continue to play a major role in the Massachusetts economy in terms of jobs and economic development," said Alex Goldstein, founder and CEO of 90 West. "At a time when cybersecurity is , dominating the headlines, Israeli-founded firms are at the center of the Commonwealth's growth and development as a global cybersecurity hub."
About 90 West:
90 West is a strategic communications, ecosystem engagement, and research firm serving highly impactful and innovative companies, nonprofits, causes and leaders in the U.S. and around the world.
About Brandeis International Business School:
Brandeis International Business School, located in the Boston suburb of Waltham, Massachusetts welcomes students from throughout the United States and around the world into its innovative and diverse community. The current student body includes representatives from over 40 countries.