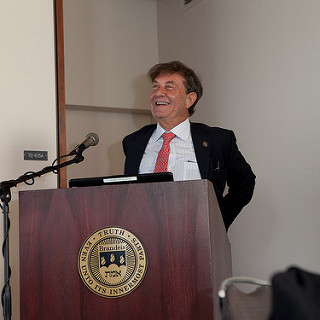 Brandeis International Business School announced it has received a $2.5 million gift to establish the Hassenfeld Family Innovation Center, which will build upon the university's reputation as one of the nation's leading research institutions by supporting faculty research while catalyzing innovation on campus. Pictured left is founding donor Alan Hassenfeld, Chairman, Executive Committee, Hasbro Inc. and Co-Chair, International Business School Board of Overseers.
The Center will provide a platform for increased corporate outreach to innovative firms, provide new educational opportunities for Brandeis students, and leverage the experience of industry professionals to ensure that the societal impact of the university's groundbreaking research is maximized.
Internartional Business School Dean Bruce Magid, the Martin and Ahuva Gross Chair in Financial Markets and Institutions, announced the gift today during his remarks at the Massachusetts Trade and Investment Forum with Secretary of Housing and Economic Development Greg Bialecki.
The Hassenfeld Center will also enhance efforts to bring Brandeis' research and technology advances to commercial partners in sectors such as life sciences, clean energy and information technology. It will serve as a platform to identify potential relationships with like-minded academic institutions and corporations around the globe.
"Massachusetts is a world leader in innovation, including through the extraordinary contributions of our Brandeis faculty, staff and students," said Brandeis President Frederick M. Lawrence. "We are grateful for this generous gift from the Hassenfeld family that will ensure that the cutting-edge research conducted on our campus continues to make the greatest possible impact across the world." 
The Hassenfeld family's deep connection to Brandeis extends back to the university's earliest days, when Henry Hassenfeld, co-founder of the Hasbro toy company in Rhode Island, made a gift to Brandeis. His daughter-in-law Sylvia Hassenfeld, who died in August 2014, served on the Brandeis Board of Trustees from 1996 to 2014, a period during which the family funded the Sylvia Hassenfeld Scholarship, the Sylvia K. Hassenfeld Chair in Islamic and Middle Eastern Studies and the Hassenfeld Foundation Scholarship. Two of her children, Alan Hassenfeld and Ellen Hassenfeld Block, have continued the family's involvement with Brandeis. Alan, retired CEO of Hasbro, is co-chair of the Board of Overseers of the International Business School and established the Hassenfeld Emerging Markets Business Immersion Program at the business school. Ellen is a former member of the Board of Overseers at the Heller School for Social Policy and Management and created a fellowship to support students. 
"The groundbreaking research happening at Brandeis presents an exceptional opportunity to fulfill the deepest values of our university – changing the world through knowledge and action that serves the greater good," said Alan Hassenfeld, who serves as chair of Hassenfeld Family Initiatives. 
The Hassenfeld Center will be overseen by Provost Lisa Lynch, the Maurice B. Hexter Professor of Social and Economic Policy. She will facilitate collaboration between the Office of Technology Licensing (OTL) and Brandeis IBS. Rebecca Menapace, associate provost for innovation and executive director of OTL, will focus the center on scaling the infrastructure needed to facilitate technology development and commercialization across university departments. "This gift enables us to build the critical bridge between academic and industry research," said Menapace. "It will foster intellectual collaborations, create new robust partnerships externally and attract more sponsored research opportunities across our campus." 
Menapace brings both deep industry and academic experiences to this role as well as relationships in areas such as technology transfer, licensing and partnership development. She currently leads the Brandeis Virtual Incubator Sprout Grant Program which provides funds to make technology discoveries more attractive for licensing and commercial development.