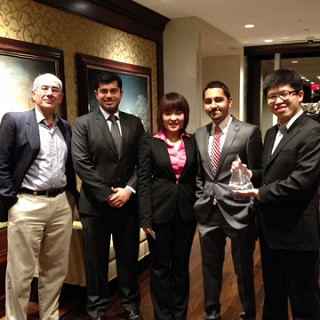 A team of students from the Brandeis International Business School won the Boston Final of the CFA Institute's Research Challenge for a second consecutive year. The victory earned the team an invitation to participate in the Americas Regional competition in Denver next month.
The annual international event is designed to provide students with mentoring, intensive training and real-world experience in financial analysis. For the Boston competition, the teams were required to research and write an equity research report on Athenahealth, a cloud-based healthcare information firm based in Watertown, Mass., and then present their recommendations to top money managers from the Boston area. 
The success comes on the heels of another Brandeis team winning a recent Crisis Game competition held in conjunction with the National Association of Business Economics (NABE).
"The performance of these outstanding teams is yet another demonstration of our students becoming World Ready," said Bruce Magid, dean of the International Business School. "These hands-on, intensive experiences will help enable them to thrive across cultures and borders."
The team members mirror the global reach of the International Business School student body: Ahsan Avais, MA '14 (Pakistan), Varun Hariharan, MBA '14 (India), Xiaofeng Lu, MA '14 (China), and Zhen Su, MSF '14 (China).  They were advised by Paul Fruin from S&P Capital IQ and Senior Lecturer Alfonso Canella.
Of the 10 local universities competing, only four earned invitations to the Boston Final: Brandeis, Boston University, the Fletcher School of Law and Diplomacy of Tufts University, and Northeastern University. 
"We are immensely proud of our students," Canella said. "I'd put them up against any business school in the world."­