Undergraduate Departmental Representatives
The Undergraduate Departmental Representatives (UDRs) serve as a resource and representative for fellow majors and minors and potential majors and minors, and brings student concerns and/or ideas to the program faculty. They also provide feedback to the program chair, undergraduate advising head, and faculty regarding scheduling problems, course offerings, etc. and help organize events for majors, minors, and other interested students.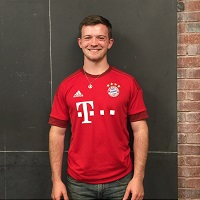 Michael Kroker '19
Undergraduate Department Representative
Economics/Sociology
Hello! My name is Michael Kroker, I am a junior from Oregon (the best state) double majoring in Economics and Sociology. I also have a lot of interest in the German language and Germany in general. My introduction to the German language came in high school when my family hosted two German foreign exchange students. By living with these people, my interest in the German language was piqued (unfortunately my high school only offered one language and it was not German). From these connections I was fortunate enough to spend six weeks in Germany near Cologne, and fell in love. I very much enjoy and admire the German culture, food, and scenery! (An admiration I wish to help/encourage others to acquire.)
Besides being lucky enough to be a UDR for the German Studies Program, I am a member of the Brandeis Varsity Track and Field team. During the indoor season, I run the 60m, and in outdoors I run the 100m, 4x100m, and throw javelin. Along with this, I am a TA in the economics department.
Amanda Zhang
Undergraduate Departmental Representative
Hallo! I am Zhuoya Amanda from Beijing. I am a junior double majoring in HSSP and Economics with a minor in German studies. I am also the Undergraduate Department Representative for German studies and the BUGS tutor for Chinese. This summer I did a study abroad in Berlin with IES. I am always open to new things, and I wish to be a citizen of the world, living and working at different places in the future. I can't wait to meet you all and learn more about you and your interests in German. You can contact me via zyzhang@brandeis.edu.