Spring 2021
CGES Online invites you to a series of virtual events. We cover current developments of international relevance and welcome you to stay informed and critical during the world-wide crises we are facing. Sign up for our Newsletter to receive information about all events organized or sponsored by the Center for German and European Studies. We also post event announcements on our Facebook and Instagram accounts and invite you to follow us on social media.
CGES Online events are held as webinars on Zoom. In order to receive a link to the webinar, we ask you to RSVP online and provide an email address. You will find an RSVP link on each event's page, simply click on the event title you are interested in. If you have technical issues or other questions, please don't hesitate to contact our office.
Watch Recordings of Past CGES Online Events (Summer & Fall 2020)

Most CGES Online events are recorded. Find links to the recordings of 2020 CGES Online Events on the individual event pages or a list of all recorded webinars on CGES Online's Echo360 website.
We will keep recommending events from all over the world that cover topics related to our agenda of translatlantic dialogue and Germany's perspective on Europe and the world. Please follow our event recommendations at the bottom of the page.
CGES Online Events - Spring 2021
Past CGES Online Events - Spring 2021
Event Recommendations (not hosted by CGES)
April 19, 2021
The Goethe-Institut Boston joins this year's global Earth Day celebrations with a variety of events, including a film festival. Films can be watched online during the indicated dates. Please follow the links to register.
EARTH
available 04/19 – 04/25 online, FREE
Several billion tons of earth are moved annually by humans - with shovels, excavators or dynamite. Nikolaus Geyrhalter observes people in mines, quarries, large construction sites in a constant struggle to appropriate the planet.
BIOLOGY!
available 04/19 – 04/25 online, FREE
Biology! was one of very few East German films to address environmental issues. The topic was taboo in the GDR, which categorized all data on environmental damage as classified. In the 1980s, grassroot activists nevertheless began a small but vigorous environmental movement.
THE HIDDEN LIFE OF TREES
available 04/19 – 04/25 at Coolidge Virtual Screening Room, $10
Branching off of his bestselling book, renowned forester and writer Peter Wohlleben guides us through his most precious ideas and understanding of how trees work in this enlightening documentary.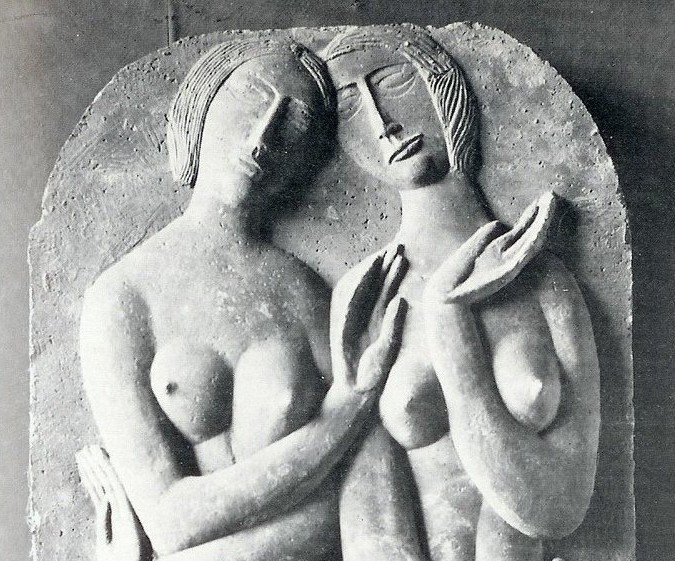 August 4, 2021
This event is organized by The Fritz Ascher Society for Persecuted, Ostracized and Banned Art, Inc. and is part of their monthly series "Flight or Fight. stories of artists under repression."
Wednesday, August 4, 2021 | 12:00 - 1:00 pm ET 
Moissey Kogan (1879-1943) was an innovative, influential sculptor-craftsman and printmaker, whose career straddled the European avant-gardes of the first half of the 20th century. A cosmopolitan Russian Jew, whose work was marked by his interest in Jewish mysticism and theosophical beliefs, Kogan looked to non-European cultures and ancient sources, in common with many of his contemporaries in Munich, Berlin, Amsterdam, and Paris, to root his avant-garde experimentations and revivals of ancient techniques, in what were considered more authentic means of expression.
On the day Adolf Hitler came to power, Kogan fled Berlin and returned to his home in Paris, forced to leave behind him many of his key works in the care of dealers and museum collections. He would be obliged to watch powerless as his work was seized by the Nazis, only to be vilified in the infamous Entartete Kunst show of 1937, and the related exhibit, Der ewige Jude. In hiding in Paris and associated with the Résistance, the sculptor would finally be arrested by the Vichy police and transported to his death at Auschwitz.
This talk will discuss Kogan's artistic positioning within the European avant-gardes and his preoccupation with transcendence and light. In stark contrast, it will consider the consequences of the Nazi looting of his work for the task of reconstructing his oeuvre and reclaiming his career from unjustified obscurity.