2019-20 Events
Spring & Summer 2020 / CGES Online
Fall 2019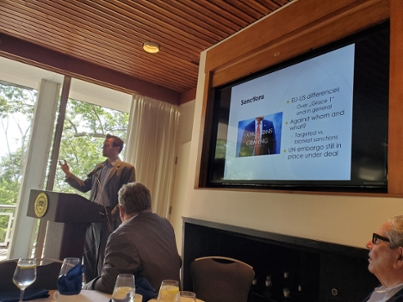 Luncheon Talk with Dr. Cornelius Adebahr: "Carnegie Europe: German and European Policy Toward Iran"
September 9, 2019
Dr. Cornelius Adebahr is a political analyst and consultant living in Berlin, Germany. His work focuses on European foreign policy issues, transatlantic relations, and Iran.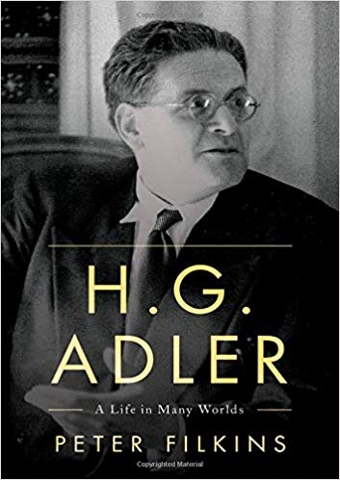 Luncheon Talk with Author Peter Filkins: "Writing History, Writing Biography: Capturing H.G. Adler's Many Worlds"
H.G. Adler (1910 - 1988) lived at the center of his times and on their margin. A survivor of Theresienstadt, Auschwitz, and two other concentration camps, he chronicled his experience and the loss of others in two dozen books of seminal history, modernist fiction, formally intricate poems, and insightful essays. Yet, despite close friendship with Leo Baeck, Elias Canetti, and Heinrich Böll, he remained a writer's writer, largely unknown and neglected. Thus, unlike with better known figures, the story of his life must be told through the times in which he lived, as well as how the same lived through him. On the publication of H.G. Adler: A Life in Many Worlds, biographer and translator Peter Filkins discusses the intersection of biography and history in shaping the story of Adler's life and work.
Peter Filkins is an award-winning poet and translator. His authorized biography H.G. Adler: A Life in Many Worlds appeared in 2019 from Oxford University Press, and he has translated three novels by H.G. Adler, Panorama, The Journey, and The Wall, as well as the collected poems of Ingeborg Bachmann, Darkness Spoken. The recipient of fellowships from the National Endowment for the Humanities, the Leon Levy Center for Biography, the DAAD, and the American Academy in Berlin, he is the Richard B. Fisher Professor of Literature at Bard College at Simon's Rock, and also teaches translation at Bard College.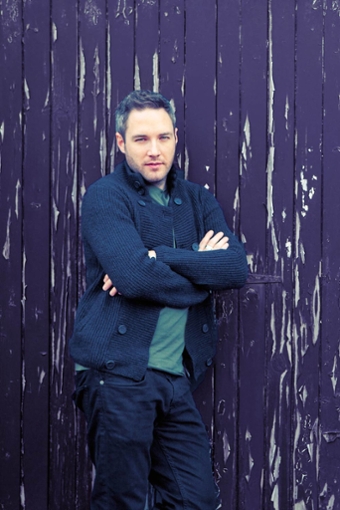 Panel Discussion: "Not Your Toy: Israel-Europe Relations through the Lens of the Eurovision Song Contest"
October 10, 2019
Why does Israel participate in a European song contest, and what does this contest say about how Israel and Europe relate to each other? How can popular culture inform how we study international relations? Join us to learn why this contest is crucial for understanding both Israel and Europe today.
Panelists
Moderator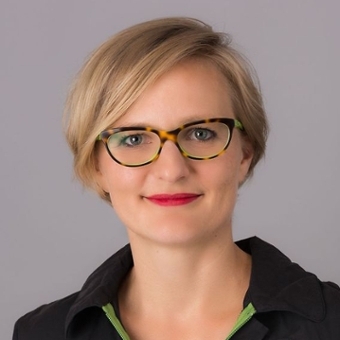 Luncheon Talk with Franziska Brantner: "A Green Perspective on the Future of the EU and the Changing Political Landscape in Germany"
Franziska Brantner has been a member of the Bundestag for the German Green Party since 2013. She is currently the Green spokesperson for European affairs, and a member of the committee on foreign affairs. Before her time in the Bundestag, she was a member of the European parliament.
At Brandeis Ms. Brantner will talk about the current political challenges facing the European Union, from the impending Brexit to right-wing populist governments within the EU to the strained transatlantic relationship. She will also discuss the changing political landscape in Germany, where the Green Party has surged in the polls, and is currently on par with the conservative party of Angela Merkel.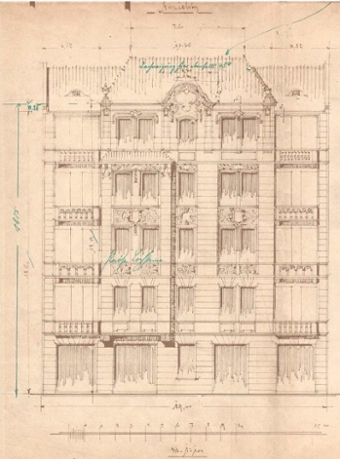 Peter R. Gossels and Simon Lütgemeyer: "Neighbors Through Time: Lippehner 35 — the Forgotten History of a Berlin House"
October 15, 2019
When two stolpersteine (stumbling blocks) were placed in front of the house next door in March 2018, Simon became curious about the history of his own house, where he has lived since 1999. He lives there now with his wife Britta and daughters Enna Lio (b. 2008) and Mila Bo (b. 2011).
After finding the old address books, he learned that the name of the owner of his building had been Isidor Lewy, who bought the building in 1904. He then learned from the manager of his building that Isidor Lewy's grandchildren had sold the building to the current owners in the early 90s and he came across the name of Peter Gossels, a grandson of Isidor Lewy. So he sent him a first letter, hoping to find out more about the building's past. This was the beginning of an amazing journey into a whole book of stories of which none of the current tenants were aware.
The distinct Jewish past of this house, on a street which changed its name in 1974 from Lippehner into Käthe-Niederkirchner-Strasse (after a communist resistance heroine) but not its numbers, had been completely forgotten over decades, because no one asked about former layers of life within the old walls.
October 16, 2019
Britta Wilsmeier is a storyteller in Berlin who works with immigrant children in various schools.
She created a staged reading of Peter Gossels' story on June 16 at the local "Theater unterm Dach" together with Roman Ott.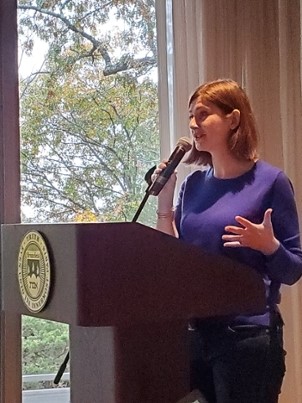 Luncheon Talk with Olga Grjasnowa
October 22, 2019
Olga Grjasnowa is the author of "City of Jasmine," a captivating story following a family in the Syrian Civil War. It offers real insight into the horrors of war, but also explores the humanity of the protagonists. Grjasnowa is one of the most talented young German authors today.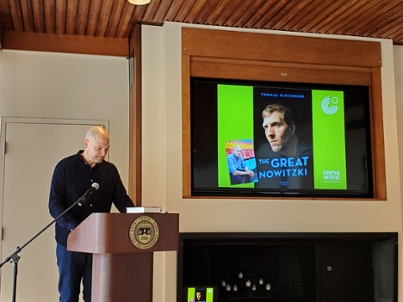 Luncheon Talk with Thomas Pletzinger: "The Great Nowitzki"
October 23, 2019
Luncheon Talk: "Brexit — The Continuing Chaos, Part 2"
October 28, 2019
Panelists
Daniela Caruso (BU) is Professor of Law and Jean Monnet Chair, Boston University School of Law. Professor Daniela Caruso teaches Contracts to first-year law students and an upper-class course on European Union Law.
Mai'a K. Davis Cross (Northeastern) is the Edward W. Brooke Professor of Political Science and associate professor of political science and international affairs. Professor Cross researches international cooperation, especially in the areas of European foreign and security policy, epistemic communities, crises, diplomacy and public diplomacy.
Graham Wilson (BU) is the co-founder and director of the Boston University Initiative on Cities. His areas of specialization include American politics, comparative politics, business, and government and interest groups.
Moderator
Lucy Goodhart (Brandeis) studies comparative and international political economy, analyzing the domestic politics of trade protection and coalition policy-making.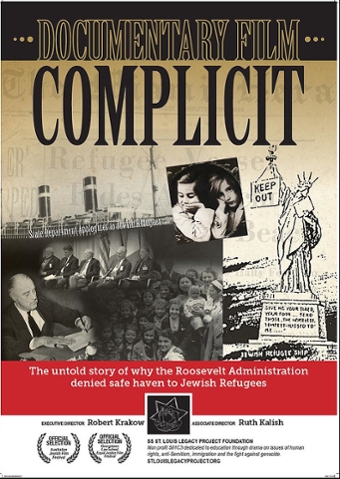 Jewish-German Dialogue with Dr. Hans Fisher, survivor of the SS St. Louis 
November 4, 2019
In commemoration of the Nazi pogrom known as "Kristallnacht" of November 9, 1939, CGES invites you to join us for a conversation with SS St. Louis passenger and survivor Dr. Hans Fisher. We will also be showing a clip from Robert M. Krakow's documentary "Complicit."
The SS St. Louis sailed from Germany to Cuba with 937 mostly Jewish passengers on board in May 1939 — only to be refused entry in Cuba, the United States and Canada. Upon its return to Europe, 254 of the passengers were later murdered in the Holocaust.
Hans Fisher, then a young boy, is among the surviving passengers and will share his experience of the journey and his survival.
Robert M. Krakow's documentary film "Complicit" (2013) weaves the story of the SS St. Louis into the political drama unfolding within the Roosevelt Administration regarding its policies on the Jewish refugee issues during the wartime period. The film addresses the issues of immigration, refugee policy and the civilized world's response to genocide.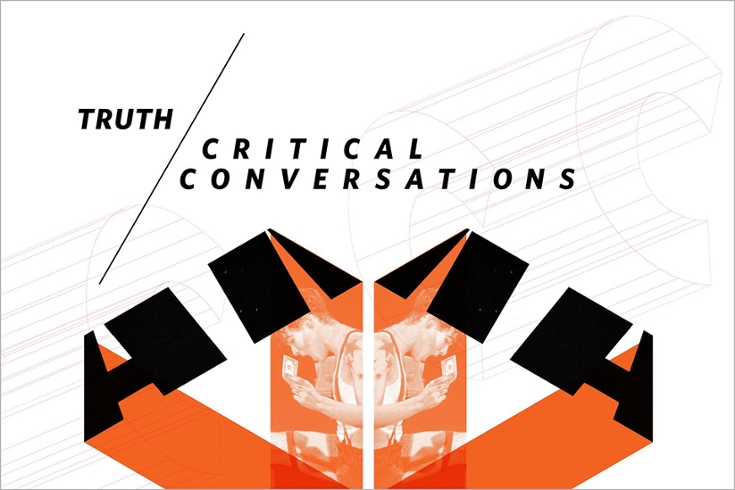 Critical Conversations: "Fiddling While Rome Burns: Understanding Humankind's Response to Climate Threat"
November 5, 2019
Experts were aware of the destructive consequences of human-caused climate change long before the general public was — or accepted this as fact. Even as the public has gradually come to acknowledge the effects of climate change, action to prevent large-scale loss of life and livelihoods has barely begun. How does such a collision of human knowledge and inaction arise? What individual and societal changes are necessary to reduce the impending disaster?
Participants
Paul Miller, Associate Professor of Biology

Sabine von Mering, Professor of German and Women's, Gender and Sexuality Studies, and Director of the Center for German and European Studies
Moderator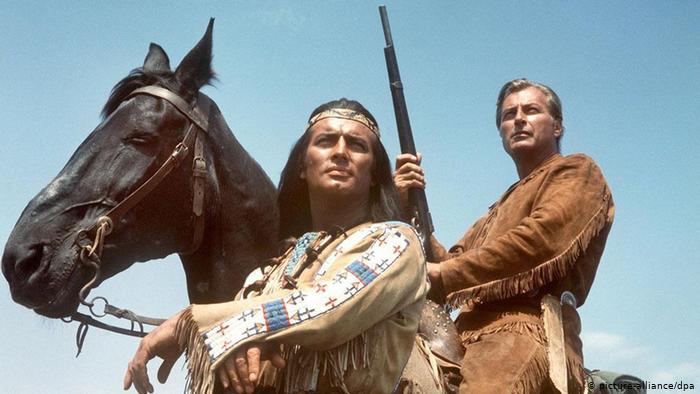 Luncheon Talk: "Deutschlandjahr Teil III: Winnetou and Old Shatterhand, German Settlers in the Americas"
November 8, 2019
Every child in Germany grows up with Winnetou and Old Shatterhand (see picture), the fictional Apache chief and his German settler friend, invented by bestselling novelist (and criminal) Karl May in the late 19th century. Over 50 percent of Americans have German heritage, but Winnetou and Old Shatterhand are largely unknown in the U.S. Unfortunately, many Americans also know very little about real native Americans.
After having played the board game "Catan" (previously known as "Settlers of Catan") in November and March without questioning its harmless depiction of the act of settlement, in this final panel of our Deutschlandjahr activities we take a serious look at the relationship between fact and fiction, at the history of German settlements in the Americas and at the lives of native Americans past and present.
Panelists
Moderator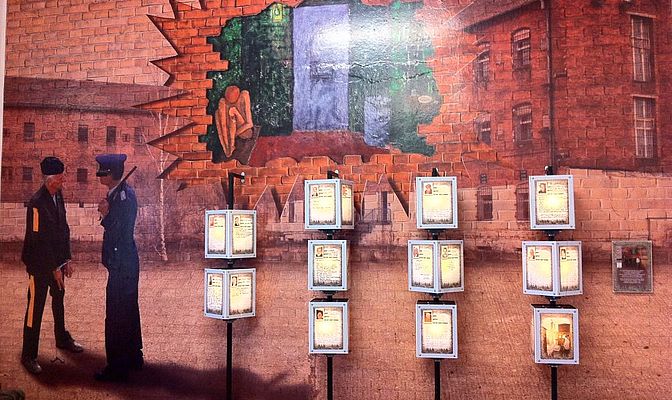 Peter Keup: "From Communist Dictatorship to Free Democracy"
November 14, 2019
Thirty years ago on Nov. 9, 1989, the Berlin wall opened. Peter Keup describes what life in the GDR dictatorship was like. His father was a Communist, and after the Communist Party was made illegal in West Germany, he and Peter's mother moved to the GDR.
When Peter was 16, his parents applied to move back to West Germany but their application was denied. Ostracized from society and under constant surveillance, Peter discovered dancing and became a professional dancer.
In 1981, Peter attempted to flee. His plan was discovered and he was imprisoned for 10 months. Freed by the Federal Republic of Germany (through an arranged exchange), he moved to the west in 1982. Thirty years later, he discovered that his brother had worked for the Stasi (the GDR's secret police).
November 23, 2019
A group of actors gather to tell the little-known story of the first genocide of the 20th century. We Are Proud to Present … takes place largely in a rehearsal room that descends from collaborative to absurd as a group of idealistic actors — three black and three white — attempt to recreate the extinction of the Herero people at the hands of their German colonizers. Along the way, they test the limits of empathy as their own stories, subjectivities, assumptions and prejudices catalyze their theatrical process. Eventually the full force of a horrific past crashes into the good intentions of the present, and what seemed a faraway place and time comes all too close to home.
Presenter: Katharina von Hammerstein, Professor of German Studies and member of the Human Rights Institute's leadership team at the University of Connecticut, USA
News Update: We congratulate Katharina von Hammerstein for being named a Board of Trustees Distinguished Professor by the Board of Trusteesof the University of Connecticut.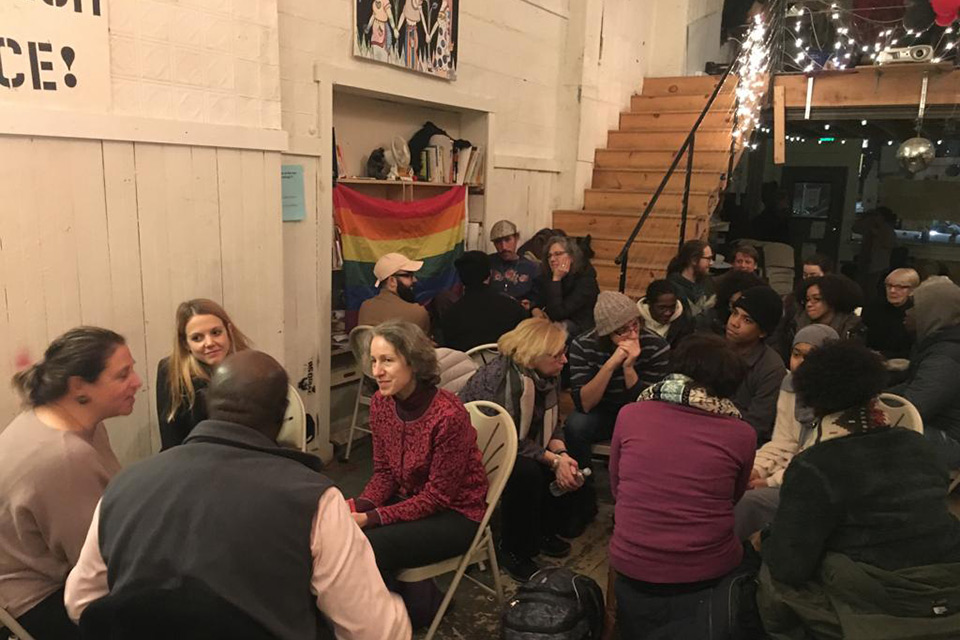 Whitebreadmusic
December 11, 2019
by Sasha Marianna Salzmann
A Staged Reading, directed by Guy Ben-Aharon
At MakeShift Boston 549 Columbus Ave, Boston, MA 02118
Aron, Nurit and Sedat grew up in Germany, but they don't feel at home. They are caught between fatherland, mother-love, friendship and betrayal, past and future generations, struggling for where they belong. They appear funny and cool, until the very thin ice beneath them breaks…
7:30 p.m. Staged Reading of "Whitebreadmusic"

8:30 p.m. Moderated Dialogue