Korean Language Program
The Department of German, Russian and Asian Languages and Literature offers instruction in Korean language learning.
Visit the Schedule of Classes on the Registrar's website for the most current course listings.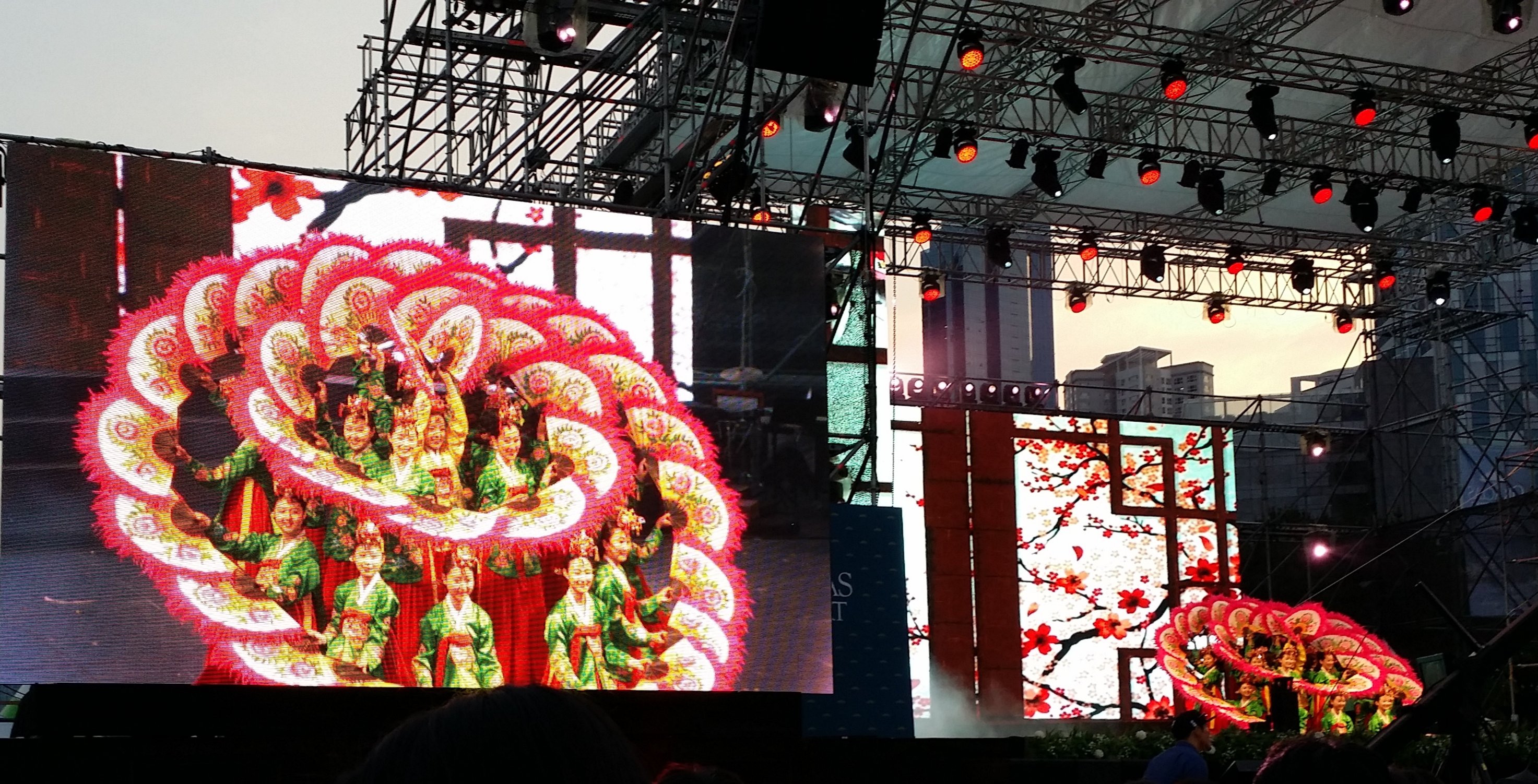 Buchaechum, a traditional Korean fan dance, at Haeundae Beach
Korean Courses
KOR10a: Beginning Korean (Two Sections)
Korean 10A is designed for college students who intend to build a solid foundation in beginning level Korean. It is assumed that students have little or no knowledge of Korean. Upon the successful completion of the course, students will be able to communicate in everyday situations in simple Korean. Topics include greetings, talking about campus life and family, numbers and telling time, the course of daily life and weekend plans. Students will also be exposed to important information on culture, contemporary issues, and traditions in Korea through video clips and films.    
KOR20b: Continuing Korean (Two Sections)
This class is a continuation of Korean 10A. Students who did not take Korean 10A need to be assessed through a placement test before they attend this class. In Korean 20B, students learn fundamental and comprehensive grammar appropriate to the basic level. Students are expected to continuously build standard Korean language skills in speaking, listening, reading and writing. Students will be able to read and write short Korean paragraphs and be able to carry simple yet proper conversations in everyday life situations by the end of the semester. Korean 20B is designed primarily to enhance students' basic language skills with the integration of cultural topics such as films, video clips and poems.    
KOR30a: Intermediate Korean
In Korean 30, students further develop the range of communicative language skills attained in the beginning level courses with reading and writing exercises involving more complicated grammar patterns and vocabulary. By the end of the semester, students will be able to read and write a variety of intermediate-level Korean texts and carry socially appropriate conversations in most daily life situations and some formal situations (e.g., discussions, presentations, etc.). Korean 30 is designed to further develop students' spoken and written language proficiency with the integration of cultural components such as movies, short video (drama/movie) clips, literature (e.g., poem), and presentations.
KOR40b: Advanced Intermediate Korean
This class is a continuation of Korean 30A, Intermediate Korean. Students who did not take Korean 30A will need to contact the instructor, Eun-Jo Lee (
elee2395@brandeis.edu
), for permission to enroll. KOR 40B is designed to continue the development of advanced oral and literacy (reading and writing) skills. Students will have opportunities to improve their oral and written communication skills through discussions, presentations, compositions based upon various readings, writing workshops, and Korean movies. We will also develop knowledge of formal and
Bu
siness Korean
(e.g., job interviews, resume writing, research paper presentation and writing, etc.). The class will be conducted entirely in Korean. 
---
Korean Language Events
Stay tuned....
---
Faculty
Expertise: Teaching Korean as a foreign/second language, Heritage language maintenance and development, Socio-cognitive perspectives on language teaching and learning   
Welcome message video from the instructor
---
Placement Tests
If you'd like to get a placement test, contact Professor Eun-Jo Lee at elee2395@brandeis.edu. The placement test will be conducted through Zoom or in-person.