About Henri Lazarof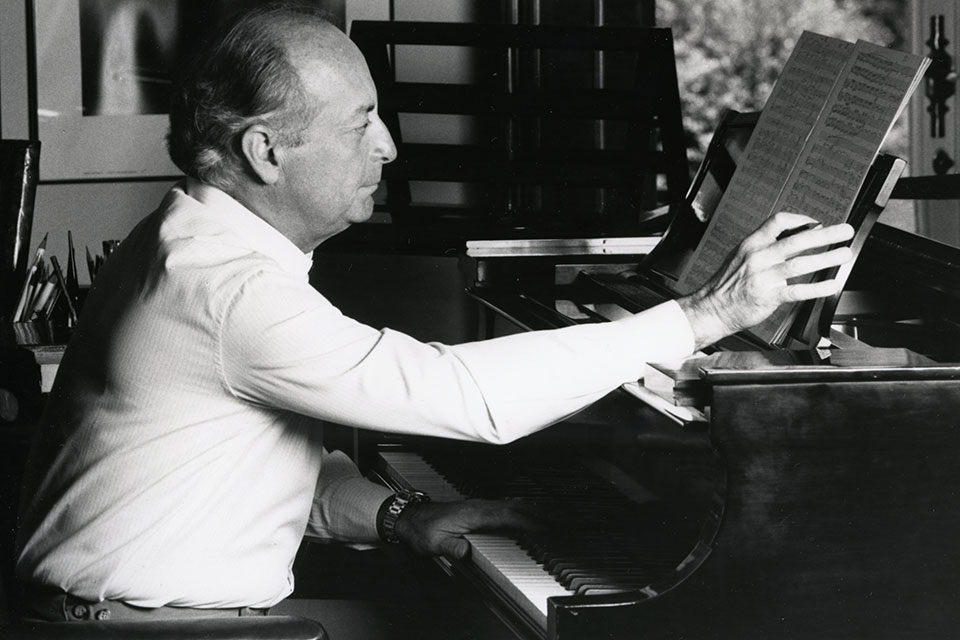 Henri Lazarof was born in Sofia, Bulgaria (1932). His first music lessons were with the Jesuit Lycee Francais. By his teenage years he was already a concert pianist and was beginning to study musical composition. After World War II, he left Bulgaria with his family to emigrate to Palestine (1946), and studied composition with Paul Ben-Haim in Jerusalem (1949-1952). While in the Israeli Army, he organized concerts for the Israeli troops throughout Israel. He won the first musical scholarship awarded in Israel to attend the Accademia di Santa Cecilia in Rome, where he was a student of Goffredo Petrassi (1955–1957). He completed his studies with Arthur Berger and Harold Shapero on a fellowship at Brandeis University in 1959. That same year he became a naturalized U.S. citizen and relocated to Southern California where he became a teacher of French language and literature at the University of California, Los Angeles.
Early Career
In 1962, Lazarof joined the music faculty of UCLA, teaching composition and organizing contemporary music festivals, and remained at UCLA until his retirement (1987), excepting the 1970-71 term, when he was artist-in-residence in West Berlin and 1979, when he became artist-in-residence at Tanglewood Music Center in Boston. By 1982, Lazarof was devoting nearly full-time to musical composition. During his lifetime, Henri Lazarof had 126 musical works published with Associated Music Publishers (G. Schirmer, Inc.), Theodore Presser Company, and Bote and Bock et. al. Additionally, many of his compositions were recorded by multiple classical record labels. Fluent in nine languages, Mr. Lazarof died in 2013.
Compositions
A partial list of Lazarof works includes seven symphonies, three concertos for orchestra, three violin concertos, three cello concertos, two flute concertos, a viola concerto, a piano concerto, 11 string quartets, and innumerable pieces for orchestra, chamber orchestra, small ensembles, solo instruments, and mixed chorus. Numerous works were commissioned and recorded, and premiered by various orchestras throughout Europe, Asia, and the United States, including Carnegie Hall in New York; "First Symphony" with the Utah Symphony Orchestra; "Concerto No. 2 Icarus" with the Houston Symphony Orchestra; "Concerto for Oboe and Chamber Orchestra" with the New York Chamber Symphony; and "Flute Concerto" with James Galway and the Berlin Symphony Orchestra. Mr. Lazarof's passion for visual art was reflected in his music—such as his "String Quartet No. 8," a homage to Paul Klee, and "Tableaux (after Kandinsky)" premiered by Garrick Ohlson and the Seattle Symphony Orchestra.
Awards
Lazarof's prizes included first place in the International Tchaikovsky Competition; First International Competition from Monaco for Concerto for Viola and Orchestra; and First International Prize City of Milan La Scala Award for his musical composition, "Structures Sonores." He also received grants from the Ford Foundation and the National Endowment for the Arts, as well as two Grammy nominations in 1991 for Best Contemporary Composition and Best Classical Performance - Instrumental Soloist(s) with Orchestra.