University Photography Collection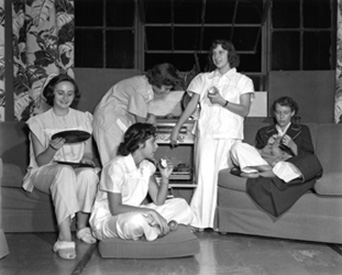 The University Archives has an extensive collection of images, primarily black and white photographic negatives, that document the history and development of Brandeis University. Most of the images were created by the Department of University Photography and represent the work of Ralph Norman, University Photographer from 1950 to 1981, Julian Brown, University Photographer from 1981 to 2001, and Michael Lovett, University Photographer from Nov. 2001 to the present.
Brandeis University History Photography Collection
In addition to the photo negative collection, the University Archives houses a collection of photographic prints and contact sheets (primarily black and white) documenting the University's history. Most of these prints were made from Ralph Norman's and Julian Brown's master negatives, and can be searched in the Brandeis University photography collection finding aid (guide).
Photographs which were created by the University Photographer from 1999 to June 2007 have been acquired by the University Archives and are currently being processed. While we are releasing items for public use continually, a large portion of them remain unavailable. We expect to finish the processing of negatives in this collection by early 2020. We thank you for your patience while we work to describe and preserve these materials.
Digital Photographs
Digital photographs from the University Archives are featured in various Archives and Special Collections online exhibits.