Special Collections Spotlight
A closer look at items from the treasure trove of the Special Collections at Brandeis University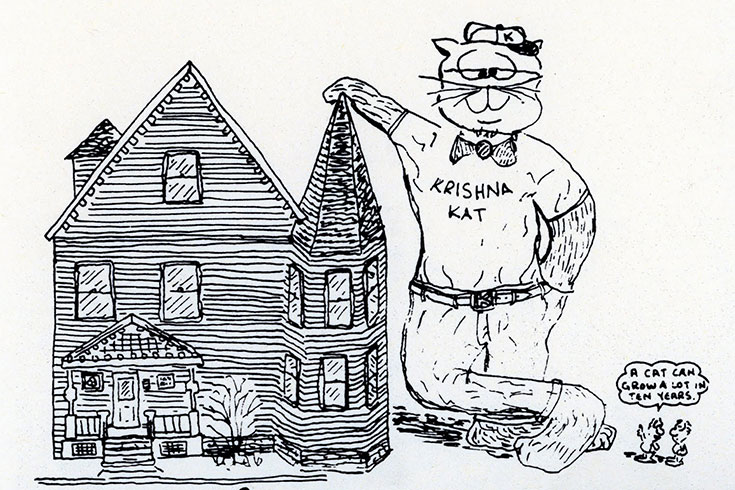 Brandeis University's Archives and Special Collections department now holds the Havurat Shalom records collection, which contains materials, created between 1968 and 1976, documenting the founding and early years of this groundbreaking institution.
All Essays
Judaica Materials in Special Collections
Trimalchio (or, The Great Gatsby)
Coptic Liturgy and Prayers – The Anaphora of Saint Cyril
Theobaldus' Phisiologus de Naturis Duodecim Animalum, 1493
Children's Literature Collection
The Crimean War in the French and British Satirical Press
Theresienstadt Concentration Camp Documents, 1939–1945
Leonard Baskin and The Gehenna Press, 1951-1971
Witches, Demons and Ghosts in Special Collections
Zora Neale Hurston's Jonah's Gourd Vine
Dr. and Mrs. Bernard H. Kessner Collection of Doughty Birds
Franz Lehman Letters and Other Material, 1943–1949
Brandeis Special Collections on the Internet Archive – Part II in an Occasional Series
Langston Hughes Treasures in Special Collections
Colonel Edward H. McCrahon Family Collection of World War I Posters
Stereoscopic Slides of the Holy Land, from the Dan Tassel Photography Collection
Trustman Collection of Honoré Daumier Lithographs
Brandeis Special Collections on the Internet Archive — Part I in an Occasional Series
Ernest A. Young Papers, 1871-1936
Wright and Ellison First Editions
Thomas Paine's Common Sense, 1776
Louis Nye Collection, 1609-1714
Spanish Civil War Periodical Collection, 1923-2009
Roger Tory Peterson Photographs
Thomas Aquinas's Summa Theologica
Le Istitutioni Harmoniche by Gioseffo Zarlino, 1558
Nahum Goldmann Collection, 1910-2004
Punch's Pocket Book, 1844-1881
Carl Van Vechten Photographs, 1932-1964
Once Upon a Time…Rare and Fine Press Editions of Fairy Tales
Diary (1859-1886) of William Ayrton
Women's History Month: Women in Publishing
More than Just a John Hancock – The Signers of the Declaration of Independence and the Constitution Collections
African, Afro – Caribbean and African American Photographs and Ephemera Collection
Revolutionary Books and Revolutionary Wars
History of the Indian Tribes of North America
"The Three Ages of the Colonies" From the Book Collection of Charles J. Tanenbaum
Merchant's Scale and Weight Box
Muriel and Jeremy Josse collection of Holy Land Maps
Arthur Laurents Correspondence
World War II Guernsey Scrapbook
Charles Darwin's on the Origin of Species
Autograph collection, 1621 – 1985, Undated
French Revolution Pamphlets, 1761 – 1807
William Lloyd Garrison Collection
Bernice and Henry Tumen Collection
Walter E. Fernald Developmental Center's Samuel Gridley Howe Library Collections
Jack J. and Therese G. Katz Collection of Chinese Snuff Bottles
Consistoire Central Israélite de France Collection
Louis Dembitz Brandeis Collection
Eric M. Lipman Collection of Nazi Documents
The Man Who Would Not Be Vice President: The Daniel Webster Collection
The Recuyell of the Historyes of Troye and the Kelmscott Press
Perry Miller Collection on the Colonial Religious Experience in America
Nuremberg Chronicle (Liber Chronicarum)
Dante's Divine Comedy, Censored by Spanish Inquisition
Diary of a World War I Aid Worker
The First Part of the Life and Raigne of King Henrie the IIII
A Few Illuminated Medieval Manuscripts at Brandeis
Bern Dibner Collection in the History of Science
Spanish Civil War Poster Collection
Pimander, Sive de Potestate et Sapientia Dei
Leo Frank Trial Collection, 1909 - 1961
Joseph Heller's Catch - 22 Manuscript and Correspondence
Experiments and Observations on Electricity Made at Philadelphia in America
Léon Lipschutz Collection of Dreyfusiana and French Judaica
Johannes Buxtorf, Christian Hebraist (1564 - 1629)
Charter of the Confraternity of the Holy Rosary
Abraham Lincoln Documents and Ephemera
The Walter F. and Alice Gorham Collection of Early Music Imprints
Hall - Hoag Collection of Extremist Literature in the United States
World War I and World War II Propaganda Posters Collection
McKew Parr Collection: Magellan and the Age of Discovery
Sacco and Vanzetti Collections
Three Books of Renaissance Cryptography and the Secret of Shakespearean Authorship
Sermones Thesauri Novi de Tempore, 1496, Bound in Hebrew Manuscript
14th-Century Italian Illuminated Breviary Leaf: Feast of Epiphany
Michael Lally Civil War Letters, 1861 - 1865
Geneva Bible. London: Deputies of Christopher Barker, Printer to the Queenes Most Excellent Majestie, 1589.
S.M.S., William Copley, Letter Edged in Black Press, Inc., 1968