Robert Manners Papers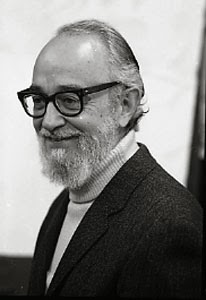 Robert D. Farber University Archives and Special Collections holds the faculty papers of Robert Manners, Brandeis Professor of Anthropology from 1952 to 1979, and is happy to announce that the collection has now been processed and is available to researchers.
Robert Manners was born in 1914 in New York City and studied at Columbia University, earning a PhD in anthropology in 1949 after a stint as an army captain during the war. During his PhD studies, Manners conducted fieldwork in Puerto Rico with several other graduate students under the direction of his advisor and "intellectual mentor," Julian Steward, focusing on tobacco farming in the rural community of Barranquitas. Manners, along with a large number of fellow graduate students and established anthropologists, undertook extensive studies in the Puerto Rican population from 1947-1949. This research culminated in The People of Puerto Rico (Steward et al., 1956).
Manners kept impeccable records from this study, providing weekly reports for the period of April 1948 to September 1948, including local newspaper clippings, signs and other documentation. With a great deal of documentation from his early studies, the collection provides a fascinating glimpse into his early career. Working mainly on the family structures of the various social classes of the small communities, Manners shows a special affinity for comparing the traditional observation of fieldwork with carefully analyzed government reports.
The aims of the project were to examine and explain the political, economic, social and familial structures of the "agrarian stratified society" in which they were working. The researchers tested a large number of theories, giving a sense of the broad scale and depth of the program. Seeking a generalized explanation of the rigid, insular society of Puerto Rico, the team, led by Steward, spread a wide net, looking beyond economics—Manners' focus—into the very fabric of Puerto Rican society. The fieldwork crossed over two years, and included discussions on such topics as agriculture, household structures, Puerto Rican sex life and the economy and politics of Puerto Rico. The collection also includes photographs supporting research into many of these subjects.
As evidenced in this collection and his later fieldwork, Manners maintained a long interest in the field of insular studies, providing the research for his dissertation. Perhaps it is not surprising then that he was involved, at least by association, with a movement to support an independent Puerto Rico following the shootings in Congress in March of 1954 by Puerto Rican nationalists. A letter from A. J. Muste, noted early-20th-century pacifist, implored Manners to become involved with the Puerto Rican Independence movement. The relationship between Manners and Reverend Muste is unclear, and the letter was not addressed specifically to Manners. Regardless of the intention of the letter, Manners' active participant in this controversial subject is unlikely, as he seems to have shown little interest in the subject beyond a personal inquiry.