Michael Lally Civil War letters, 1861-1865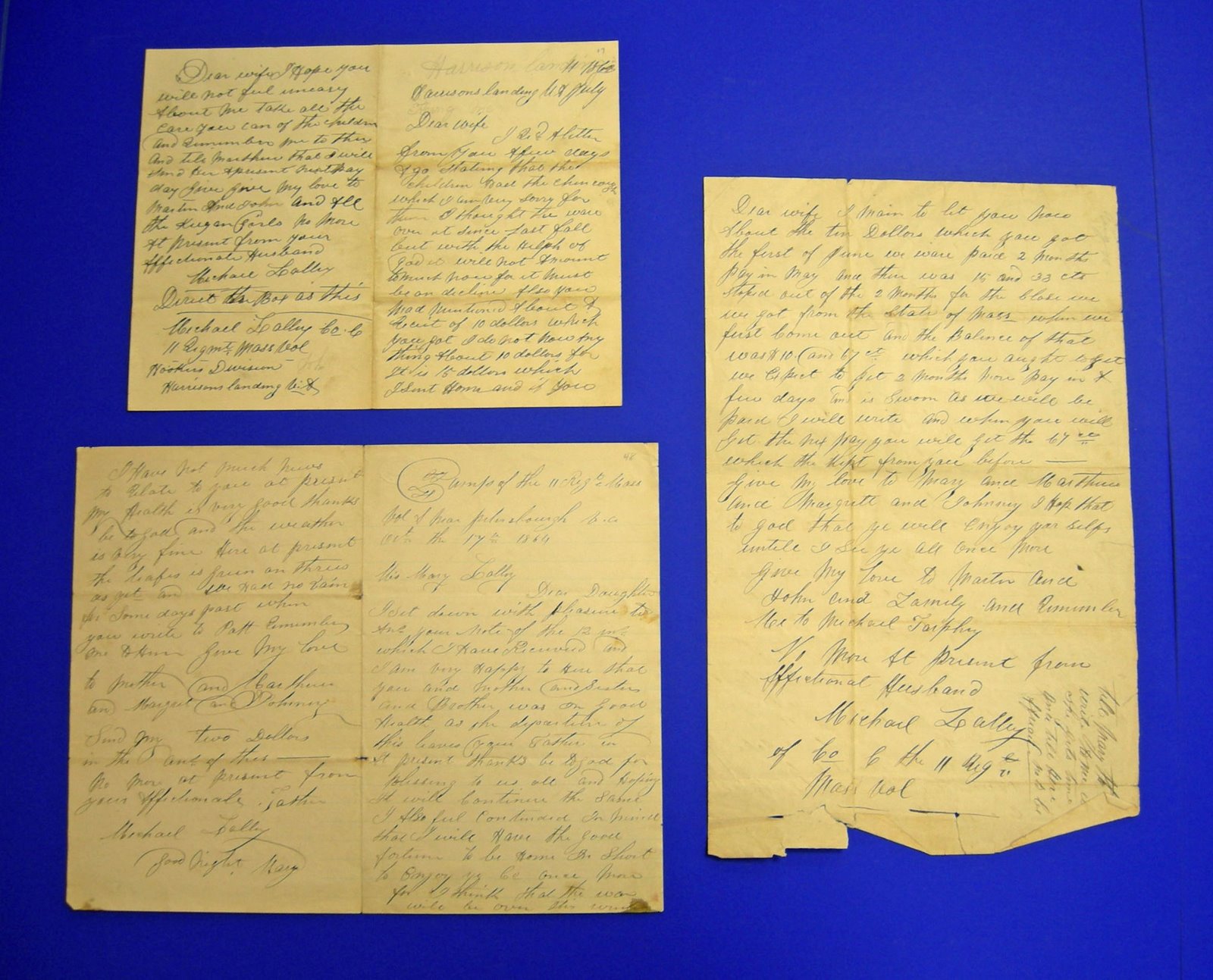 Michael Lally, an immigrant to Massachusetts from Ireland, fought for the Union in more than a dozen major battles of the Civil War, including the first and second Bull Run (Manassas), the Siege of Yorktown, Williamsburg, Fredericksburg, Chancellorsville and Gettysburg. A soldier in the 11th Massachusetts Regiment, Lally wrote letters from Maryland and Virginia to his wife and children in Roxbury, Massachusetts, chronicling his experiences on the front.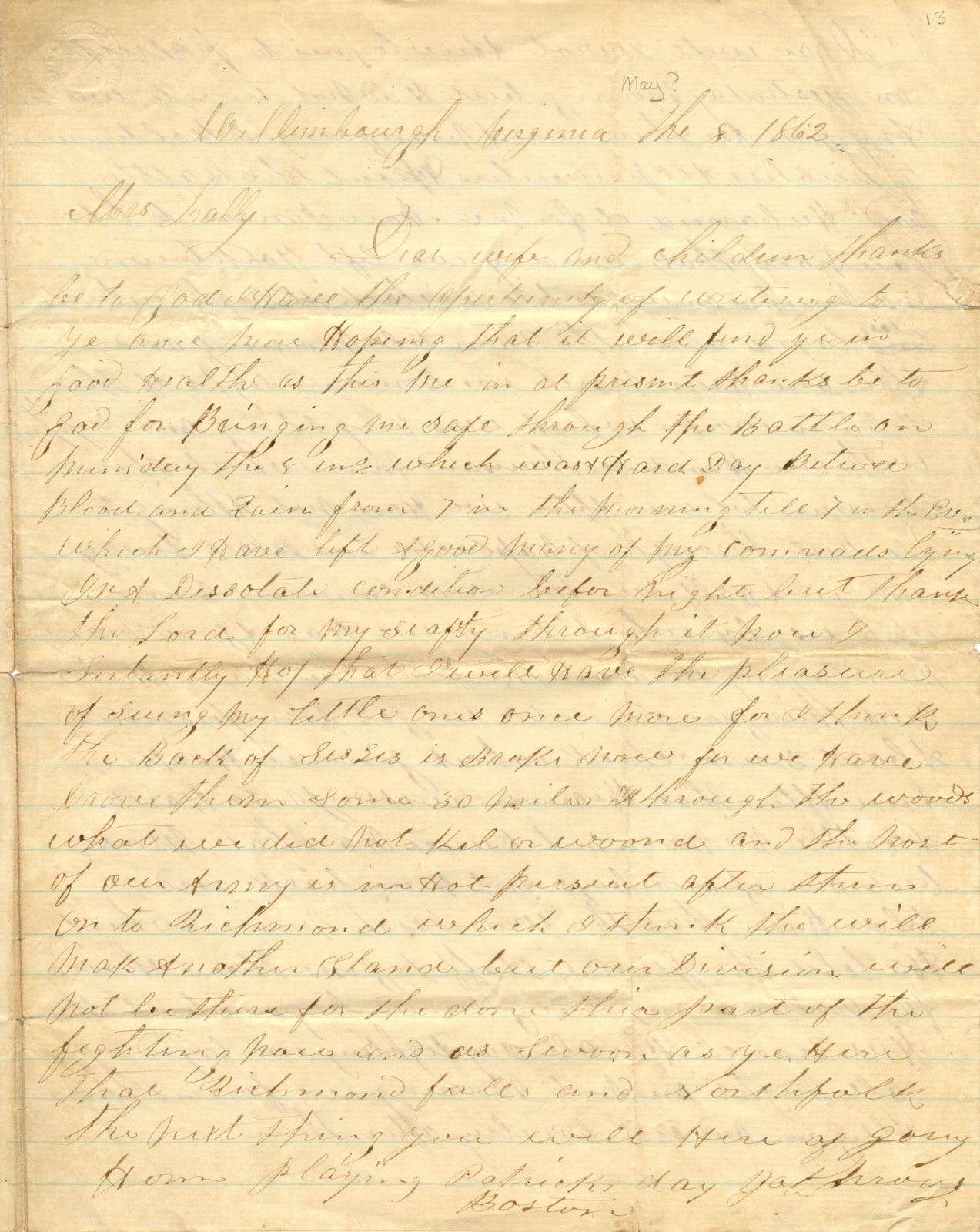 The collection at Brandeis includes 57 of Lally's letters, the first dated July 16, 1861 (just before the first battle of Bull Run) and the last dated June 6, 1865 (after Lee's surrender). The letters describe particulars of battle ("we have a good many sick and its no wonder… thur is all of 10 000 men buried here and as much as 1000 horses kild on the field….") as well as more mundane matters, such as the need for postage stamps, handkerchiefs, a flannel shirt or whiskey (which, to his great dismay, was removed from one of the boxes sent by his wife:
"there is the meanest officers in Army that could be picked out of any nation… I am thinging if we have to go in to another fight that ther will some of them pay for robbing soldiers boxes").
Lally writes often about sending money home and asks for news of the family as well as friends and neighbors; his letters are sprinkled with prayers for his and his family's safety and words of reassurance:
"Tell Mary to write to me when she gets time and tell her no to be afread" (10 August 1863);
"Tell Johnny that I will try to go hom this winter and by him a sled" (4 December 1864).
According to the Casualty Sheet, Lally was "slightly wounded" on May 5, 1862, after which he wrote these lines from Williamsburg, Virginia:
"Dear wife and children thanks be to God I have the opportunity of writing to ye once more. Hoping that it will find ye in good health as this me in at present. Thanks be to God for bringing me safe through the battle on Munday the 5 ins which was a hard day between blood and rain from 7 in the morning till 7 in the eve which I have left a good many of my comrades lying in a desolate condition before night. But thank the Lord for my safety through it. Now I sertantly hope that I will have the pleasure of seeing my little ones once more for I think the back of Sesses is broke now for we have drove them some 30 miles a through the woods, What we did not kill or woond, and the most of our Army is in hot pursuit after them on the Richmond which I think they will make another stand. But our division will not be there for the don their part of the fighting now and as swoon as ye here that Richmond falls and Northfolk the next thing you will here of going hom playing Patrick's day (—?) through Boston."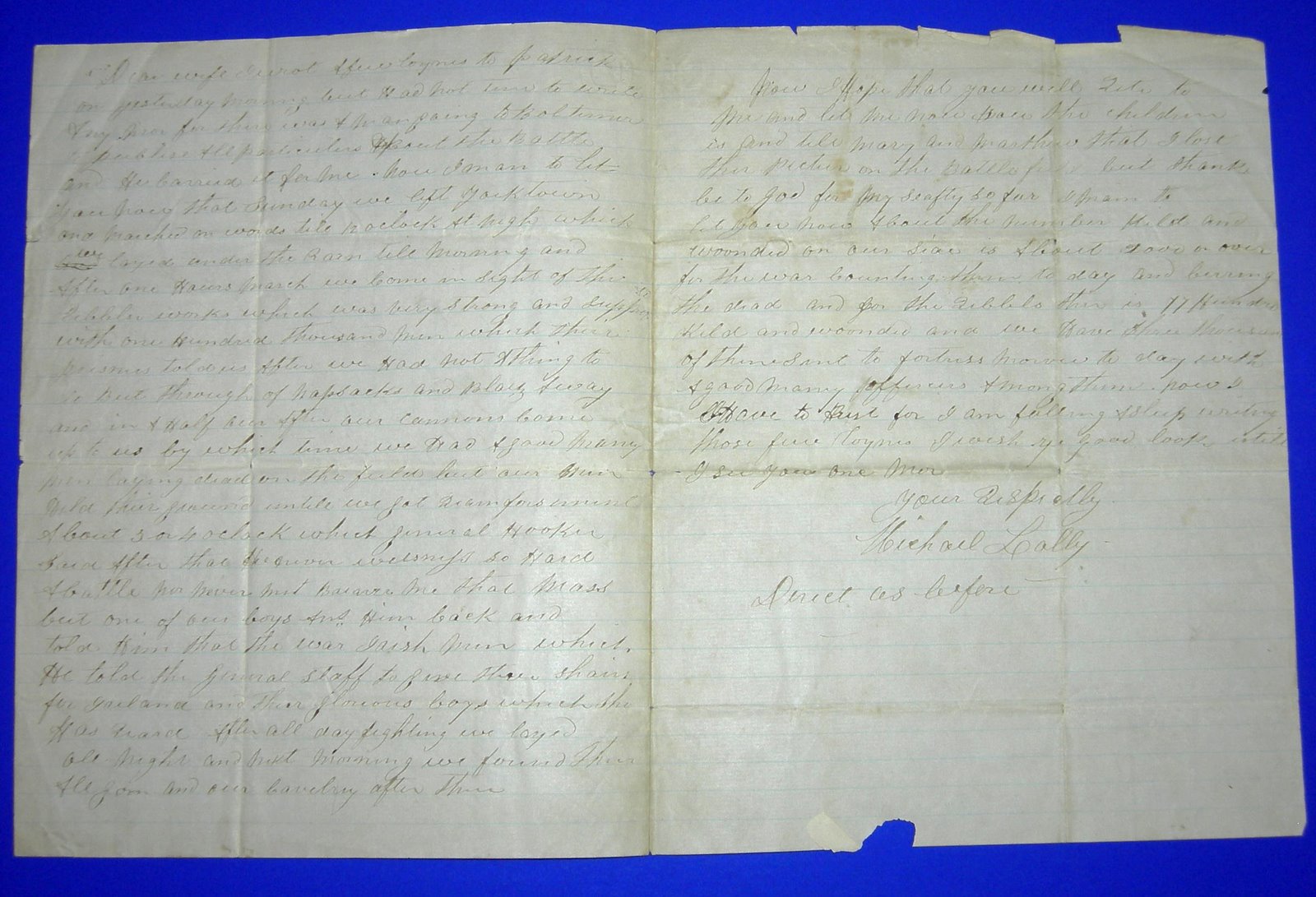 "…Now I man to let you now that Sunday we left Yorktown and marched on words till 12 o'clock at night which we layed under the rain till morning and after one hours march we come in sight of the Rebbles works which was very strong and (supported?) with one hundred thousand men which their prisners told us. After we had not anything to do but through of knapsacks and blaiz away and in a half our after our cannon came up to us by which time we had a good many men laying dead on the field but our men held their ground until we got reainforsement about 3 or 4 o'clock which general Hooker said after, that he never witeniss so hard a battle nor never met baraver me[n] than Mass. But one of our boys ans. him back and told him that the war Irish men, which he told the general staff to give three shairs for Ireland and thur glorious boys (which she has reard?). After all day fighting we layed all night, and next morning we found them all gone and our cavalry after them. Now I hope that you will rite to me and let me now how the children is and tell Mary and Marthur that I lost ther picture on the battlefield but thanks be to God for my seafty so far. I main to let you now about the number kild and woonded. On our side is about 2000 or over for the war counting them today and berring the dead; and for the Rebbls ther is 77 hundred kild and woonded and we have three thousand of them sent to fortress Mor--? today with a good many offercers among them. Now I have to rest for I am falling asleep writing these few loynes. I wish ye good look until I see you onc mor
Your Respectly
Michael Lally"
In a letter from Maryland, Lally writes: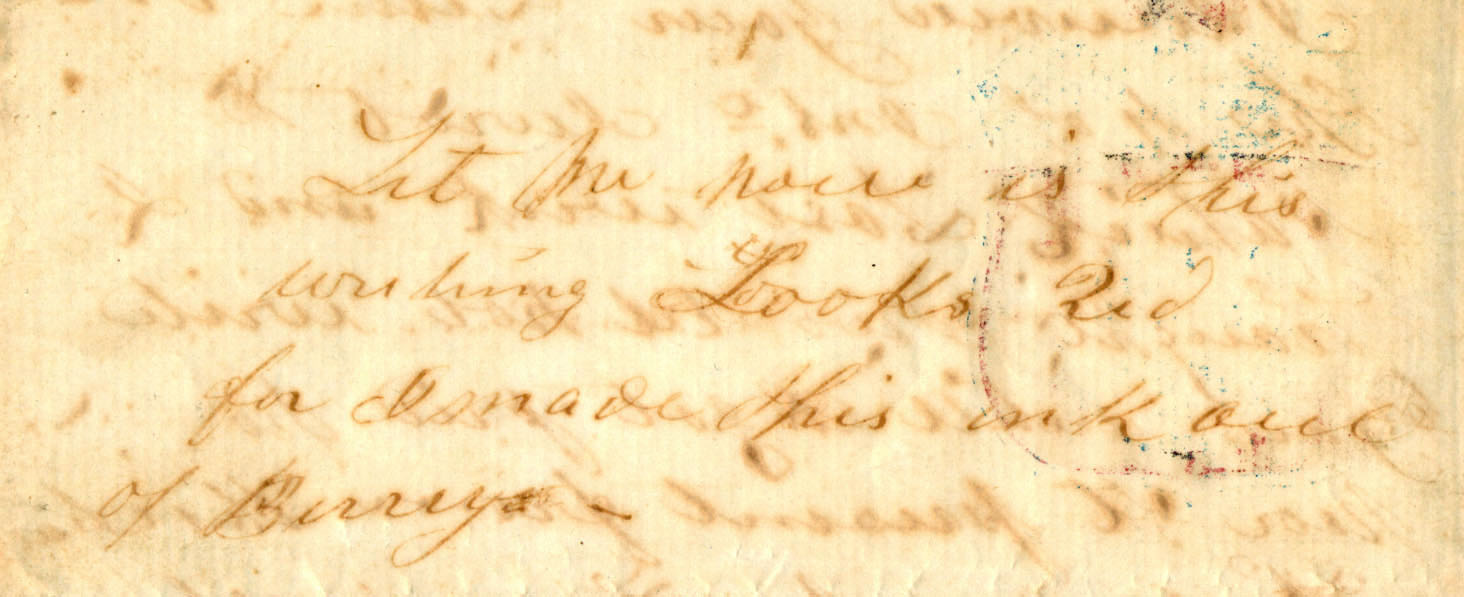 "We have (conversation?) with the Rebb's avery day and the most of thim is Irish and the most of thim from New Orleans" (November 14, 1861). This particular letter is written in berry juice ("Let me now is this writing looks red for I made this ink out of Berrys").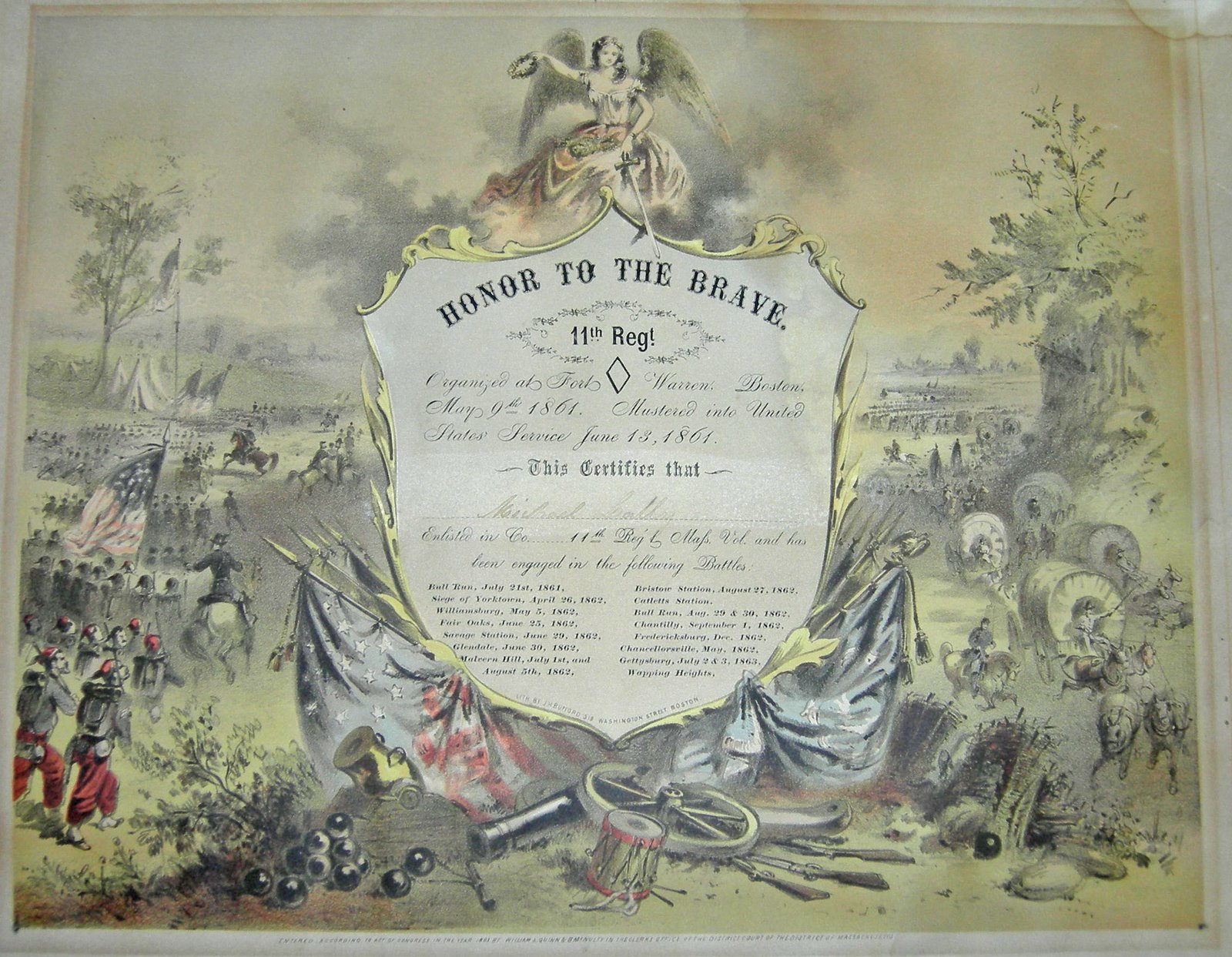 A 1961 certificate from Military Division of the Adjutant General's Office, War Records Section, of the Commonwealth of Massachusetts says that Lally was enlisted on June 13, 1861, and began active duty as a private in the army that day; "wounded May 5, 1862, at Williamsburg, Va.; reenlisted March 11, 1864." "Active service terminated as Sergeant, Company C, 11th Regt. Mass. Volunteer Infantry on July 14, 1865," "Having been honorably mustered out of service."
On April 21, 1863, he wrote to his wife:
"In regard of what John Garvey told ye that I was in the cook house it was a mistak of his. I never was doing any such work since I com out here. I would not leave my plase in the ranks for it is no trouble for me to do my duty as a soldier."
Lally's letters provide a glimpse into the day-to-day wants, sufferings, triumphs and small comforts of an ordinary soldier, trying to provide for his family and to live through the war so that he can join them at home again.
Comments
Thank you for caring for these letters and documents. Michael Lally disappeared after the war and according to family lore went to join his brothers near Sacremento, CA. His daughter Mary married James Scally, a Boston police officer, who became the 1st police chief in Stoneham. Their daughter Mary, my grandmother, married James McDonough. My daughter, Mary McDonough, is named after her. Joe McDonough, Abu Dhabi UAE